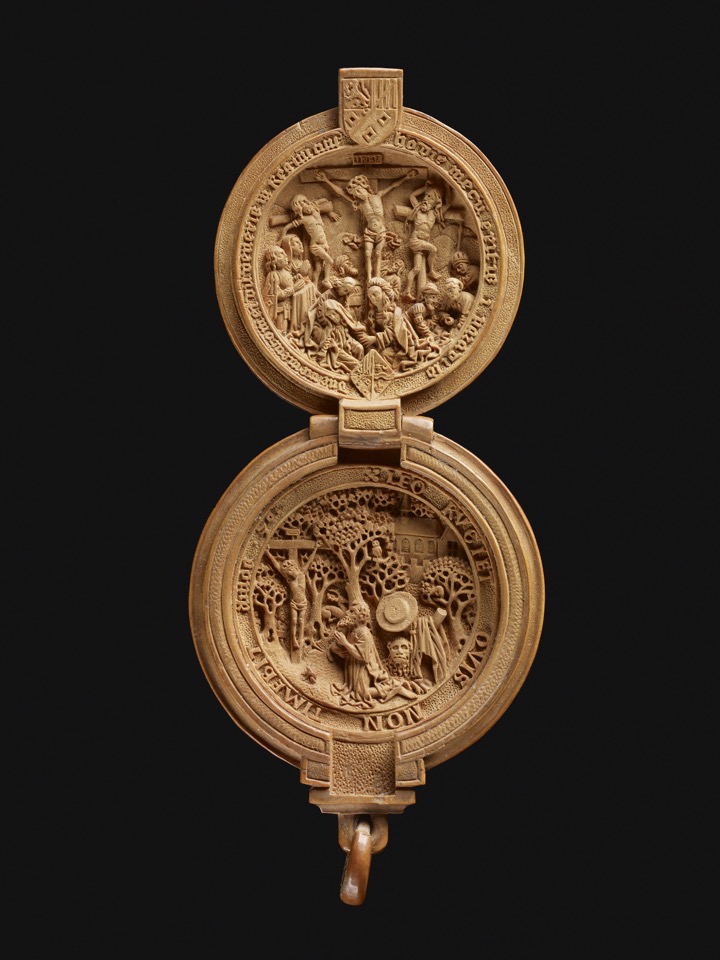 On the outside is carved the Marriage of the Virgin, and the Virgin and Child with St Elizabeth. The pendant opens to reveal St Jerome in penitence in the upper half. In the lower half is the Crucifixion with the patrons included, kneeling as witnesses. They are identified by their coats of arms as Dismas de Berghes, a nobleman in Northern Brabant, and his wife Marie Laurweryn, who married in 1510. It could have been a betrothal or wedding gift to Marie.
Curator's Description
Devotional carving in boxwood; formed of two circular panels, hinged and folded together; upper: Crucifixion with fainting Virgin; male and female patrons kneeling at left; above, shield of arms; below, lozenge-shaped arms for the female; lower half: St Jerome in forest praying before crucifix; hat, cloak and lion behind, church in distance; outside: low relief, Marriage of the Virgin, Virgin and Child with St Elizabeth; inscribed.
This object was collected by Anselm von Rothschild and bequeathed to the British Museum by Ferdinand Anselm Rothschild.
How big is it?
4.7 cm wide, 1.8 cm high, 4.7 cm deep, and it weighs 15g
Detailed Curatorial Notes
Provenance: Baron Anselm von Rothschild, Vienna, by 1866 (cat no. 49).
Commentary: Dismas de Berghes, who married Marie Laurin in 1510, died in 1514, meaning it is possible to date this prayer-nut precisely. He was a member of the Privy Council in Malines and was son of Jean II de Glymes, lord of Bergen ap Zoom (see Marks in bibliography). The inscription around the scene of Jerome in Penitence is exactly the same as that on a prayer-nut in the V&A (inv. no. 6921-1860) which has the same scene and is by same artist. Williamson 2002 (see bibliography) relates to these two nuts one sold at Sotheby's on the 10th July 1975, lot we, and one with St. Hubert in The Wallace Collection, which has the same distinctive manner of carving trees. A rosary in The Louvre also has a pendant with arms for member of the Glymes family as here; discussed in Marks.
Williamson 2002 relates these two nuts to one sold at Sotheby's 10 July 1975, lot 25, and one with St Hubert in Wallace Collection, (inv. no. S281) which has the same distinctive manner of carving trees. Williamson also suggests from armorial evidence on prayer nuts that they, and devotional pendants like this one, may have been made in Northern rather than Southern Netherlands.
For dating see discussion of the miniature altar in Toronto, see John Lowden and John Cherry, 'Medieval ivories and works of art : the Thomson Collection at the Art Gallery of Ontario', Art Gallery of Ontario, Seattle, 2008, no. 51.
This prayer nut can be compared with WB.237 for the distinctive manner in which the trees are carved and may be by the same maker.
Bibliography
Charles Hercules Read, 'The Waddesdon Bequest: Catalogue of the Works of Art bequeathed to the British Museum by Baron Ferdinand Rothschild, M.P., 1898', London, 1902, no. 239, pl.XLIX
O.M. Dalton, 'The Waddesdon Bequest', 2nd edn (rev), British Museum, London, 1927, no.239
Richard Marks, 'Two Early 16th Century Boxwood Carvings Associated with the Glymes Family of Bergen op Zoom', in Oud Holland, Jaarg. 91, No. 3, 1977, pp.132-133
Paul Williamson, 'Netherlandish Sculpture 1450-1550', London, 2002, p.140
Dora Thornton, 'A Rothschild Renaissance: Treasures from the Waddesdon Bequest', British Museum, London, 2015, pp.172-177.

References
Read 1902: Read, Charles Hercules, The Waddesdon Bequest. Catalogue of the Works of Art Bequeathed to the British Museum by Baron Ferdinand Rothschild, M.P., 1898, London, BMP, 1902
Dalton 1927: Dalton, Ormonde Maddock, The Waddesdon Bequest : jewels, plate, and other works of art bequeathed by Baron Ferdinand Rothschild., London, BMP, 1927