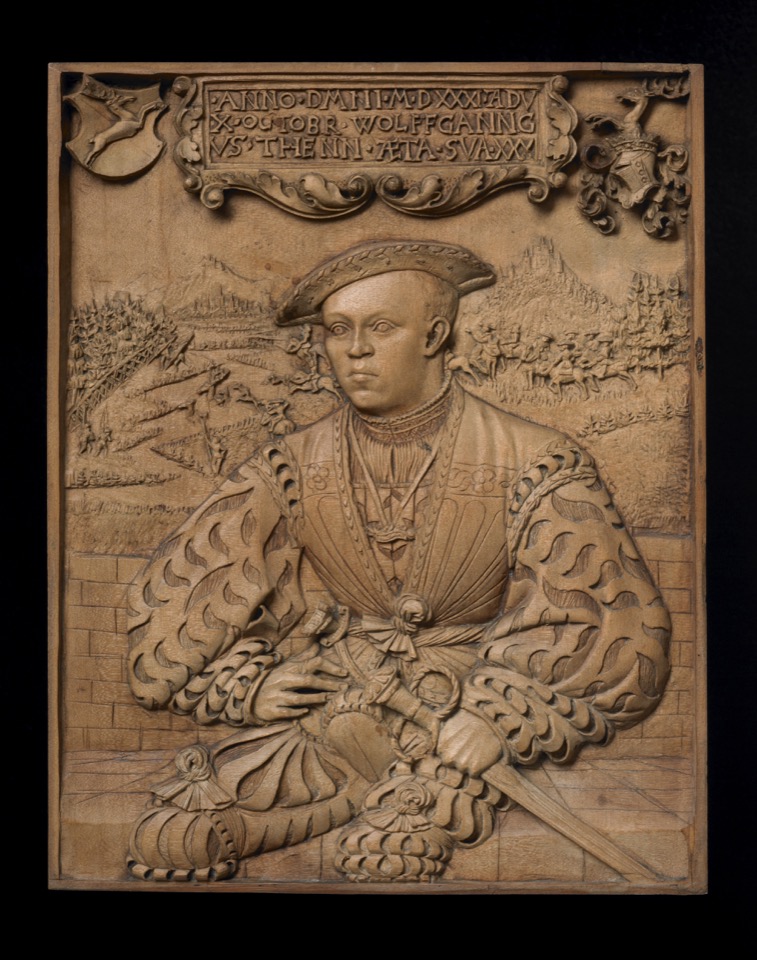 The portrait is dated 1531, but it might be an accomplished fake, made shortly before it was acquired by the Rothschilds in 1866.
Curator's Description
Oblong panel; pearwood; carved in relief; three-quarter length of young man seated on bench with hand on hip; other hand grasps sword; wears flat cap over closely-cropped hair; ornamented doublet, with wide sleeves; staghunt in background; one side of frame with arms of Thenn of Augsburg and Ratisbon with stag rampant; other side with helmet, mantlings and family crest, demi-stag; inscribed.
This object was collected by Anselm von Rothschild and bequeathed to the British Museum by Ferdinand Anselm Rothschild.
How big is it?
13.8 cm wide, 17.3 cm high, 1.1 cm deep, and it weighs 91g
Detailed Curatorial Notes
Provenance: Baron Anselm von Rothschild, Vienna, by 1866 (cat no. 40).
Commentary: There is a bronze cast of the same portrait in the Louvre, (inv. no. OA 7809), and a coloured plaster version in the Bode Museum, Berlin (see above). The British Museum one appears to be the original relief. Christian Theuerkauff suggests in his 2004 article on the Bode Museum version that the whole group could be 19th century fakes. This is on account of several reasons: the date (which puts Wolfgang Tenn at the age of 31 in 1531) does not match his dates in the only extant chronicle of the family; the figure is clean-shaven, which is unusual for the period; the lack of symbolic attributes in the portrait; the awkwardness of the perspective and pose of the figure; the rather incoherent inscription and the unorthodox positioning and livery of the coat-of-arms.
From Tait 1981 - 'One of the finest wood-carvings of the Renaissance preserved in the Bequest is too large to have been made as a model for a medal and may, therefore, not represent an intermediary stage in the production but be a final version - a portrait plaque in its own right. It was carved in 1531 and depicts Wolfgang Thenn at the age of thirty-one seated on a wall in a very naturalistic pose and dressed in the height of fashion with an excess of slashings and ribbons. He lived in Saltzburg, where his father was Master of the Mint to the Prince-Archbishop of Salzburg. The family's armorial bearings and crest are carved at the top of the panel, on either side of the inscription, and in the mountainous landscape in the distance a stag-hunt is in progress. The style of this landscape is typical of the Danube School of painting at this date but, despite the extremely high quality of this panel, it is difficult to attribute it to a particular artist of that region.'
Bibliography
Charles Hercules Read, 'The Waddesdon Bequest: Catalogue of the Works of Art bequeathed to the British Museum by Baron Ferdinand Rothschild, M.P., 1898', London, 1902, no. 257, pl. LII
O.M. Dalton, 'The Waddesdon Bequest', 2nd edn (rev), British Museum, London, 1927, no.257
E.F. Bange, 'Die Bildwerke in Holz, Stein und Ton', Berlin, De Gruyter, 1930, no. 8245
H. Tait, 'The Waddesdon Bequest', BM London 1981, pp.92-93, fig. 69
C. Theuerkauff, 2004, 'Porträtreliefs der Dürerzeit?', Museumsjournal, 4/2004, pp.20-22.

References
Read 1902: Read, Charles Hercules, The Waddesdon Bequest. Catalogue of the Works of Art Bequeathed to the British Museum by Baron Ferdinand Rothschild, M.P., 1898, London, BMP, 1902
Dalton 1927: Dalton, Ormonde Maddock, The Waddesdon Bequest : jewels, plate, and other works of art bequeathed by Baron Ferdinand Rothschild., London, BMP, 1927
Bange 1930: Bange, E F, Die Bildwerke in Holz, Stein und Ton, Berlin, De Gruyter, 1930