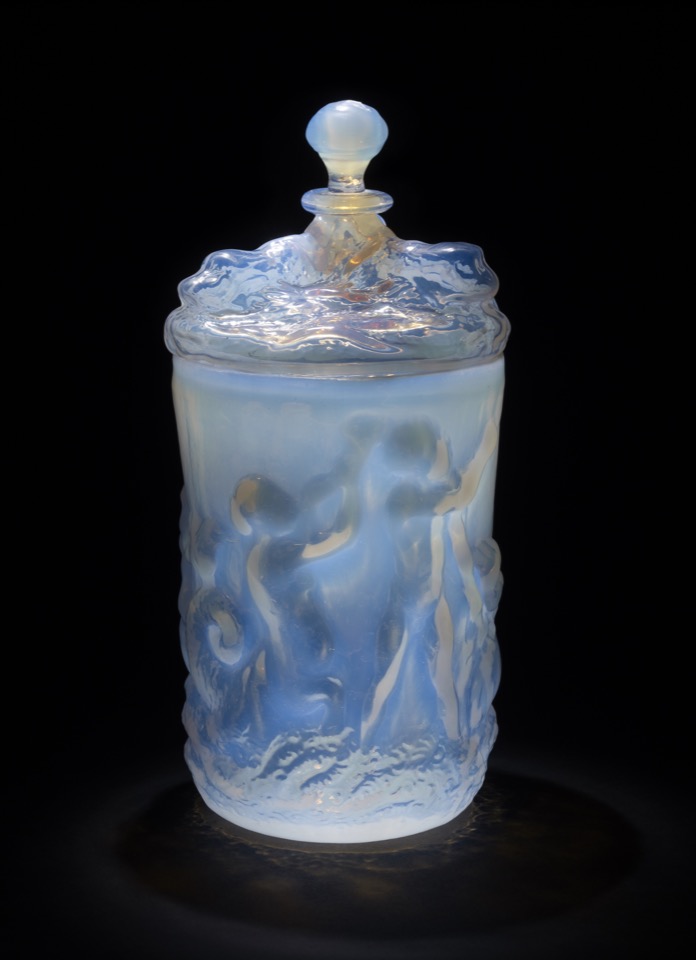 The beaker is moulded with sea gods at play. Traces of arsenic in the glass make it appear to change colour like a precious opal. Glassmaking was allied to alchemy at baroque courts. This glass was made on the estate of Count Buquoy in Bohemia and was perhaps designed to be set into silver-gilt mounts for use as a welcome cup (Wilkomm).
Curator's Description
Cylindrical beaker and cover of opal glass; blown in a mould to represent a triumph of Neptune; on cover: three dolphins radiate from knob.
This object was collected by Anselm von Rothschild and bequeathed to the British Museum by Ferdinand Anselm Rothschild.
Venice (or)
Bohemia (Gratzen, Nove Hrady)
Buquoy glasshouse, Gratzen (Nové Hrady) Czech Republic
How big is it?
12 cm wide, 24 cm high, 9 cm deep, and it weighs 1 kg
Detailed Curatorial Notes
Provenance: Baron Anselm von Rothschild, Vienna, by 1866 (cat no. 21), by inheritance to his son Baron Ferdinand Rothschild (d. 1898).
Commentary: Text from Tait 1981 - '....[This] 'opal' or, more correctly,.. "girasol" glass beaker and cover, made in a three-part mould, has a continuous "frieze" depicting in relief marine subjects, possibly taken from a Triumph of Neptune. The sea-nymphs and Tritons, together with sea-horses, emerge from above the waves and, on the cover, three dolphins radiate outwards from the "button-knop". Only eight or nine beakers made from this mould have survived; one of these glasses, an "opal" version of almost identical quality in the Schloss Pilnitz, Dresden, was evidently mounted in silver gilt before 1732, as it was described with its precious mounts when listed in the Inventory of 1732. However, as its cover of "opal" glass was quite different, being ribbed, high-domed and lacking the three dolphins, it may not be original. Fortunately, a clear glass beaker from this mould, complete with its cover of the "triple-dolphin" design, has been preserved in the Kunstindustrie Museum, Copenhagen, and thus helps to confim that the Waddesdon Bequest beaker has its original cover. The origin of this extraordinary group of beakers blown in the same three-part mould is uncertain, but they seem to date from the seventeenth- century...'
Seven examples of similar glasses presumably produced in the same workshop are identified in Walter Holzhausen, 'Sächsische Gläser des Barock', in Zeitschrift für Kunstwissenschaft, Band VIII, Heft 1-2, 1954, pp. 105-107. To these can be added a clear example, badly crizzled, which was acquired by the Kunstindustrimuseet in Copenhagen on the Berlin art market in 1909, inv. no. A 53/1909; an opal beaker without cover in the Pena Palace, Sintra; and an opal beaker with bun feet in the National Museum in Cracow. Another crizzled example with a cover was sold from the Mühleib Collection at Bonham's, London, 2 May 2013, lot 11. Another opal glass beaker of this design with its lid, like the Waddesdon Bequest example, is in the Gotha Museum, inv. no. Pn 41. The British Museum has a second example without cover made of girasol glass, which changes colour from pearly cream to red lustre in a slightly different tone, but with extremely similar chemical composition, inv. no. 1873,0329.38.
Bibliography
Charles Hercules Read, 'The Waddesdon Bequest: Catalogue of the Works of Art bequeathed to the British Museum by Baron Ferdinand Rothschild, M.P., 1898', London, 1902, no. 56
O.M. Dalton, 'The Waddesdon Bequest', 2nd edn (rev), British Museum, London, 1927, no.56
Hugh Tait, 'The Golden Age of Venetian Glass', British Museum, London, no.177
H. Tait, 'The Waddesdon Bequest', BM London, 1981, p. 36, pl.VIB
David Whitehouse, 'Glass, A Short History', British Museum, London, 2012, p.68 & illus.
Hugh Tait, '5000 Years of Glass', British Museum, London, 2012, pp.165-166, fig.211
'The Mühleib Collection of European Glass 1500-1850', Bonhams, London, 2 May 2013, p.28
Dora Thornton, 'A Rothschild Renaissance: Treasures from the Waddesdon Bequest', British Museum, London, 2015, pp.138-141.

References
Read 1902: Read, Charles Hercules, The Waddesdon Bequest. Catalogue of the Works of Art Bequeathed to the British Museum by Baron Ferdinand Rothschild, M.P., 1898, London, BMP, 1902
Dalton 1927: Dalton, Ormonde Maddock, The Waddesdon Bequest : jewels, plate, and other works of art bequeathed by Baron Ferdinand Rothschild., London, BMP, 1927
Tait 1979: Tait, Hugh, The Golden Age of Venetian Glass, London, British Museum, BMP, 1979