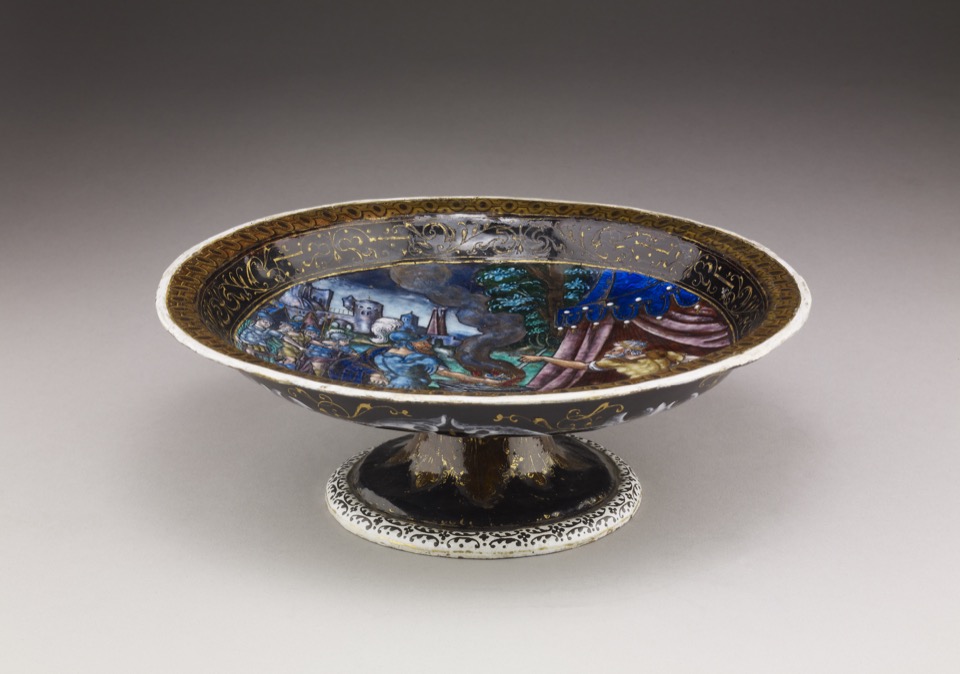 A Roman model of courage in his contempt for pain.
Curator's Description
Painted Limoges enamel tazza; copper; deep bowl on a short stem and foot; the confrontation of Mucius Scaevola and Lars Porsena as told in Livy; painted in semi-opaque enamels over a white preparation; translucent enamels over coloured foils and grisaille with salmon pink flesh tones, all on a black ground and gilded.
This object was previously owned by Frédéric Spitzer and Louis Fidel Debruge-Dumenil, and collected and bequeathed to the British Museum by Ferdinand Anselm Rothschild.
How big is it?
19 cm wide, 6.5 cm high, 19 cm deep, and it weighs 366g
Detailed Curatorial Notes
Provenance: Possibly lot no. 745 in the sale of the collection of Louis Fidel Debruge-Duménil, Paris 1849, then possibly lot no. 544 in the sale of the Spitzer collection in 1893 where it may have been purchased by Baron Ferdinand Rothschild.
Bibliography
'Catalogue des Objets d'Art qui Composant la Collection Debruge-Duménil', Paris, 1849, [possibly] lot. no. 745
'Catalogue . . . de la . . . Collection Spitzer', Paris, 17 April - 16 June 1893, [possibly] lot no. 544
Charles Hercules Read, 'The Waddesdon Bequest: Catalogue of the Works of Art bequeathed to the British Museum by Baron Ferdinand Rothschild, M.P., 1898', London, 1902, no. 45
O.M. Dalton, 'The Waddesdon Bequest', 2nd edn (rev), British Museum, London, 1927, no.45.

References
Read 1902: Read, Charles Hercules, The Waddesdon Bequest. Catalogue of the Works of Art Bequeathed to the British Museum by Baron Ferdinand Rothschild, M.P., 1898, London, BMP, 1902
Dalton 1927: Dalton, Ormonde Maddock, The Waddesdon Bequest : jewels, plate, and other works of art bequeathed by Baron Ferdinand Rothschild., London, BMP, 1927
Scrase handlist: Scrase handlist