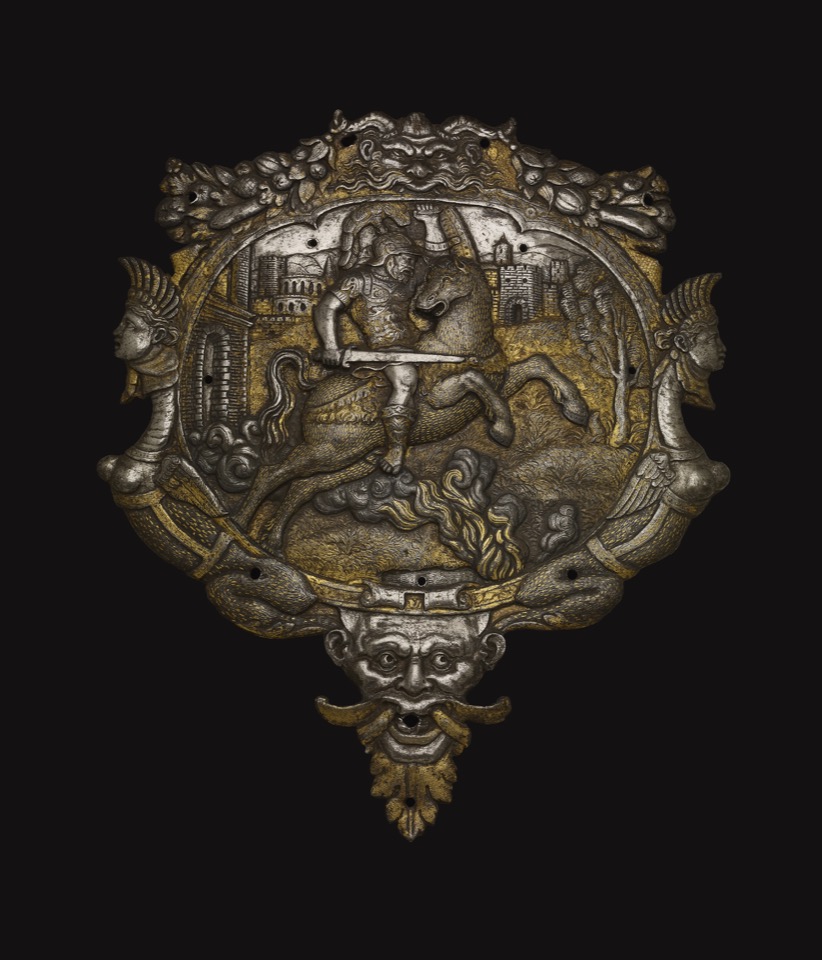 From a set of horse parade armour. Marcus Curtius is presented as a Roman model of courage.
Curator's Description
Shaped panel of embossed iron, originally part of a barding (horse armour), chased and damascened; Marcus Curtius leaping into the chasm, represented as a solitary horseman in armour, with buildings in the distance; panel is oval, frame formed of masks and fruit; sides supported by two sphinx-like monsters.
This object was previously owned by Andrew Fountaine, and collected and bequeathed to the British Museum by Ferdinand Anselm Rothschild.
How big is it?
18.3 cm wide, 21.5 cm high, 2.5 cm deep, and it weighs 201g
Detailed Curatorial Notes
Provenance: Lot 544 in the sale of the Fountaine Collection in 1884 was 'An oval badge...with Marcus Curtius in the centure, border of masks, fruits, and arabesques', and was bought by E. Joseph for £162.15.0. Joseph purchased on Baron Ferdinand Rothschild's behalf (for example the Lyte Jewel at the Hamilton sale) and it may therefore be that this is WB.15 and was acquired by Ferdinand via Joseph.
Commentary: This plate was probably originally part of a set of horse armour (barding), and is after a print by Georg Pencz (c. 1500-1550) of Marcus Curtius (see British Museum 1853,0709.137). Marcus Curtius was a Roman hero who rode into a fiery gulf which appeared in the Roman Forum in self-sacrifice. A suitable subject for parade horse armour. See similar plaque in the Armeria Reale in Turin (inv. F 75) which depicts another Roman hero, Horatius Cocles, also on horseback. The style and frame are similar and they may have come from the same workshop.
Bibliography
Charles Hercules Read, 'The Waddesdon Bequest: Catalogue of the Works of Art bequeathed to the British Museum by Baron Ferdinand Rothschild, M.P., 1898', London, 1902, no. 15
O.M. Dalton, 'The Waddesdon Bequest', 2nd edn (rev), British Museum, London, 1927, no.15
J.Godoy & S. Leydi, 'Parures Triumphales, Le maniérisme dans l'art de l'armure italienne', exhibition catalogue, Musées d'art et d'histoire, Geneva, 2003, pp. 445-446.

References
Read 1902: Read, Charles Hercules, The Waddesdon Bequest. Catalogue of the Works of Art Bequeathed to the British Museum by Baron Ferdinand Rothschild, M.P., 1898, London, BMP, 1902
Dalton 1927: Dalton, Ormonde Maddock, The Waddesdon Bequest : jewels, plate, and other works of art bequeathed by Baron Ferdinand Rothschild., London, BMP, 1927