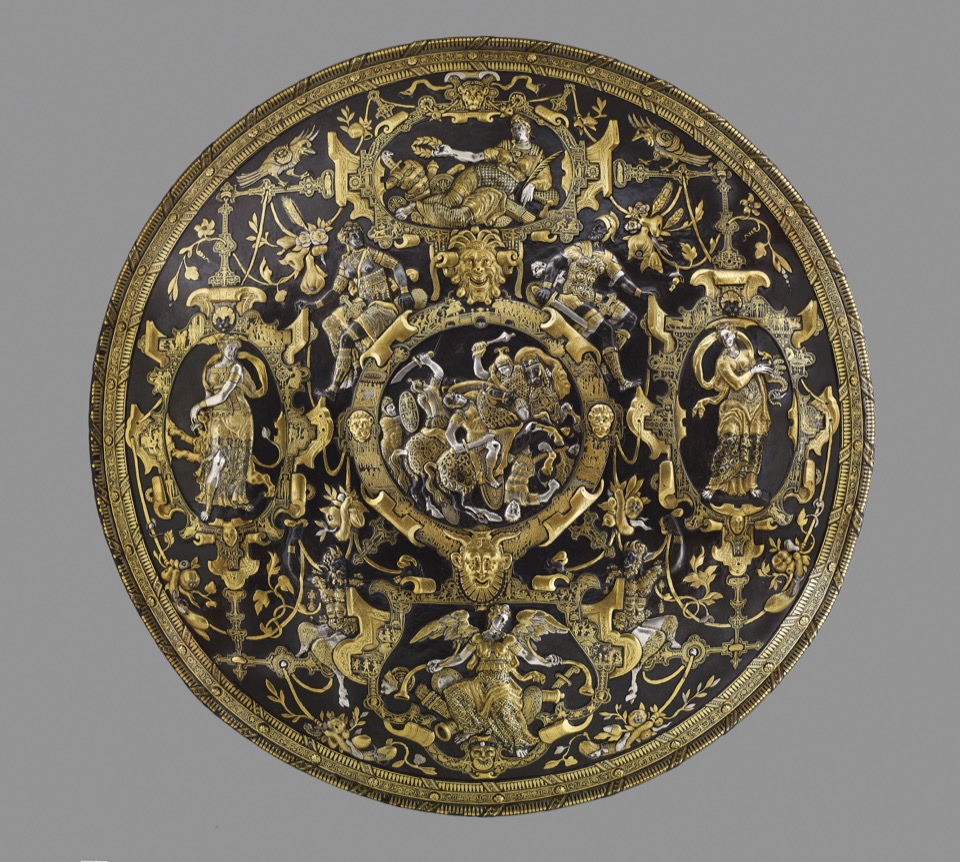 This shield is a display piece. Figures on the border symbolise Glory, Prudence, Fame and Strength. The design framework is in high relief, minutely engraved with scenes from the Iliad, Homer's epic of the Trojan wars. Playful children and satyrs are also picked out in gold. Ghisi has signed and dated the bridge above the central battle scene.
Curator's Description
Parade shield; iron; circular; hammered in relief; damascened with gold and partly plated with silver; in centre a combat of horsemen within a frame surmounted by a male and female warrior; around are four frames containing female figures representing Glory, Renown, Strength and Prudence: each frame filled with minute subjects inlaid in gold, from the Iliad and ancient mythology; intervening space filled with festoons, monstrous figures, satyrs, fruits, etc; inscribed.
This object was previously owned by Anatole Demidov, collected by Anselm von Rothschild and bequeathed to the British Museum by Ferdinand Anselm Rothschild.
How big is it?
55.8 cm wide, 55.8 cm high, 7 cm deep, and it weighs 3.8 kg
Detailed Curatorial Notes
Provenance: Baron Anselm von Rothschild, Vienna, between 1866 and 1872 (cat no. 525), purchased at Demidov sale in 1870, by inheritance to his son Baron Ferdinand Rothschild (d. 1898).
Commentary: This is a parade shield, made not for use but for display. Parade armour was a court art in the Renaissance, which bought fame to its makers and wearers.
From Bury 2007:
'This parade shield signed by Giorgio Ghisi and dated 1554 is made from a single steel plate, concave towards the body and with the rim turned over a wire (Claude Blair, letter). The whole surface is embossed and chased in relief. The basic design is a series of strapwork cartouches: four arranged around a central circular one. Each of the outer cartouches contains a figure: Victory at the top, Fame at the bottom, with Fortitude to the left and perhaps Prudence to the right. The central panel shows a battle. The figures and the strapwork are decorated with hatched damascening of a most exquisite kind (for hatched damascening see Claude Blair in the Dictionary of Art 1996, vol. 2.: Arms and Armour II.I.ii, p.454). Tiny scenes of the most varied subject matter decorate the frames of the cartouches: around the central panel there is Horatius guarding the bridge together with episodes from the Trojan War. Elsewhere there are series of winged putti playing children's games and scatalogical satyr stories. The use of intersecting straps and rollwerk cartouches, linked together into an interesting composition, is an imaginative variation of a type that was developed by Cornelis Floris. A set of six designs by Floris using exactly this kind of decorative vocabulary was published in Antwerp in the same year as the shield, 1554 (Berliner 1925-6, p.160). The exotic birds and the looping strings with bunches of leaves and fruits are very similar. There are other pieces of Flemish parade armour of this period that use the same vocabulary, for example the shield embossed with a scene of Jason and the Golden Fleece in Vienna (J.F. Hayward, "The Erlangen Saddle Plate Designs", Livrustkammern vol. 14, 1978, pp.229 and 236-7, who argued in favour of an Antwerp origin). A shield in St Petersburg with allegorical figures of Prudence, Fortitude, Fame and Envy in circular cartouches around a central figure of Mars has a distinctly similar design (inv. no. Z.O.6143; information from Stuart Pyhrr). There is a strong probability that the Waddesdon shield was made and decorated in Antwerp. The extent of Ghisi's responsibility is not entirely clear. He was in the Netherlands from about 1549/50 and the likelihood is that he remained there at least until 1555 (Boorsch, Lewis and Lewis 1985, pp. 17-18; he may have visited Italy in 1554). The damascening can be attributed to him with confidence. He was known for his mastery of that art, as is documented by the comments of Bertani in his book Gli oscuri e dificili passi dell'opera ionica di Vitruvio, published in Mantua in 1558: 'Messer Giorgio Ghisi Mantovano, huomo veramente hoggidi raro al mondo, in tagliar rami, e lavorare alla Azamina di piu varie sorti' (Messer Giorgio Ghisi Mantovano, truly in present times a man exceptional in the curring of copperplates and in all kinds of damascening'; Bertani 1558, E5r). Whether he had any further role cannot be definitely decided. He was not known as a designer and the vocabulary and syntax of the embossed ornament seem strongly Netherlandish. Even the figures in the cartouches are very like those on the St Petersburg shield, which does not seem to have had anything to do with Ghisi. The probability is that his participation was limited to the damascening.'
The only other signed piece by Ghisi is a (damaged) sword hilt in the Budapest Museum, dated 1570 (inventory number unknown).
Bibliography
W. Boeheim, 'Meister der Waffenschmiedekunst, vom XIV. bis ins XVIII, Jahrhundert Ein Beitrag zur Gesischichte der Kunst und der Kunsthandwerks', Berlin 1897, p.76
Charles Hercules Read, 'The Waddesdon Bequest: Catalogue of the Works of Art bequeathed to the British Museum by Baron Ferdinand Rothschild, M.P., 1898', London, 1902, no. 5, pl.III
G.F. Laking, 'A Record of European Arms and Armour Through Seven Centuries', London 1920-22, vol. IV, pp. 230-1 and fig. 1302
O.M. Dalton, 'The Waddesdon Bequest', 2nd edn (rev), British Museum, London, 1927, no.5
J.G. Mann, 'The Lost Armoury of the Gonzagas, Part II., The Libro Aquila' in The Archaeological Journal, vol. 100, 1943, p.39 and pl. XLIV
C. von Lutzow, 'Kunst und Kunstgewerbe auf der Wiener Weltausstellung 1873', Leipzig 1975, p. 500
H. Tait, 'The Waddesdon Bequest', BM London 1981, p. 60, fig. 39 and pl.XIIB
M. Bury, 'The Print in Italy', British Museum, London, 2007, pp.29-32 & cat. 15
Dora Thornton, 'A Rothschild Renaissance: Treasures from the Waddesdon Bequest', British Museum, London, 2015, pp.318-325.

For further discussion on Milanese parade armour see: J.Godoy & S. Leydi, 'Parures Triumphales, Le maniérisme dans l'art de l'armure italienne', exhibition catalogue, Musées d'art et d'histoire, Geneva, 2003, pp. 11-12.

References
Read 1902: Read, Charles Hercules, The Waddesdon Bequest. Catalogue of the Works of Art Bequeathed to the British Museum by Baron Ferdinand Rothschild, M.P., 1898, London, BMP, 1902
Dalton 1927: Dalton, Ormonde Maddock, The Waddesdon Bequest : jewels, plate, and other works of art bequeathed by Baron Ferdinand Rothschild., London, BMP, 1927
Bury 2001: Bury, Michael, The Print in Italy: 1550-1620, London, British Museum, 2001