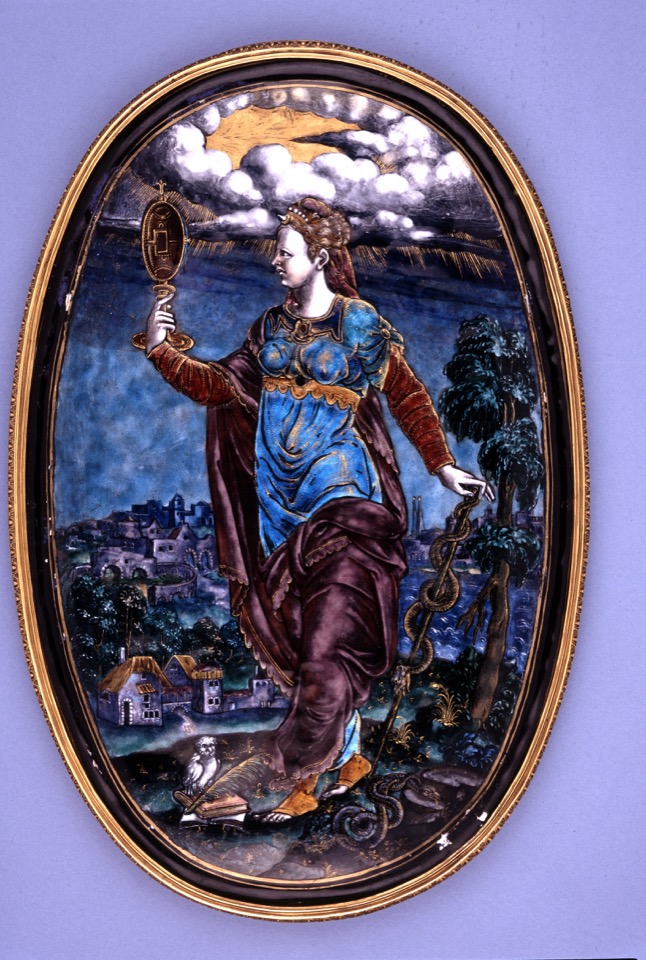 Minerva is the classical goddess of Wisdom.
Curator's Description
Painted Limoges enamel plaque; copper, oval; concave with a moulded rim; standing figure of an allegorical figure of wisdom, Minerva?, holding a mirror and stick with a snake; at her feet, another snake and an owl sitting upon two books and a quill pen; in background, a hamlet and outskirts of a town; painted in semi-opaque enamels over a white preparation with translucent enamels over coloured foils and grisaille with flesh tones; details produced by enlevage, painted on foils, white highlights or gilding; counter enamel translucent with liverish flux.
This object was collected and bequeathed to the British Museum by Ferdinand Anselm Rothschild.
How big is it?
23.1 cm wide, 35 cm high, 2 cm deep, and it weighs 667g
Detailed Curatorial Notes
Provenance: None is recorded.
Bibliography
Charles Hercules Read, 'The Waddesdon Bequest: Catalogue of the Works of Art bequeathed to the British Museum by Baron Ferdinand Rothschild, M.P., 1898', London, 1902, no. 35
O.M. Dalton, 'The Waddesdon Bequest', 2nd edn (rev), British Museum, London, 1927, no.35.

References
Read 1902: Read, Charles Hercules, The Waddesdon Bequest. Catalogue of the Works of Art Bequeathed to the British Museum by Baron Ferdinand Rothschild, M.P., 1898, London, BMP, 1902
Dalton 1927: Dalton, Ormonde Maddock, The Waddesdon Bequest : jewels, plate, and other works of art bequeathed by Baron Ferdinand Rothschild., London, BMP, 1927
Scrase handlist: Scrase handlist