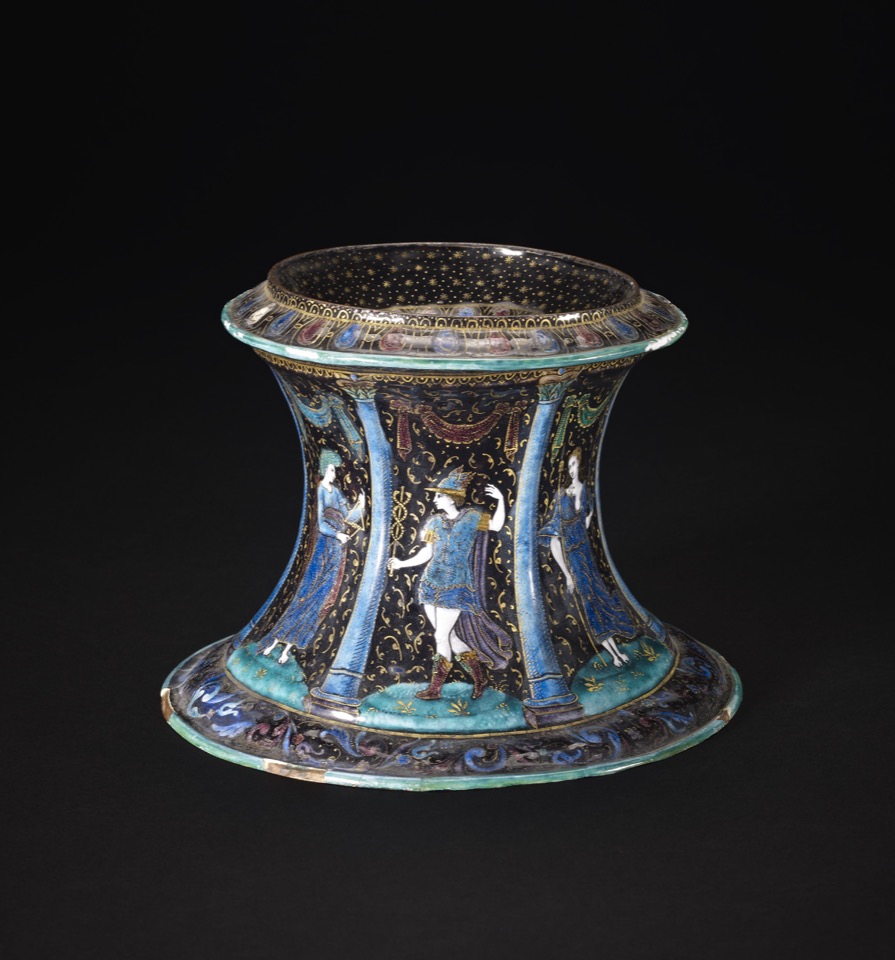 Hexagonal, with classical gods on each panel. Salt was a precious commodity.
Curator's Description
Painted Limoges enamel salt-cellar of piédouche type; copper; saleron: portrait bust of Diana; body: six panels decorated with deities and their attributes: Juno with a peacock, signed; Venus; a Muse; Mercury; Diana with a crescent moon; Mars; painted in grey-white grisaille with flesh details in stippling and contours produced by enlevage, and translucent enamels over a white preparation or coloured foils, all on a black ground; gilded; inscribed.
This object was collected by Anselm von Rothschild and bequeathed to the British Museum by Ferdinand Anselm Rothschild.
How big is it?
12.5 cm wide, 9.1 cm high, 12.5 cm deep, and it weighs 186g
Detailed Curatorial Notes
Provenance: Baron Anselm von Rothschild, Vienna, by 1866 (cat no. 15), by inheritance to his son Baron Ferdinand Rothschild (d. 1898).
Commentary: The maker may be Joseph Limousin or Jean Limousin, who signed pieces dated 1615 and 1619 (see Baratte, 'Les Émaux Peints de Limoges', Musée du Louvre, Paris, 2000, pp.380-381, for an entry on a similar salt in the Louvre, inv. no. MR 2497, where this is discussed). A very similar salt can be found in the Petit Palais, Paris (see V. Notin in 'La Rencontre des Heros', Limoges 2002, cat.35). Another pair signed IL in the Grünes Gewölbe, Dresden appear in Ulrike Weinhold / Beiträgen von Erika Speel, 'Maleremail aus Limoges im Grünen Gewölbe', 2008, pp.141-3. Weinhold gives a Delaune print source for the Mercury figure which appears on the Dresden and Waddesdon Bequest examples.
A further pair of salt cellars attributed to Joseph Limosin are in the Rijksmuseum, signed IL with a fleur-de-lys (inv. nos. NM 12575 and NM 7319), and another unsigned salt attributed to Joseph Limousin is in the Walters Art Gallery (inv. no. 44.33, compared with WB.43 in Verdier 1967, see bibliography). A silver salt cellar with a similar form dated 1628-9 and marked for Paris can be seen in Michèle Bimbenet-Privat, 'Trésors enfouis de la Renaissance, Autour de Pouilly-sur-Meuse' (Ecouen, 2011, p. 95) together with a painting by Sébastien Stoskopff showing a similar salt in silver.
Bibliography
Charles Hercules Read, 'The Waddesdon Bequest: Catalogue of the Works of Art bequeathed to the British Museum by Baron Ferdinand Rothschild, M.P., 1898', London, 1902, no. 43
O.M. Dalton, 'The Waddesdon Bequest', 2nd edn (rev), British Museum, London, 1927, no.43
Philippe Verdier, 'Catalogue of the Painted Enamels of the Renaissance', The Walters Art Gallery, Baltimore, 1967, p.365.

References
Read 1902: Read, Charles Hercules, The Waddesdon Bequest. Catalogue of the Works of Art Bequeathed to the British Museum by Baron Ferdinand Rothschild, M.P., 1898, London, BMP, 1902
Dalton 1927: Dalton, Ormonde Maddock, The Waddesdon Bequest : jewels, plate, and other works of art bequeathed by Baron Ferdinand Rothschild., London, BMP, 1927
Scrase handlist: Scrase handlist