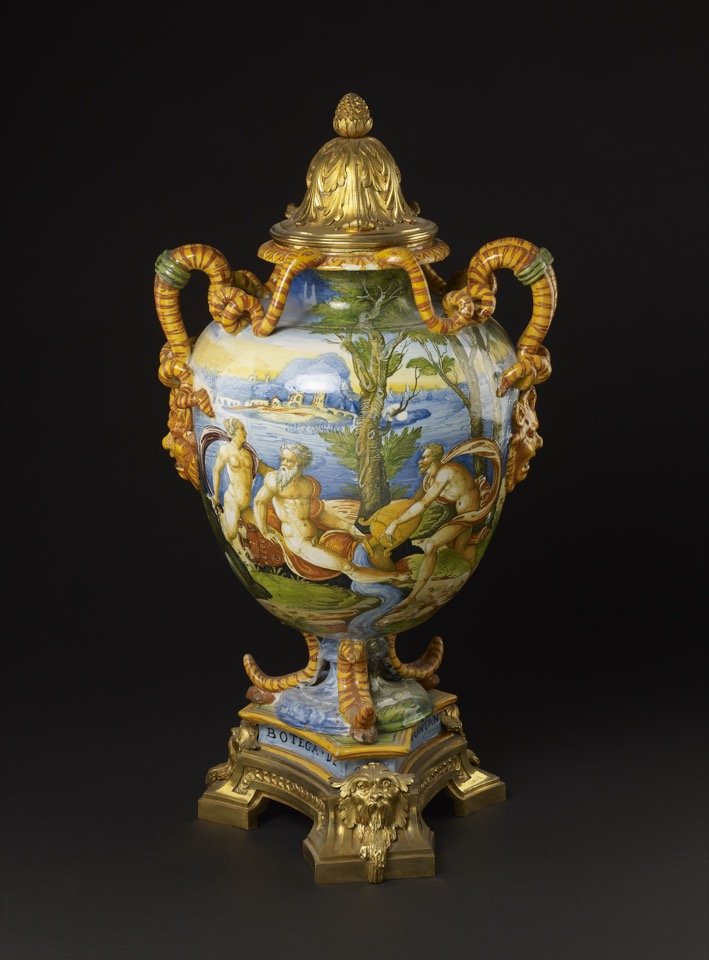 One shows river gods in a landscape. Hercules and Deianira appear on the other. One is signed for a famous ceramic workshop in Urbino whose wares were hunted down by collectors. As mounted ceramics, these were star pieces for Horace Walpole at Strawberry Hill in the 1760s and later for Baron Ferdinand at Waddesdon Manor.
Curator's Description
Large vase of oval form; inscribed. On the shoulders two double-serpent handles; inscribed. Earthenware covered inside and out with a presumed tin-glaze; inscribed. Painted on one side two semi-naked men , one reclining on a vase, the other pours water between his legs from a vase; the water runs away to form a river; a semi-naked woman approaches from the left; inscribed. On the other side three semi-naked men; inscribed. Mounted with gilt-metal mounts a) a base-mount b) domed cover, c) a collar for the cover; inscribed.
This object was previously owned by Morley, Montague Parker and Horace Walpole, and collected and bequeathed to the British Museum by Ferdinand Anselm Rothschild.
Urbino (vase)
Paris (mounts)
Urbino, Italy, workshop of Orazio Fontana
How big is it?
30.5 cm wide, 56 cm high, 12.5 cm deep, and it weighs 7.6 kg
Detailed Curatorial Notes
Provenance: Acquired in Paris by Horace Walpole (1765-6) and sold with his collection from Strawberry Hill in April 1842, lot 93. Bought for £105 with lot 94 (WB.61.b) by Montagu Parker, MP, of Whiteway, Devon (1807-58), and probably inherited by his nephew Albert Edmund Parker, Third Earl of Morley (1843-1905), purchased by Baron Ferdinand Rothschild some time before 1897.
Commentary: From Thornton & Wilson 2009 - 'This jar and its companion [WB.61.b], described in Horace Walpole's accounts as "two large vases of Roman faience mounted in ormolu", were bought by him in Paris in 1765-6. The ormolu mounts and lids were probably added in Paris not long before this and show that they were envisaged purely as ornamental. Similar ormolu mounts were applied in the same period to Sèvres porcelain vases. Originally jars of similar form were mainly supplied for pharmacy use, but grand examples like this were already decorative as well as functional in the 16th century. In Ferdinand Rothschild's Smoking Room at Waddesdon the jars were given prominence, set on columns on either side of the Limoges painted enamel of the "Quos Ego" [WB.21]. The form and painting are similar to several of the earliest group of jars in the pharmacy of the S.Casa at Loreto; but this exact form does not occur at Loreto. After 1544, Orazio Fontana's activities are uncertain. In 1560 he is documented in Urbino. In 1564 he was working in Turin for the Duke of Savoy and was described as "His Highness' chief potter" ("capo mastro de vasari de Sua Altezza"). The following year he was back in Urbino, setting up his own separate business after an apparent dispute with his father. It may have been both Orazio and Antonio Patanazzi who launched, around 1560, the fashion for white-ground grotesques, which became a successful speciality of the workshops of both families. Orazio died in 1571 and his workshop was taken over by his nephew Flaminio, before, apparently, passing to the control of Orazio's relative and collaborator Antonio Patanazzi. There are a few pieces recorded, both "istoriato" and grotesque-painted, marked as made in the workshop of Orazio. Among these are an "istoriato" jar similar in form to the BM ones, which was once in the collection of Alexander Barker, and is described as inscribed "FATTO IN BOTEGA DE M ORATO FONTANA", and another, of different shape with the plinth marked "FATO IN BOTEGA D MESTERO ORATIO FONTANA IN ORBINO". It is sometimes supposed that these must have been made after he separated his business from that of his father, that is, between 1565 and 1571. This may be right, but cannot be regarded as certain: for example, there seems no reason that he could not have marked pieces made in Turin in 1564 with his name (though the last-mentioned jar is also marked as made in Urbino). TL anaylsis in the BM in 1974 indicated that the plinths, as well as the bodies of the jars, are of Renaissance date. A similar but unmarked jar is in the Frizzi Baccioni collection.'
The scenes are based on prints by Caraglio of the life of Hercules and his erotic series, 'The loves of the gods', see Ashmolean Museum inv. no. WA1863.4043. A pair of vases in the Wallace Collection (inv. no. C282 & C283) have very similar covers dated around 1765-70 and attributed to Jean-Claude Duplessis, who may also have designed the mounts for the Waddesdon vases.
Bibliography
'Horace Walpole's Paris Journals' in 'The Yale Edition of Horace Walpole's Correspondence 7', London and New Haven, 1939, p.402
Horace Walpole, 'A Description of the Villa of Horace Walpole...at Strawberry Hill', Strawberry Hill, 1784, p.52
A Catalogue of the Classic Contents of Strawberry Hill collected by Horace Walpole', Smith and Robins, April 1842, lot 93
Joseph Marryat, 'Collections towards a History of Pottery and Porcelain', London, 1850, p.22
James Dennistoun, 'Memoirs of the Dukes of Urbino', London, 1851, III, pp.401-2
William Chaffers, 'Marks and Monograms on Pottery and Porcelain', London, 1863, p.51
C.D.E. Fortnum, 'A Descriptive Catalogue of the Maiolica...in the South Kensington Museum, London, 1873, p.342
C.D.E. Fortnum, 'Maiolica', Oxford, 1896, p.209
Charles Hercules Read, 'The Waddesdon Bequest: Catalogue of the Works of Art bequeathed to the British Museum by Baron Ferdinand Rothschild, M.P., 1898', London, 1902, no.61
Marc Louis Solon, 'A History and Description of Italian Majolica', London, 1907, fig.40
O.M. Dalton, 'The Waddesdon Bequest', 2nd edn (rev), British Museum, London, 1927, no.61
Luigi Serra, 'L'arte nelle Marche. Il periodo del Rinascimento', Rome, 1934, p.461
Francis Watson, 'Walpole and the Taste for French Porcelain in Eighteenth-Century England', in Warren Hunting Smith (ed.), 'Horace Walpole: Writer, Politician, and Connoisseur, Essays on the 250th Anniversary of Walpole's Birth, Yale University Press, New Haven and London, 1967, p.330
H. Tait, 'The Waddesdon Bequest', British Museum, London, 1981 pp.37, 40, col. pl. VII
Timothy Wilson, 'The Origins of the Maiolica Collections of the British Museum and the Victoria & Albert Museum', in 'Faenza', 71, 1985, p.69, tav. XXIa
Timothy Wilson, 'Ceramic Art of the Italian Renaissance', British Museum, London, 1987, no.91, fig. 91
Hugh Tait, 'Ormolu-mounted maiolica of the Renaissance: an aspect of the history of taste', in Timothy Wilson (ed.), 'Italian Renaissance Pottery - Papers Written in Association with a Colloquium at The British Museum', British Museum, London, 1991, pp.267-278, figs.1-3
Carmen Ravanelli Guidotti, 'Monte dei Paschi di Siena. Collezione Chigi Saracini: vol 5: Maioliche Italiane', Florence / Siena, 1992, p.121, fig. 14f
Bet. McLeod, 'Horace Walpole's Ceramics at Strawberry Hill', in 'The International Ceramics Fair and Seminar Handbook', London, 1995, pp.30-31, fig.3
Dora Thornton, 'From Waddesdon to the British Museum. Baron Ferdinand Rothschild and his cabinet collection', in 'Journal of the History of Collections', 13, no.2, 2001, pp.195-6, fig.1
Howard Coutts, 'The Art of Ceramics. European Ceramic Design 1500-1830', New Haven and London, 2001, p.36, fig. 46
Carmen Ravanelli Guidotti, 'Maioliche della più bella fabbrica. Selezione dalle Civiche Collezioni Bresciane e da collezioni private', exh. cat., Brixantiquaria, Brescia (I Quaderni di Brixantiquaria 5), 2006, p.74
Dora Thornton and Timothy Wilson with contributions by Michael Hughes and Jeremy Warren, 'Italian Renaissance ceramics : a catalogue of the British Museum collection', British Museum, London, 2009, no.197, fig.197
Dora Thornton, 'A Rothschild Renaissance: Treasures from the Waddesdon Bequest', British Museum, London, 2015, pp.142-149.

References
Read 1902: Read, Charles Hercules, The Waddesdon Bequest. Catalogue of the Works of Art Bequeathed to the British Museum by Baron Ferdinand Rothschild, M.P., 1898, London, BMP, 1902
Dalton 1927: Dalton, Ormonde Maddock, The Waddesdon Bequest : jewels, plate, and other works of art bequeathed by Baron Ferdinand Rothschild., London, BMP, 1927
Wilson 1987: Wilson, Timothy, Ceramic Art of the Italian Renaissance, London, BMP, 1987
Thornton & Wilson 2009: Thornton, Dora; Wilson, Timothy, Italian Renaissance Ceramics: a catalogue of the British Museum collection, London, BMP, 2009