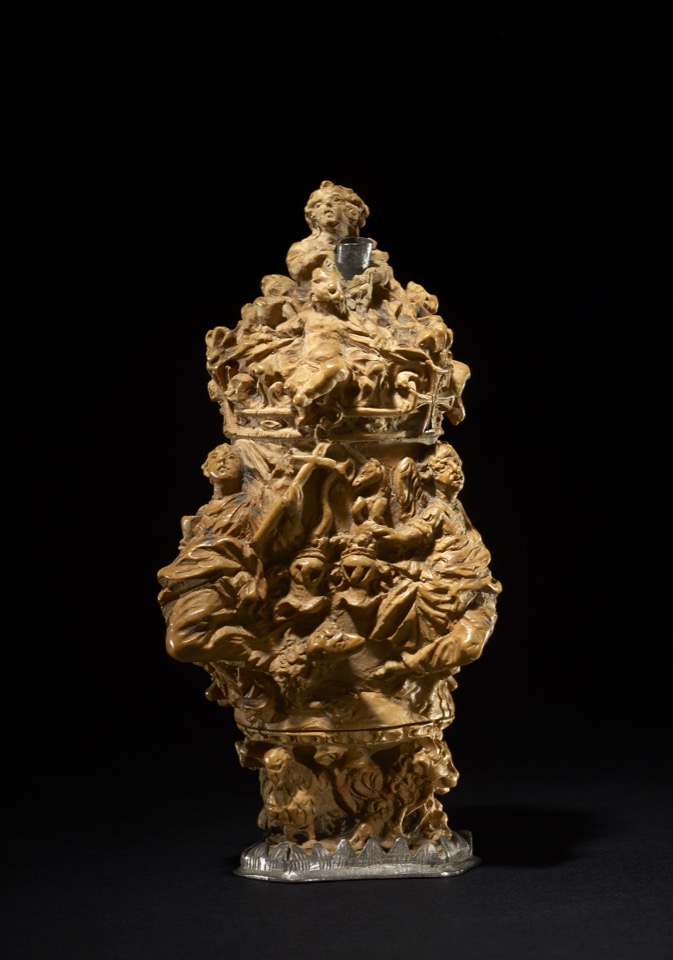 Carved with the figures of Faith, Hope and Charity and the shield of Austria. The upper part takes the form of a crown.
Curator's Description
Perfume flask; highly decorated column of boxwood; upper part in form of royal crown, with seated female figure surrounded by three cupids; body divided into three by figures of Faith, Hope and Charity; coat of arms and four crests in pairs between them triangular base, unscrews, represents emblems of the Evangelists; arms include: cross pattée, Imperial Eagle, Austria, demi-unicorn and pair of horns; inscribed.
This object was collected by Anselm von Rothschild and bequeathed to the British Museum by Ferdinand Anselm Rothschild.
Detailed Curatorial Notes
Provenance: Baron Anselm von Rothschild, Vienna, by 1866 (cat no. 45).
Bibliography
Charles Hercules Read, 'The Waddesdon Bequest: Catalogue of the Works of Art bequeathed to the British Museum by Baron Ferdinand Rothschild, M.P., 1898', London, 1902, no. 265
O.M. Dalton, 'The Waddesdon Bequest', 2nd edn (rev), British Museum, London, 1927, no.265.

References
Read 1902: Read, Charles Hercules, The Waddesdon Bequest. Catalogue of the Works of Art Bequeathed to the British Museum by Baron Ferdinand Rothschild, M.P., 1898, London, BMP, 1902
Dalton 1927: Dalton, Ormonde Maddock, The Waddesdon Bequest : jewels, plate, and other works of art bequeathed by Baron Ferdinand Rothschild., London, BMP, 1927