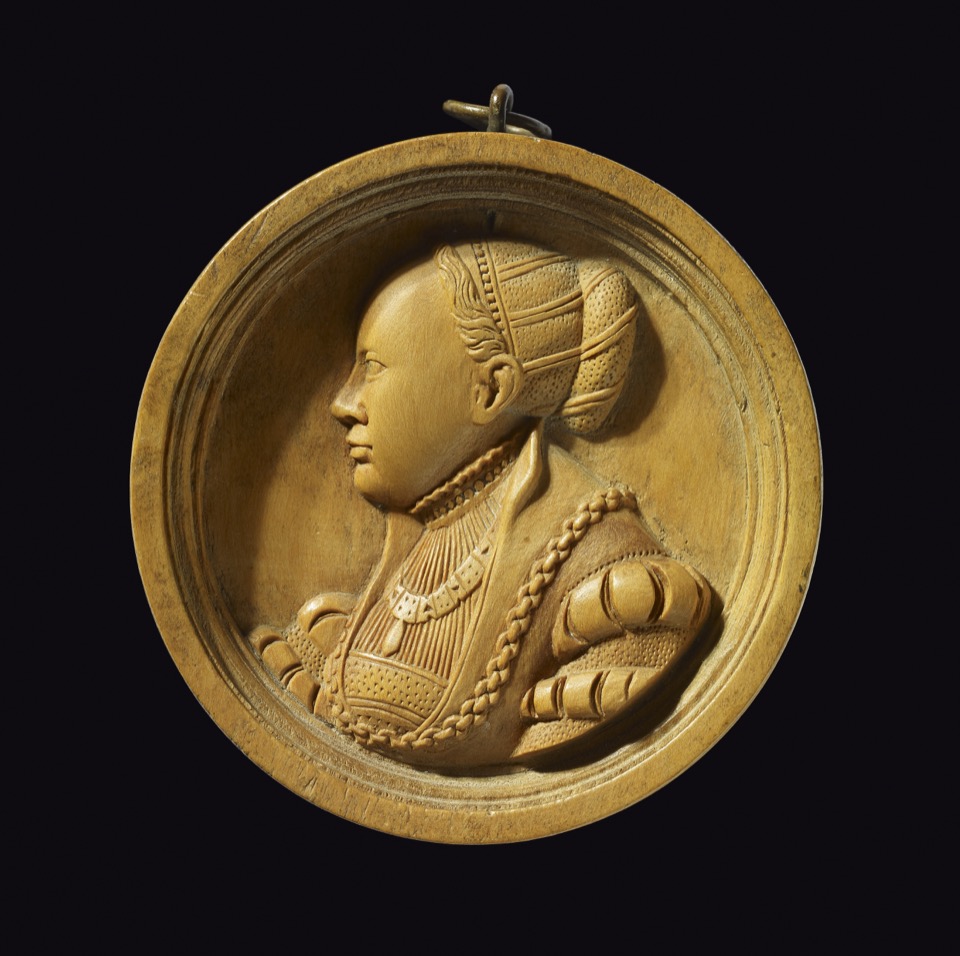 The portrait is that of Sibylla, Duchess of Cleves. Kels made virtuoso art objects in wood for the Habsburgs. One gaming board had pieces portraying members of the Habsburg family, promoting their territorial and dynastic claims.
Curator's Description
Circular medallion (probably a gaming piece); boxwood; Sibylla, Duchess of Cleves and wife of John Frederick, Elector of Saxony (1532-1553); profile to left; bare-headed, hair dressed with diagonal bands; open jacket with collar of an order; gold chain; puffed sleeves; inscribed.
This object was collected and bequeathed to the British Museum by Ferdinand Anselm Rothschild.
How big is it?
5.2 cm wide, 6.1 cm high, 1.1 cm deep, and it weighs 11g
Detailed Curatorial Notes
Provenance: None is recorded.
Commentary: See Trusted 1990 (cat. no. 193) in the V&A described as 'circle of Hans Kels' with very similar style of inscription on reverse, probably the same hand. The inscription may be later as it overlaps the concentric circles on the reverse, as does the Waddesdon Bequest example.
Trusted p.124: 'A comparable set of gamespieces in the Kunsthistoriches Museum Vienna includes a portrait of Henry VII, and possibly one of his fifth queen, Catherine Howard (d.1542). They were attributed to the circle of Hans Kels and dated 1530-40 by Schlosser.' These pieces (see Kunsthistoriches Museum inv. no. KK_3856 for the Henry VIII example) also have similar inscriptions on the reverse.
Bibliography
Charles Hercules Read, 'The Waddesdon Bequest: Catalogue of the Works of Art bequeathed to the British Museum by Baron Ferdinand Rothschild, M.P., 1898', London, 1902, no. 248
O.M. Dalton, 'The Waddesdon Bequest', 2nd edn (rev), British Museum, London, 1927, no.248.

References
Read 1902: Read, Charles Hercules, The Waddesdon Bequest. Catalogue of the Works of Art Bequeathed to the British Museum by Baron Ferdinand Rothschild, M.P., 1898, London, BMP, 1902
Dalton 1927: Dalton, Ormonde Maddock, The Waddesdon Bequest : jewels, plate, and other works of art bequeathed by Baron Ferdinand Rothschild., London, BMP, 1927