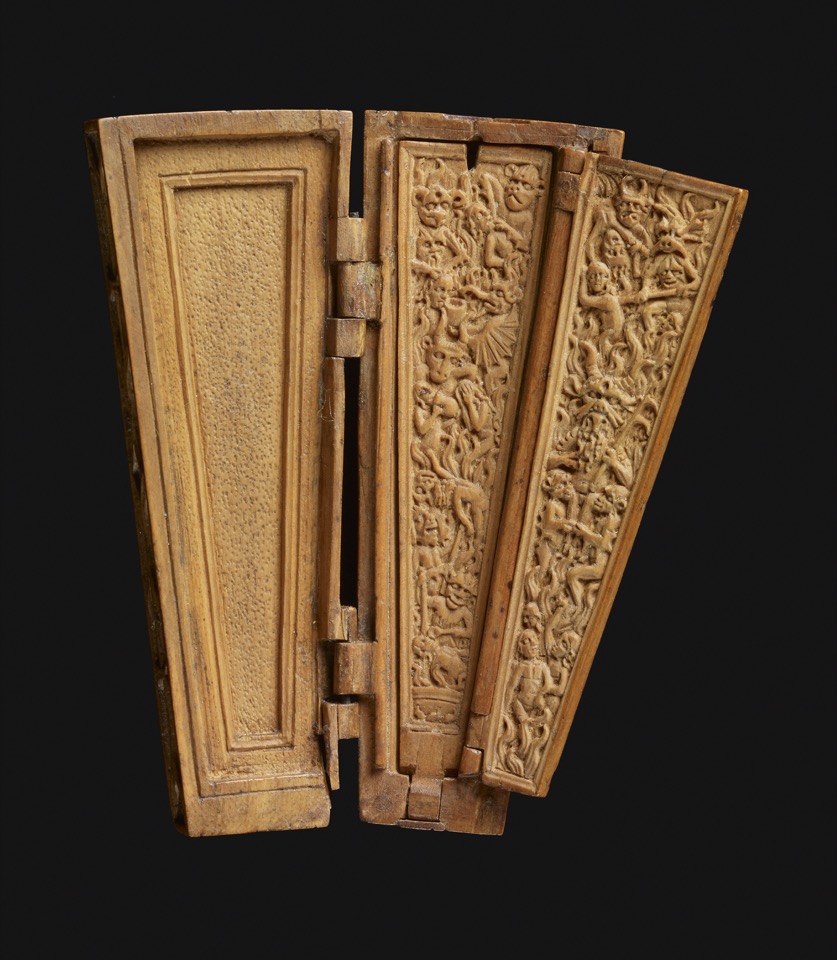 A Christian reminder of death (memento mori) and of judgement to come. The coffin opens to show two hinged leaves carved with a vision of Christ with saved human souls, and the damned surrounded by devils. A thin leaf inscribed in Latin 'Think on Death in order that you might live' lifts away, (shown here) revealing a chained, naked man lying in flames in the base.
Curator's Description
Memento mori; coffin with ridged cover; carved in low relief with cruciform designs; opens to show two hinged leaves. One opens sideways and has carved on the inside devils with the damned and on the outside the saved souls beneath Christ seated in judgement. The inner leaf opens downwards and has on the outside more damned figures and devils, and opens to reveal within the cavity a naked chained figure of a man against a background of flames. He has a finger to his lips. Inside the open leaf is a scroll with inscription in Latin in black letters and initial letters in red.
This object was collected by Anselm von Rothschild and bequeathed to the British Museum by Ferdinand Anselm Rothschild.
How big is it?
10 cm wide, 4 cm high, 3.9 cm deep, and it weighs 8g
Detailed Curatorial Notes
Provenance: Baron Anselm von Rothschild, Vienna, between 1866 and 1872 (cat no. 491).
The Metropolitan Museum of Art has a similar example (c.1500, inv. no. 1985.136) which depicts the parable of the rich man who refused charity to Lazarus. Another comparative coffin memento mori is in the Louvre (inv. no. OA 5614). This does not feature the flap with inscription that the other two examples have, but the scenes inside the coffin can be flipped over by turning a device on the side of the object. The Louvre example was formerly in the collection of Baron Adolphe de Rothschild.
Bibliography
Charles Hercules Read, 'The Waddesdon Bequest: Catalogue of the Works of Art bequeathed to the British Museum by Baron Ferdinand Rothschild, M.P., 1898', London, 1902, no. 240
O.M. Dalton, 'The Waddesdon Bequest', 2nd edn (rev), British Museum, London, 1927, no.240.

References
Read 1902: Read, Charles Hercules, The Waddesdon Bequest. Catalogue of the Works of Art Bequeathed to the British Museum by Baron Ferdinand Rothschild, M.P., 1898, London, BMP, 1902
Dalton 1927: Dalton, Ormonde Maddock, The Waddesdon Bequest : jewels, plate, and other works of art bequeathed by Baron Ferdinand Rothschild., London, BMP, 1927