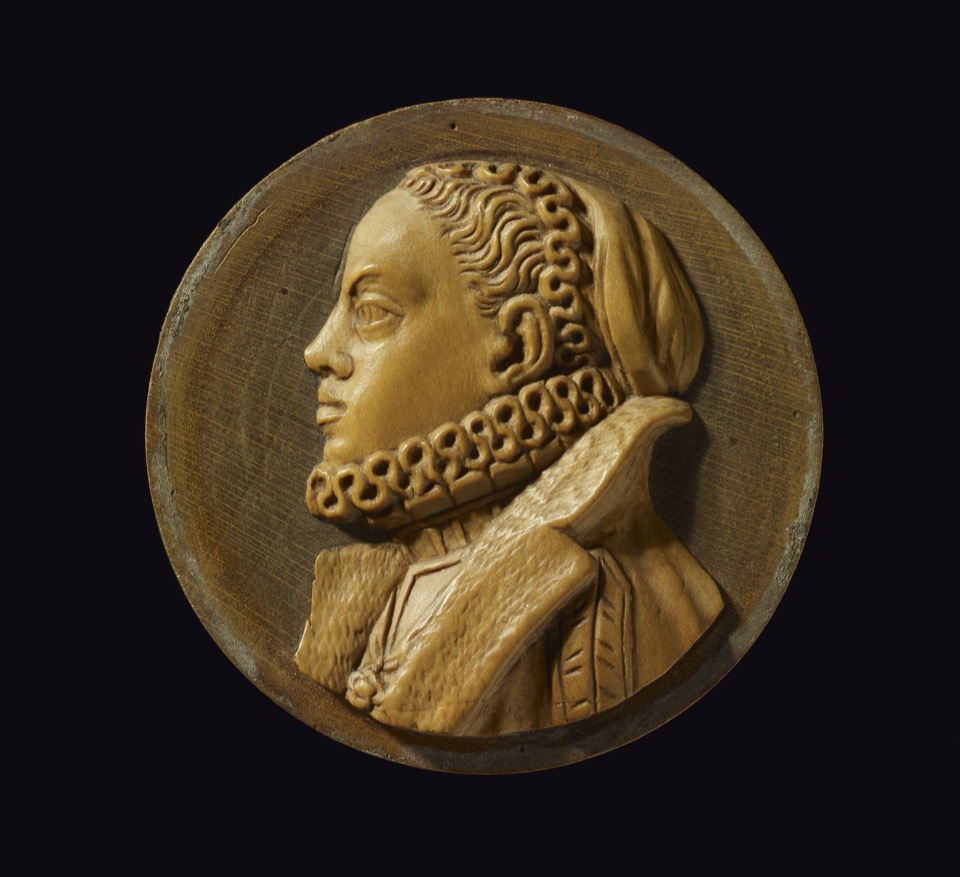 A copy of one side of Antonio Abondio's medal of 1575 which shows Maria of Austria and her husband, Maximilian II.
Curator's Description
Circular medallion; boxwood; Maria of Austria (1528-1603), wife of Maximilian II; profile to left; wears cap with frilled edge, ruff and cloak with fur collar; modern background; possibly model for reverse of medal; inscribed.
This object was previously owned by Vienna Museum, collected by Anselm von Rothschild and bequeathed to the British Museum by Ferdinand Anselm Rothschild.
How big is it?
4.1 cm wide, 4.1 cm high, 0.8 cm deep, and it weighs 5g
Detailed Curatorial Notes
Provenance: Probably Baron Anselm von Rothschild, Vienna, by 1866 (probably cat no. 55). Appeared in the 1860 sale of the Vienna Museum, lot 1057 (where it is wrongly described as 'Margaret, daughter of the Emperor, Ferdinand I').
Commentary: This model appears to be after the reverse of the 1575 medal of Maria of Austria and Maximilian II by Antonio Abondio (see Attwood, 'Italian medals c. 1530-1600 in British public collections', 2003, cat. no. 1132a and 1134). The boxwood model and the examples in Attwood 2003 are very similar but differ slightly in details - he suggests that, as Antonio Abondio's models would have been in wax, this is presumably a German or Austrian artist (who did make wooden models) copying his medal. Another example of the Abondio medal can be seen in the Met Museum (accession no. 1989.12.3).
Bibliography
Charles Hercules Read, 'The Waddesdon Bequest: Catalogue of the Works of Art bequeathed to the British Museum by Baron Ferdinand Rothschild, M.P., 1898', London, 1902, no. 249, fig. 39
O.M. Dalton, 'The Waddesdon Bequest', 2nd edn (rev), British Museum, London, 1927, no.249.

References
Read 1902: Read, Charles Hercules, The Waddesdon Bequest. Catalogue of the Works of Art Bequeathed to the British Museum by Baron Ferdinand Rothschild, M.P., 1898, London, BMP, 1902
Dalton 1927: Dalton, Ormonde Maddock, The Waddesdon Bequest : jewels, plate, and other works of art bequeathed by Baron Ferdinand Rothschild., London, BMP, 1927