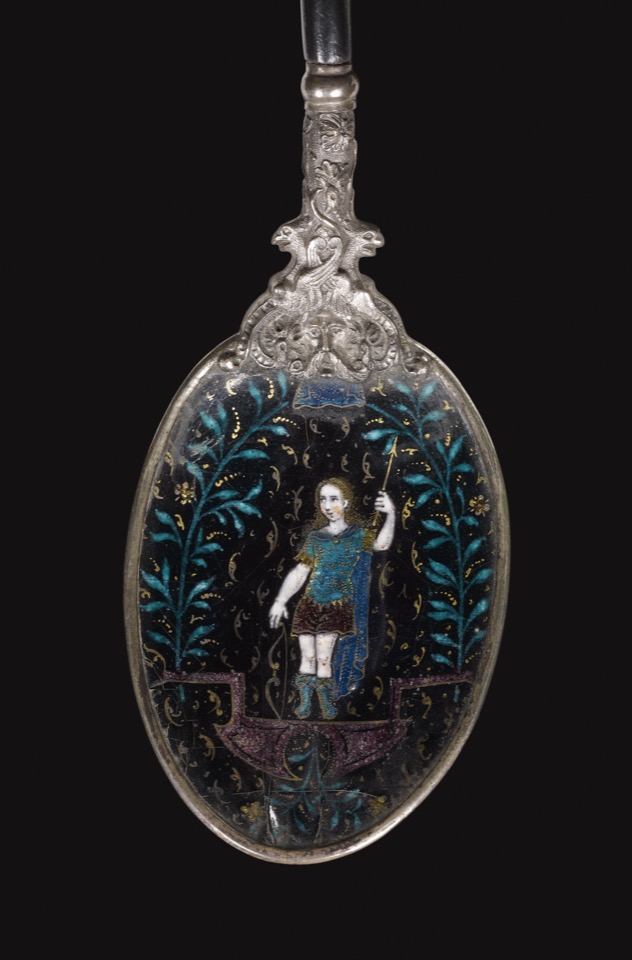 The bowls show Apollo and a Muse playing a lute.
Curator's Description
Painted Limoges enamel spoon; copper; mounted in silver gilt worked in relief with a male and female mask, two griffins and a spray of leaves; curved handle is made of black horn; bowl decorated on obverse with figure of Apollo standing with a bow and arrow on an architectural ornament; back shows an owl attacked by three birds and an insect; painted in semi-transparent colours over a white preparation translucent enamels over coloured foils and grisaille; stippled flesh tints, all on a black ground; counters scratched by enlevage; gilded.
This object was collected by Anselm von Rothschild and bequeathed to the British Museum by Ferdinand Anselm Rothschild.
How big is it?
4.4 cm wide, 1.9 cm high, 0.8 cm deep, and it weighs 26g
Detailed Curatorial Notes
Provenance: Baron Anselm von Rothschild, Vienna, by 1866 (cat no. 20), by inheritance to his son Baron Ferdinand Rothschild (d. 1898).
Commentary: The best comparisons are a pair of spoons with identical mounts, but featuring Jupiter and Perspective (after engravings by Etienne Delaune) in the Walters Art Gallery (inv. no. VO.10 (44.54, 44.55)), one of these with an owl, birds and insects on the reverse as in the British Museum pair. A further pair with the same mounts are in the Allen Memorial Art Museum, Ohio (inv. no. 1960.8A-B).
Bibliography
Charles Hercules Read, 'The Waddesdon Bequest: Catalogue of the Works of Art bequeathed to the British Museum by Baron Ferdinand Rothschild, M.P., 1898', London, 1902, no. 44
O.M. Dalton, 'The Waddesdon Bequest', 2nd edn (rev), British Museum, London, 1927, no.44
Philippe Verdier, 'Catalogue of the Painted Enamels of the Renaissance', The Walters Art Gallery, Baltimore, 1967, p.372.

References
Read 1902: Read, Charles Hercules, The Waddesdon Bequest. Catalogue of the Works of Art Bequeathed to the British Museum by Baron Ferdinand Rothschild, M.P., 1898, London, BMP, 1902
Dalton 1927: Dalton, Ormonde Maddock, The Waddesdon Bequest : jewels, plate, and other works of art bequeathed by Baron Ferdinand Rothschild., London, BMP, 1927
Scrase handlist: Scrase handlist