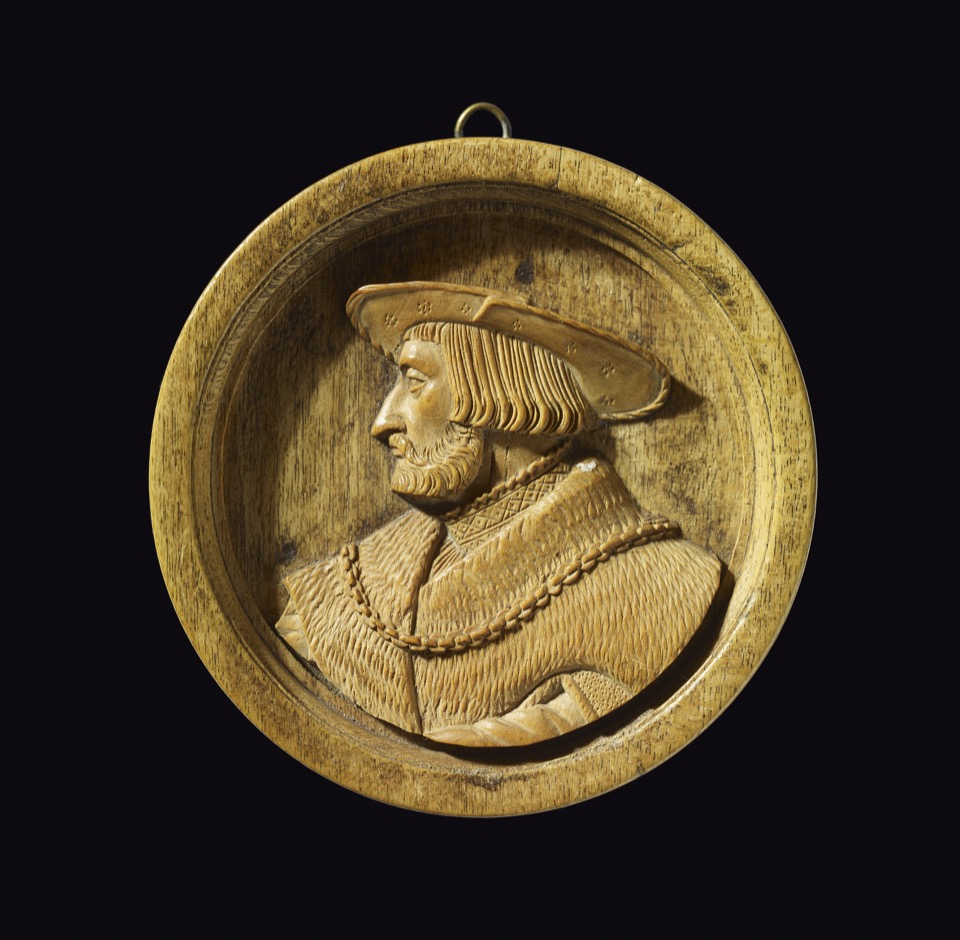 Inscribed 'Duke William'. Like 3, this is from a set of gaming pieces with portraits of contemporary rulers. Raised borders protect the portrait when in use.
Curator's Description
Circular medallion; gaming piece; boxwood; middle-aged man (Wilhalm Hertzo?) in profile to left; wears broad-brimmed flat hat; long straight hair cut across forehead; fur tippet and chain; moulded edge; modern back; inscribed.
This object was collected by Anselm von Rothschild and bequeathed to the British Museum by Ferdinand Anselm Rothschild.
How big is it?
5.4 cm wide, 5.9 cm high, 1 cm deep, and it weighs 10g
Detailed Curatorial Notes
Provenance: Probably Baron Anselm von Rothschild, Vienna, by 1866 ( probably cat no. 62).
Similar insciption on back to Trusted cat.193, attributed to circle of Hans Kels in Augsburg.
Bibliography
Charles Hercules Read, 'The Waddesdon Bequest: Catalogue of the Works of Art bequeathed to the British Museum by Baron Ferdinand Rothschild, M.P., 1898', London, 1902, no. 247
O.M. Dalton, 'The Waddesdon Bequest', 2nd edn (rev), British Museum, London, 1927, no.247.

References
Read 1902: Read, Charles Hercules, The Waddesdon Bequest. Catalogue of the Works of Art Bequeathed to the British Museum by Baron Ferdinand Rothschild, M.P., 1898, London, BMP, 1902
Dalton 1927: Dalton, Ormonde Maddock, The Waddesdon Bequest : jewels, plate, and other works of art bequeathed by Baron Ferdinand Rothschild., London, BMP, 1927