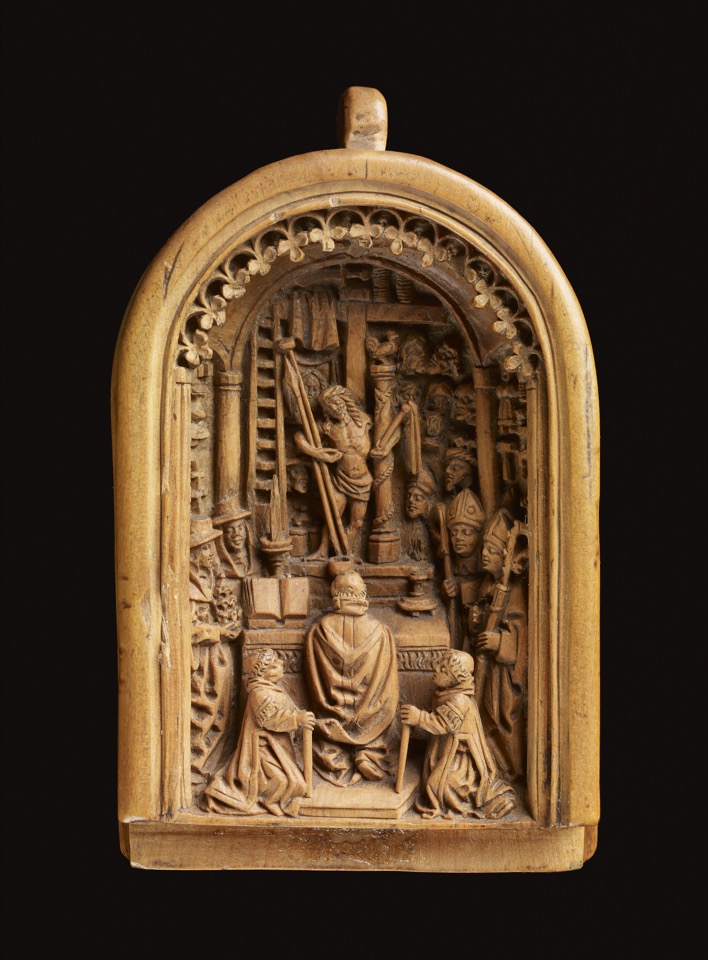 Carved with the Mass of St Gregory on the inside, and the Annunciation on the outside, with a Latin inscription. The scene inside was originally protected by a sliding door, which is now missing.
Curator's Description
Oblong carving of boxwood; square with arched top; one face with Mass of St Gregory, with two acolytes officiating before altar, on which stands Christ with instruments of the Passion; two bishops to right, two priests to left; other face with Annunciation and two men counting beads before figure of Virgin and Child, patron saint on each side; part of larger carving; inscribed.
This object was collected and bequeathed to the British Museum by Ferdinand Anselm Rothschild.
How big is it?
4 cm wide, 6.4 cm high, 2.1 cm deep, and it weighs 20g
Detailed Curatorial Notes
Originally part of a larger carving.
Provenance: None is recorded.
Bibliography
Charles Hercules Read, 'The Waddesdon Bequest: Catalogue of the Works of Art bequeathed to the British Museum by Baron Ferdinand Rothschild, M.P., 1898', London, 1902, no. 241, pl.XLIX
O.M. Dalton, 'The Waddesdon Bequest', 2nd edn (rev), British Museum, London, 1927, no.241.

References
Read 1902: Read, Charles Hercules, The Waddesdon Bequest. Catalogue of the Works of Art Bequeathed to the British Museum by Baron Ferdinand Rothschild, M.P., 1898, London, BMP, 1902
Dalton 1927: Dalton, Ormonde Maddock, The Waddesdon Bequest : jewels, plate, and other works of art bequeathed by Baron Ferdinand Rothschild., London, BMP, 1927