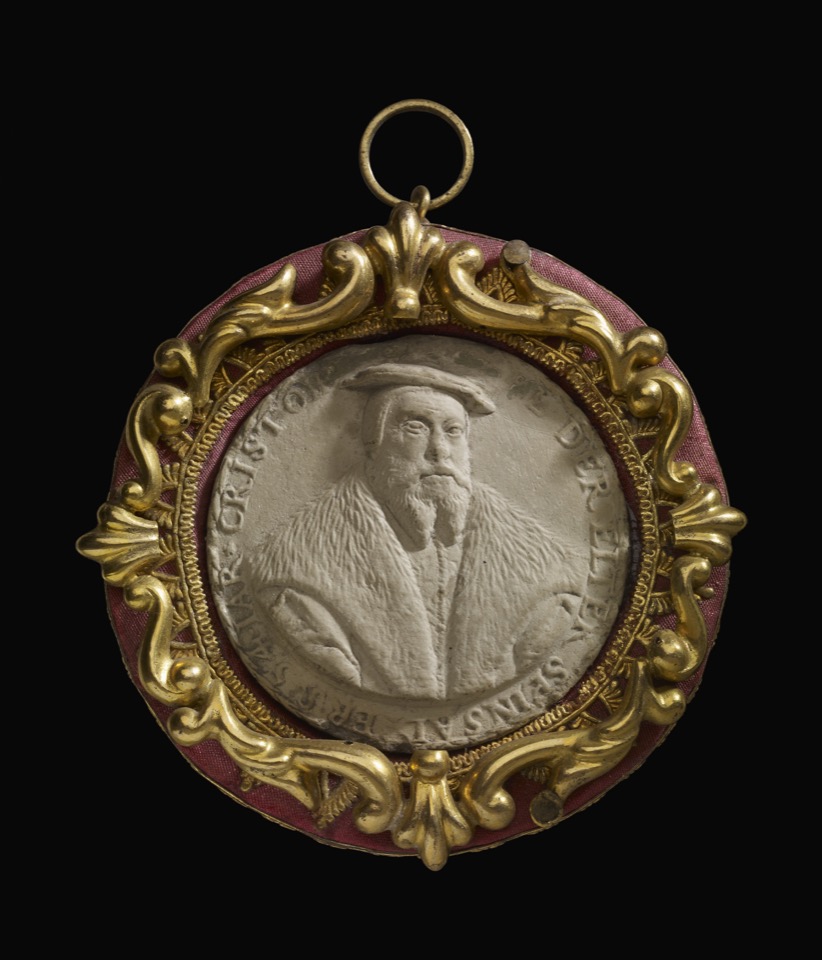 Tetzel, a member of one of Nuremberg's oldest families, is shown at the age of 54. Bolsterer (died 1573) was much admired as a medallist in Nuremberg.
Curator's Description
Circular medallion; hone-stone; model for obverse of medal, carved with three-quarters bust of Christoph Tetzel at the age of 54; dressed in close cap and flat hat; wide fur collar to mantle; beard in two points; frame with label; inscribed.
This object was collected and bequeathed to the British Museum by Ferdinand Anselm Rothschild.
How big is it?
5.8 cm wide, 6.6 cm high, 0.9 cm deep, and it weighs 21g
Detailed Curatorial Notes
Provenance: None is recorded.
Commentary: There are several other examples of medals depicting Cristoff Tetzel including V&A 98-1867, 136-1867 and 137-1867.
Bibliography
Charles Hercules Read, 'The Waddesdon Bequest: Catalogue of the Works of Art bequeathed to the British Museum by Baron Ferdinand Rothschild, M.P., 1898', London, 1902, no. 256
O.M. Dalton, 'The Waddesdon Bequest', 2nd edn (rev), British Museum, London, 1927, no.256
Georg Habich, Die Deutschen Schaumünzen des XVI Jahrhunderts, F Bruckmann, 1929-1935, Vol I, I no.295, fig. 61.

References
Read 1902: Read, Charles Hercules, The Waddesdon Bequest. Catalogue of the Works of Art Bequeathed to the British Museum by Baron Ferdinand Rothschild, M.P., 1898, London, BMP, 1902
Dalton 1927: Dalton, Ormonde Maddock, The Waddesdon Bequest : jewels, plate, and other works of art bequeathed by Baron Ferdinand Rothschild., London, BMP, 1927
Habich: Habich