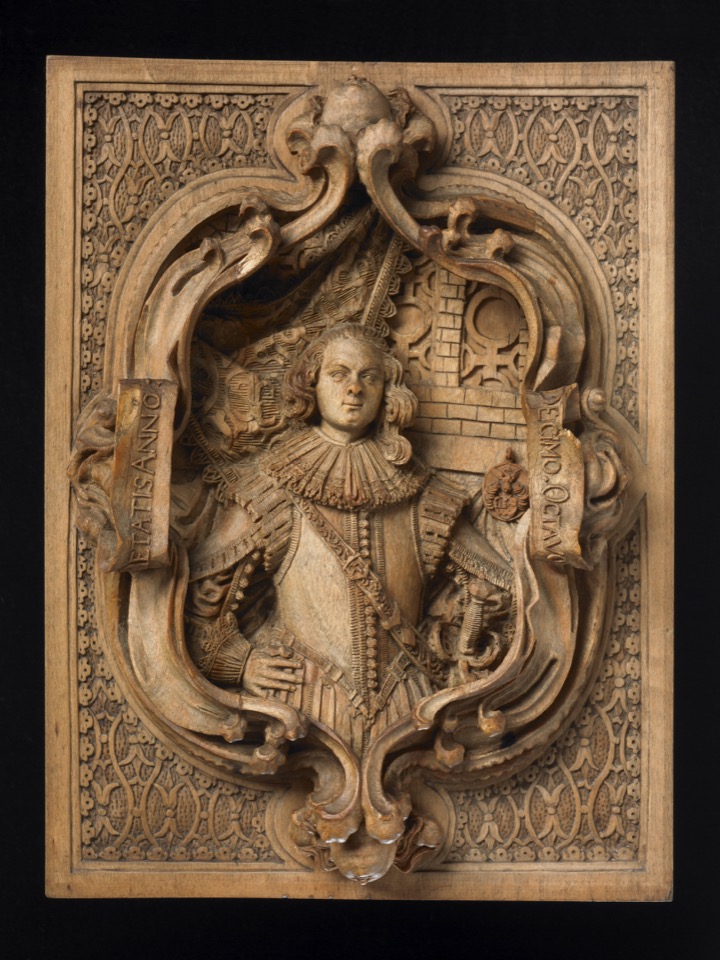 Carved in high relief and partly in openwork with a detailed half-length of a young nobleman. The arms and crest are those of the Van Arkel family of Holland.
Curator's Description
Oblong panel; pearwood; carved in high relief and partly in openwork; half-length of young man, standing; bare head with long curling hair; falling ruff, lace cuffs; ornamental baldric with sword; shield of arms with Tau-crosses, van Arkel of Holland; crest of demi-swan displayed; quatrefoil frame with four masks; modern oblong back with sunk pattern in corners; inscribed.
This object was collected by Anselm von Rothschild and bequeathed to the British Museum by Ferdinand Anselm Rothschild.
How big is it?
14 cm wide, 18.6 cm high, 3.6 cm deep, and it weighs 161g
Detailed Curatorial Notes
Provenance: Baron Anselm von Rothschild, Vienna, by 1866 (cat no. 41).
Commentary: Söll-Tauchert 2011, cat.90, p. 318 suggests that this plaque may be by the same hand as one in the Historiches Museum, Basel of a gentleman with the arms of the Zurlauben family, possibly Konrad Zurlauben III (1571-1629) which is carved from a single piece of wood as a virtuoso carving (inv. no. 1870.1192). This is signed with the monogram 'FE' on the ribbon that the man wears under his jacket, and is dated 1625. This WB piece is apparently dated the same way 1625 on the bandolier under what may be a signature but this is unclear. A Crucifixion wooden plaque after a 1605 engraving by Ralph Sadeler, which is also in Basel, is also signed FE and dated 1627 on a skull at the foot of the cross, 1870.950, see same publication cat.85. The cross cears the arms of Zurlauben of Lucerne, possibly the man in the portrait in Basel. Both Basel carvings were in the Museum Faesch, inventoried in 1772.
Bibliography
Charles Hercules Read, 'The Waddesdon Bequest: Catalogue of the Works of Art bequeathed to the British Museum by Baron Ferdinand Rothschild, M.P., 1898', London, 1902, no. 258
O.M. Dalton, 'The Waddesdon Bequest', 2nd edn (rev), British Museum, London, 1927, no.258
Sabine Söll-Tauchert (contrib.), 'Die grosse Kunstkammer: bürgerliche Sammler und Sammlungen in Basel', ed. S. Söll-Tauchert, Historisches Museum Basel, 2011, p.318 & fig..

References
Read 1902: Read, Charles Hercules, The Waddesdon Bequest. Catalogue of the Works of Art Bequeathed to the British Museum by Baron Ferdinand Rothschild, M.P., 1898, London, BMP, 1902
Dalton 1927: Dalton, Ormonde Maddock, The Waddesdon Bequest : jewels, plate, and other works of art bequeathed by Baron Ferdinand Rothschild., London, BMP, 1927