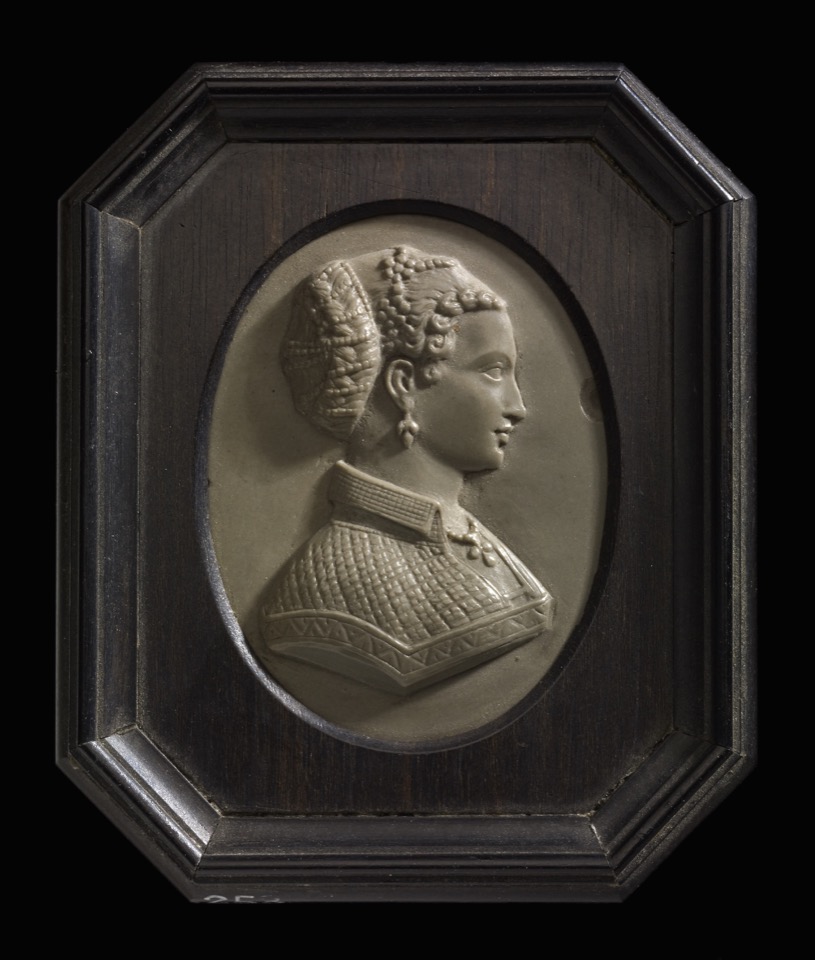 Arrived as part of the Waddesdon Bequest from Waddesdon Manor in 1898, but has never been shown because it's thought to be modern.
Curator's Description
Oval medallion; hone-stone; carved with bust to right, of young lady with bare head, dressed with pearls, cross on breast and dress ornamented with quatrefoils; black frame.
This object was collected by Anselm von Rothschild and bequeathed to the British Museum by Ferdinand Anselm Rothschild.
How big is it?
3.9 cm wide, 4.7 cm high, 0.7 cm deep, and it weighs 15g
Where is it?
This object is not on display in Room 2A.
Detailed Curatorial Notes
Provenance: Baron Anselm von Rothschild, Vienna, by 1866 (cat. no. 359).
Bibliography
Charles Hercules Read, 'The Waddesdon Bequest: Catalogue of the Works of Art bequeathed to the British Museum by Baron Ferdinand Rothschild, M.P., 1898', London, 1902, no. 253
O.M. Dalton, 'The Waddesdon Bequest', 2nd edn (rev), British Museum, London, 1927, no.253.

References
Read 1902: Read, Charles Hercules, The Waddesdon Bequest. Catalogue of the Works of Art Bequeathed to the British Museum by Baron Ferdinand Rothschild, M.P., 1898, London, BMP, 1902
Dalton 1927: Dalton, Ormonde Maddock, The Waddesdon Bequest : jewels, plate, and other works of art bequeathed by Baron Ferdinand Rothschild., London, BMP, 1927