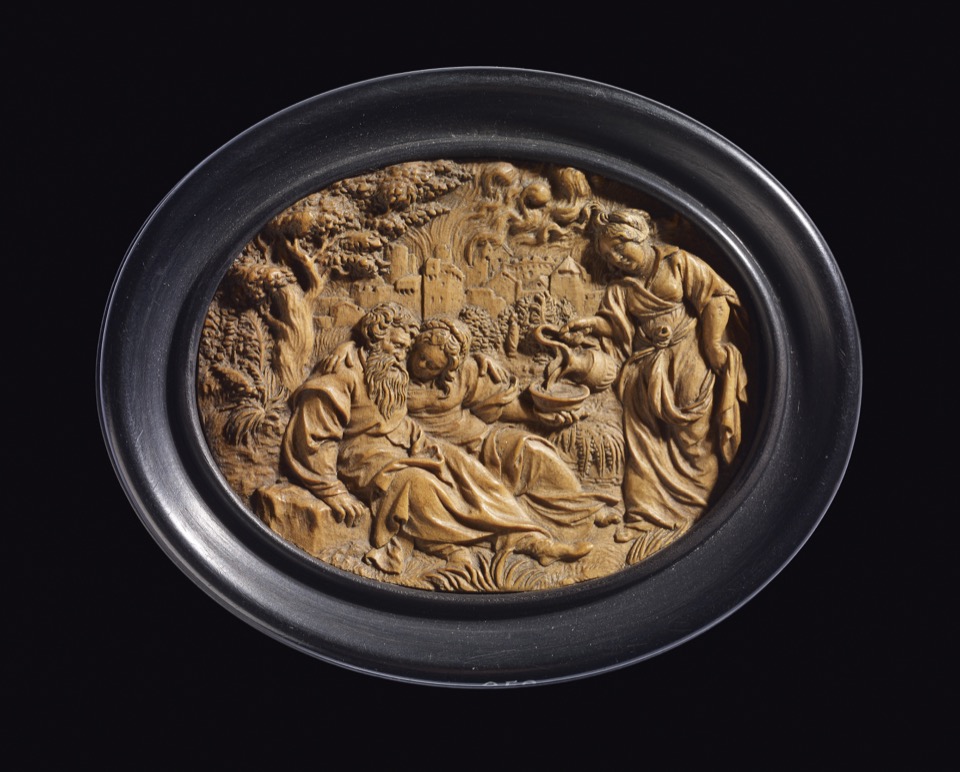 In the biblical Book of Genesis God destroyed the wicked cities of Sodom and Gomorrah. Lot's wife was killed during his family's escape. Lot's daughters thought he was the only man to survive. They seduced him by making him drunk and committed incest with him in an effort to perpetuate the human race. Flötner shows one daughter pouring wine into a cup for her drunken father while cities burn in the background.
Curator's Description
Oval medallion; boxwood; Lot and his daughters; Lot seated on ground while one daughter pours wine into cup held by other; burning cities in background.
This object was collected by Anselm von Rothschild and bequeathed to the British Museum by Ferdinand Anselm Rothschild.
How big is it?
5.5 cm wide, 6.8 cm high, 0.8 cm deep, and it weighs 13g
Detailed Curatorial Notes
Provenance: Baron Anselm von Rothschild, Vienna, between 1866 - 1872 (cat. no. 492).
Bibliography
Charles Hercules Read, 'The Waddesdon Bequest: Catalogue of the Works of Art bequeathed to the British Museum by Baron Ferdinand Rothschild, M.P., 1898', London, 1902, no. 250
O.M. Dalton, 'The Waddesdon Bequest', 2nd edn (rev), British Museum, London, 1927, no.250.

References
Read 1902: Read, Charles Hercules, The Waddesdon Bequest. Catalogue of the Works of Art Bequeathed to the British Museum by Baron Ferdinand Rothschild, M.P., 1898, London, BMP, 1902
Dalton 1927: Dalton, Ormonde Maddock, The Waddesdon Bequest : jewels, plate, and other works of art bequeathed by Baron Ferdinand Rothschild., London, BMP, 1927