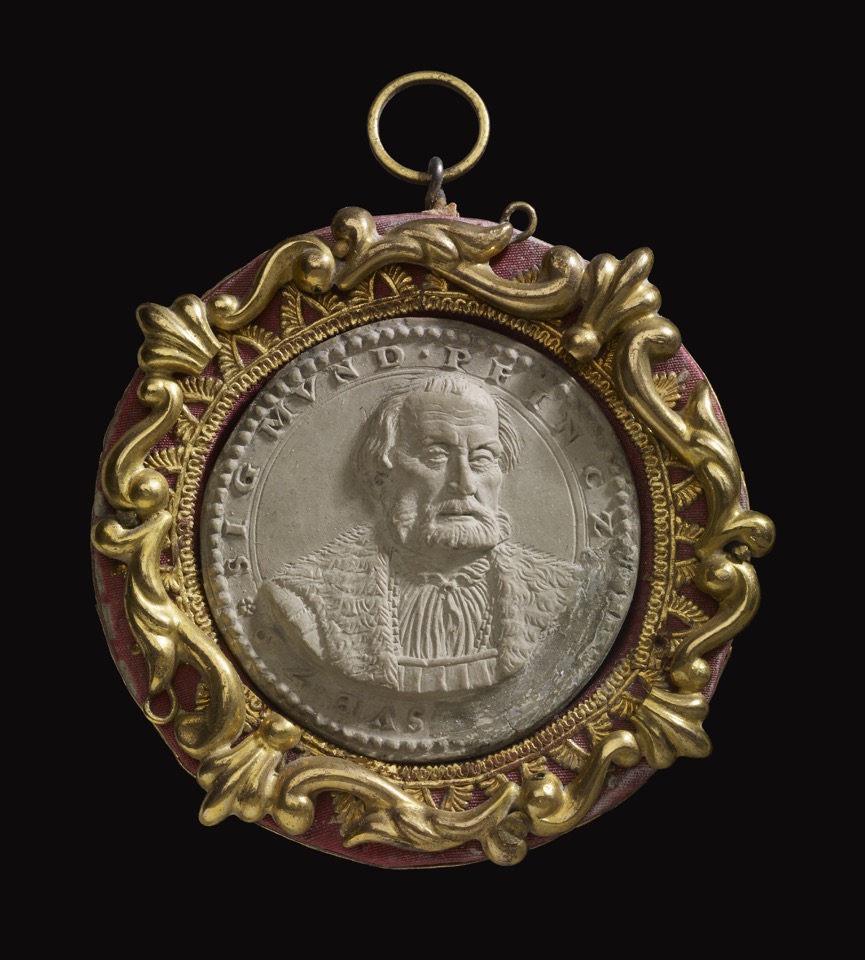 Pfinzing (1479–1554), from a prominent Nuremberg family, is shown at the age of 79. The medallist, Deschler (died 1571), became a citizen of Nuremberg in 1537 and specialised in medal portraits of its citizens. Framed in gilt wood (like 6) as a family or collector's piece.
Curator's Description
Circular medallion (model for portrait medallion?); hone-stone;carved with three-quarters bust of Sigmund Pfinzing at the age of 79; bare-headed with straight hair cut square over ears; gathered shirt, pleated jacket and fur collar; border of dots; inscribed.
This object was collected and bequeathed to the British Museum by Ferdinand Anselm Rothschild.
How big is it?
5.8 cm wide, 6.6 cm high, 0.9 cm deep, and it weighs 25g
Detailed Curatorial Notes
Provenance: None is recorded.
Commentary: According to Dalton 1927, this is the model for portraits of Sigmund Pfinzing (1479-1554) by Joachim Deschler, 1554. A portrait bust in coloured wax of another member of the same family, Siegfried Pfinzing von Henfenfeld, modelled in 1596, is in the British Museum, given by Sir A. Wollaston Franks. (1893,1111,164).
Bibliography
Charles Hercules Read, 'The Waddesdon Bequest: Catalogue of the Works of Art bequeathed to the British Museum by Baron Ferdinand Rothschild, M.P., 1898', London, 1902, no. 255
O.M. Dalton, 'The Waddesdon Bequest', 2nd edn (rev), British Museum, London, 1927, no.255
Georg Habich, Die Deutschen Schaumünzen des XVI Jahrhunderts, F Bruckmann, 1929-1935, Vol I, I no.1618.

References
Read 1902: Read, Charles Hercules, The Waddesdon Bequest. Catalogue of the Works of Art Bequeathed to the British Museum by Baron Ferdinand Rothschild, M.P., 1898, London, BMP, 1902
Dalton 1927: Dalton, Ormonde Maddock, The Waddesdon Bequest : jewels, plate, and other works of art bequeathed by Baron Ferdinand Rothschild., London, BMP, 1927
Habich: Habich