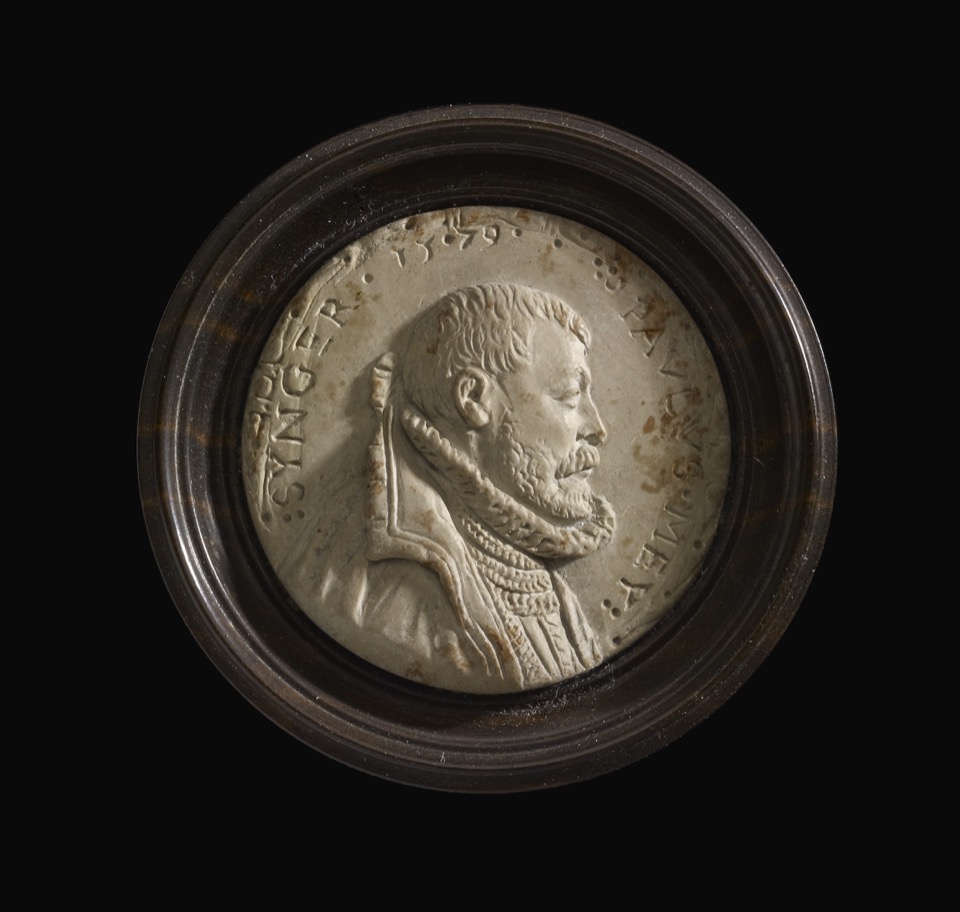 Honestone (Solnhofen) was used for delicate and detailed carving, as in the gold chains around Meysinger's neck.
Curator's Description
Circular medallion (model for medal?); hone-stone; carved with portrait bust to right of Paulus Meisinger; middle aged, bare-headed, short hair and beard, wearing ruff with cloak with collar; incised inscription.
This object was collected by Anselm von Rothschild and bequeathed to the British Museum by Ferdinand Anselm Rothschild.
How big is it?
4.4 cm wide, 4.4 cm high, 1.1 cm deep, and it weighs 15g
Detailed Curatorial Notes
Provenance: Baron Anselm von Rothschild, Vienna, by 1866 (cat. no. 355).
Bibliography
Charles Hercules Read, 'The Waddesdon Bequest: Catalogue of the Works of Art bequeathed to the British Museum by Baron Ferdinand Rothschild, M.P., 1898', London, 1902, no. 254
O.M. Dalton, 'The Waddesdon Bequest', 2nd edn (rev), British Museum, London, 1927, no.254
Georg Habich, Die Deutschen Schaumünzen des XVI Jahrhunderts, F Bruckmann, 1929-1935, Vol II, II no. 2391.

References
Read 1902: Read, Charles Hercules, The Waddesdon Bequest. Catalogue of the Works of Art Bequeathed to the British Museum by Baron Ferdinand Rothschild, M.P., 1898, London, BMP, 1902
Dalton 1927: Dalton, Ormonde Maddock, The Waddesdon Bequest : jewels, plate, and other works of art bequeathed by Baron Ferdinand Rothschild., London, BMP, 1927
Habich: Habich