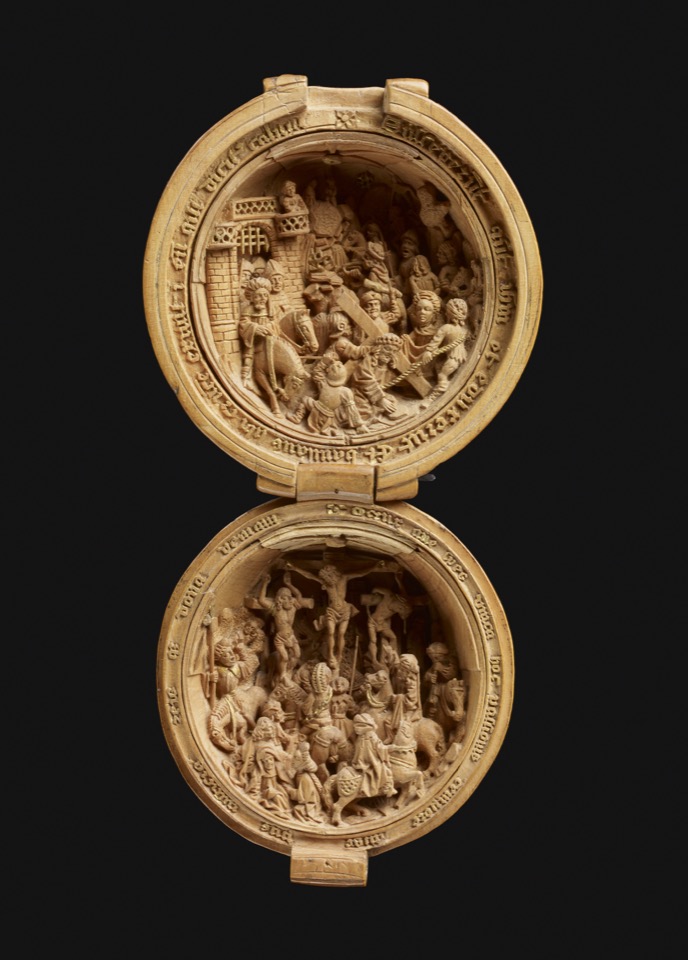 The prayer nut opens out to reveal Christ bearing the Cross in the upper half and the Crucifixion in the lower half. The same scenes are combined on other prayer nuts as prompts to prayer. The Latin inscriptions from the Bible and a hymn in praise of the Cross were chosen to strengthen the viewer's identification with Christ's suffering.
Curator's Description
Rosary bead or prayer-nut; boxwood; opening in two halves, each with carved subject in full relief; Bearing of the Cross, procession issuing from a gateway with portcullis; in the lower half, Crucifixion with crowd of figures; some details of carving and inscriptions gilt; outside pierced with pear-shaped openings containing quatrefoils; inscribed.
This object was collected by Anselm von Rothschild and bequeathed to the British Museum by Ferdinand Anselm Rothschild.
How big is it?
5.1 cm wide, 4.6 cm high, 5.1 cm deep, and it weighs 23.7g
Detailed Curatorial Notes
Provenance: Baron Anselm von Rothschild, Vienna, by 1866 (cat no. 50)
Commentary: A nut with very similar but not identical scenes was auctioned at Sotheby's in 2012 (see bibliography). Another in the Metropolitan Museum of Art (inv. no. 17.190.473) has the same scenes as the Sotheby's nut. A further nut in the Rijksmuseum has almost identical scenes to the Sotheby's one and has arms and name of owners, a Delft patrician and his wife, from whose descendents the museum bought the piece (inv. no. BK-1981-1).
Other comparisons are a nut in Copenhagen National Museum with a silver case pierced for perfume, and an and Adam Dirksz signed nut in the National Gallery of Denmark with very similar scenes and writing around, acquired before 1823 (inv. no. KMS 5552).
The similarities in the Bearing of the Cross scene on this nut (WB.235) and the one on another in the Waddesdon Bequest (WB.236) suggests they may have been made in the same workshop.
Bibliography
Charles Hercules Read, 'The Waddesdon Bequest: Catalogue of the Works of Art bequeathed to the British Museum by Baron Ferdinand Rothschild, M.P., 1898', London, 1902, no. 235, pl.XLIX
O.M. Dalton, 'The Waddesdon Bequest', 2nd edn (rev), British Museum, London, 1927, no.235
Hugh Tait, 'Catalogue of the Waddesdon Bequest in the British Museum. 1., The Jewels', British Museum, London, 1986, pp.51-56, figs.34-35
Sotheby's London, 'European Sculptre and Works of Art: Medieval to Modern', 5th December 2012, lot 29.Image: Group photograph depicts from left to right. the registration number: WB.236, WB.235, and WB.238.

References
Read 1902: Read, Charles Hercules, The Waddesdon Bequest. Catalogue of the Works of Art Bequeathed to the British Museum by Baron Ferdinand Rothschild, M.P., 1898, London, BMP, 1902
Dalton 1927: Dalton, Ormonde Maddock, The Waddesdon Bequest : jewels, plate, and other works of art bequeathed by Baron Ferdinand Rothschild., London, BMP, 1927