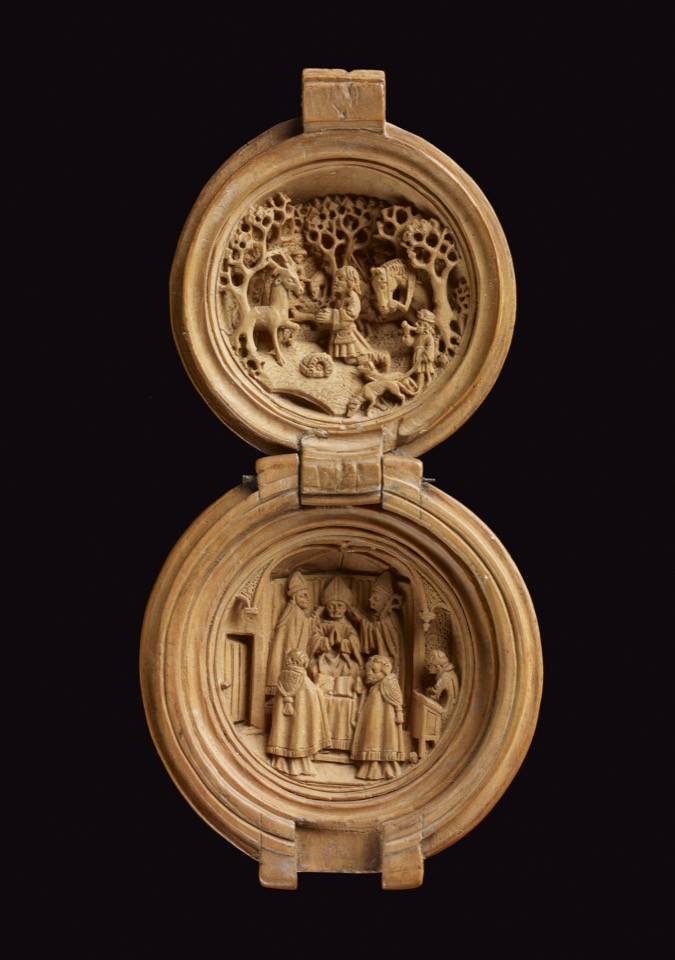 In the top half St Hubert sees a vision while out hunting of the crucified Christ in the antlers of a stag. In the lower half St Hubert is enthroned as a bishop.
Curator's Description
Rosary bead or prayer-nut; boxwood; carved; opening in two halves; upper half with St Hubert adoring the stag; trees and huntsmen in background; lower half: enthronement of St Hubert following consecration by Pope Sergius [?]; outside pierced with tracery of intersecting curves, containing quatrefoils; two silver-gilt plates at top and bottom with suspension loops.
This object was collected and bequeathed to the British Museum by Ferdinand Anselm Rothschild.
How big is it?
4.3 cm wide, 4.3 cm high, 2.9 cm deep, and it weighs 16g
Detailed Curatorial Notes
Provenance: None is recorded.
Commentary: This prayer but can be compared with WB.239 for the distinctive manner in which the trees are carved and may be by the same maker.
Bibliography
Charles Hercules Read, 'The Waddesdon Bequest: Catalogue of the Works of Art bequeathed to the British Museum by Baron Ferdinand Rothschild, M.P., 1898', London, 1902, no. 237, pl.XLIX
O.M. Dalton, 'The Waddesdon Bequest', 2nd edn (rev), British Museum, London, 1927, no.237
Hugh Tait, 'Catalogue of the Waddesdon Bequest in the British Museum. 1., The Jewels', British Museum, London, 1986, pp.51-56, figs.36-37.

References
Read 1902: Read, Charles Hercules, The Waddesdon Bequest. Catalogue of the Works of Art Bequeathed to the British Museum by Baron Ferdinand Rothschild, M.P., 1898, London, BMP, 1902
Dalton 1927: Dalton, Ormonde Maddock, The Waddesdon Bequest : jewels, plate, and other works of art bequeathed by Baron Ferdinand Rothschild., London, BMP, 1927