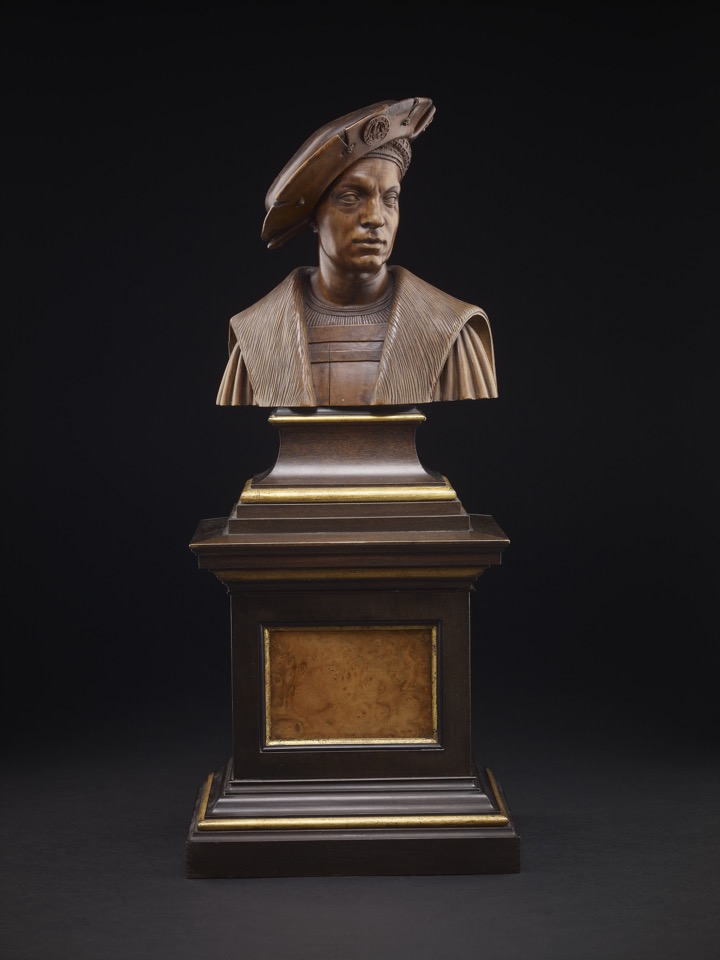 Margaret of Austria was Regent of the Netherlands between 1517 and 1530. Conrad Meit was her court sculptor. He shows her with her husband Philibert, Duke of Savoy, who had died in 1504. The busts were probably models for larger sculptures. In tribute to this wife, his hatbadge shows St Margaret, with his motto, Je Ne Scai ('I know not'). Margaret's court was an important artistic centre. Her collections demonstrated her keen aesthetic sense and her intellectual curiosity.
Curator's Description
Portrait bust; walnut wood; of Philibert of Savoy (1480-1504). He wears a close cap of rich network and flat hat with wide brim under the brim is circular badge with inscription and St Margaret piercing the dragon with a cross; fur mantle over pleated shirt and plain jerkin.
This object was previously owned by Joseph Edgar Boehm, Rudolf II and Joseph Daniel Böhm, collected by Anselm von Rothschild and bequeathed to the British Museum by Ferdinand Anselm Rothschild.
How big is it?
12.5 cm wide, 29 cm high, 10.8 cm deep, and it weighs 961g
Detailed Curatorial Notes
Provenance: Baron Anselm von Rothschild, Vienna, 1865 (1866 cat no. 33).
Commentary from Tait 1981: Perhaps the most important of all the small-scale carvings in wood in the [Waddesdon] Bequest are the two busts, traditionally attributed to Conrad Meit of Worms. They depict the artist's patron, Margaret of Austria, daughter of the Emperor Maximilian and Regent of the Netherlands, with her late husband, Philibert of Savoy, who had died in 1504. Conrad Meit, whose biographical details are far from well-established, is known to have worked from 1514 at the court of Margaret of Austria in Malines, and on 5 January 1518 there is an interesting record of a payment to Meit which reads: 'pour deux visages de bois à notre semblance, 8 philippas'. In the Bayerisches Nationalmuseum in Munich there is a small wooden portrait head of Margaret of Austria [inv. no. R 420], which comes from the famous Ambras collection of the Archdukes of Tyrol, and in the Berlin Museum there is an almost identical bust of Philibert of Savoy [inv. no. 818]. However, the Berlin bust has suffered some damage, particularly to the brim of the hat, and so it lacks the curious hat-badge which can be seen on the Waddesdon Bequest bust and which depicts the figure of St Margaret and her dragon encircled by the inscription IE.NE.SCAI. As yet, the Burgundian source for this badge has not been traced, though its subject is a very obvious choice for the husband of Margaret of Austria.
Conrad Meit is often regarded as the greatest German wood-carver of the Renaissance, though only a handful of his works has survived to testify to his brilliance as a portraitist and sculptor. He was recorded in Antwerp in 1536 and died in 1550 or 1551, but these two busts are usually thought to date from the first ten years after he joined the court at Malines in 1514 and may possibly be related to a pair of marble busts (now lost) that Conrad Meit had begun for his royal patron, whose devotion to the memory of her late husband,Philibert, is well-attested. She went on to build as a memorial for herself and her young, lost husband, the most beautiful Gothic church of Brou with its stained glass and its encrusted canopied tomb, but her energy and diverse talents made her court the focal point of humanism in Northern Europe and the chief centre for men of letters and the arts until her death in 1530.
Unfortunately, the history of these two busts cannot be traced back with certainty beyond the early nineteenth century when, about 1817, they were bought in Vienna for 32 florins by the father of Sir Edgar Boehm, from whom they were purchased by Baron Anselm von Rothschild of Vienna.'
There is a glass jug in Bremen with enamelled and gilded arms of Margaret and Philibert, made in Venice and dated to between 1501 (when the couple married) and 1504 (when Philibert died). See Franz Dreier and John Mallet, The Hockemeyer Collection, Bremen 1998, p.180, cat.38.
Bibliography
Charles Hercules Read, 'The Waddesdon Bequest: Catalogue of the Works of Art bequeathed to the British Museum by Baron Ferdinand Rothschild, M.P., 1898', London, 1902, no. 261, pl.LIV
O.M. Dalton, 'The Waddesdon Bequest', 2nd edn (rev), British Museum, London, 1927, no.261, pls. XIX,XX
Hugh Tait, 'The Waddesdon Bequest : The Legacy of Baron Ferdinand Rothschild to the British Museum', British Museum, London, 1981, pp.93-95, figs 70-72
Constance Lowenthal, 'Conrad Meit's Portraits of Philibert the Fair of Savoy', in Studien zum europäischen Kunsthandwerk: Festschrift Yvonne Hackenbroch, Klinkhardt & Biermann, Munich, 1983, pp.124-5, fig.2. Dagmar Eichberger 'A Renaissance Princess named Margaret: Fashioning a Public Image in a Courtly Society', in Melbourne Art Journal, Issue 4, The Daytopia Press, Melbourne, 2000, pp.4-24, fig.12
Dagmar Eichberger, Leben Mit Kunst, Wirken Durch Kunst', Brepols, 2002, p.38, fig. 9
Dagmar Eichberger, 'Women of Distinction : Margaret of York / Margaret of Austria', Davisfonds, 2005, p.280, fig.3
Renate Eikelmann, 'Conrat Meit : Bildhauer der Renaissance', Hirmer Verlag, 2007, no.10
Jens Ludwig Burk, 'Conrat Meit: Margaret of Austria's Court Sculptor in Malines and Brou', Centre des Monuments Nationaux, France, pp.127-146, fig.7
Dora Thornton, 'A Rothschild Renaissance: Treasures from the Waddesdon Bequest', British Museum, London, 2015, pp.196-203.

References
Read 1902: Read, Charles Hercules, The Waddesdon Bequest. Catalogue of the Works of Art Bequeathed to the British Museum by Baron Ferdinand Rothschild, M.P., 1898, London, BMP, 1902
Dalton 1927: Dalton, Ormonde Maddock, The Waddesdon Bequest : jewels, plate, and other works of art bequeathed by Baron Ferdinand Rothschild., London, BMP, 1927
Eikelmann 2006: Eikelmann, Renate; Ludwig Burk, Jens, Conrat Meit: Bidlhauer der Renaissance, München, Hirmer, 2006