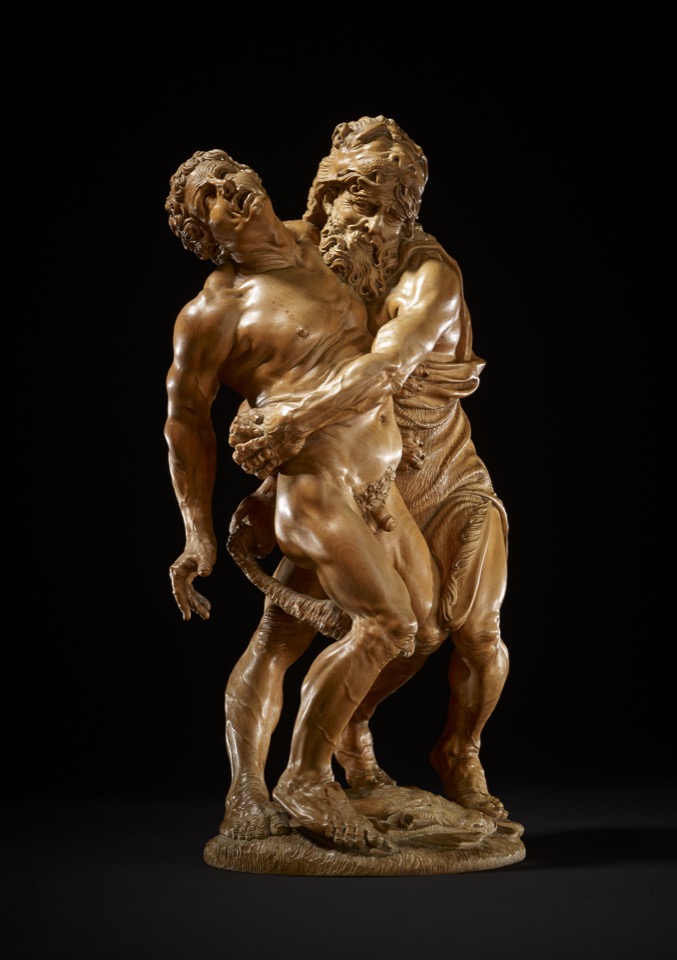 One of the classical stories about Hercules the hero tells how he fought the river god Achelous over Deianira. Achelous lost, despite changing himself into a snake, then a bull. The bull's skin and horns are shown on the base of this vivid sculptural group. Hercules, in his lion skin, wrestles with Achelous, whose eyes roll upwards as if losing consciousness in his agony. Baron Ferdinand's father, Baron Anselm, owned two copies of this sculpture. The boxwood version went to Baron Ferdinand, the ivory version went to his brother, Nathaniel, and is now in the Metropolitan Museum of Art, New York.
Curator's Description
Statuette; pearwood; Hercules and Achelous; Hercules with beard, clothed only in lion's skin, face of which is over his head; arms clasped around waist of Achelous, whose left arm is also in his grip, his club thus hanging uselessly; Achelous is clean-shaven with short hair and entirely naked; ox hide on ground, previously worn by Achelous.
This object was collected by Anselm von Rothschild and bequeathed to the British Museum by Ferdinand Anselm Rothschild.
How big is it?
14.6 cm wide, 29.8 cm high, 13.2 cm deep, and it weighs 1.3 kg
Detailed Curatorial Notes
Provenance: Baron Anselm von Rothschild, Vienna, by 1866 (cat no. 35).
Commentary: Baron Ferdinand Rothschild inherited this statuette upon the death of his father, Anselm von Rothschild, in 1874. Anselm originally owned not only this statuette but a further version in ivory, probably inherited by Ferdinand's brother Nathaniel and now in the collections of the Metropolitan Museum of Art, New York (inv. no. 1982.60.129). The statuette was once thought to depict Hercules and Antaeus but the figures have now been identified as Hercules and Achelous (see Wardropper 2011). A partial ivory version was on the Paris art market in the mid-1970s. The unknown sculptor of the group may be identified with the anonymous ivory carver whose 'Martyrdom of St. Sebastian', dated 1655, is in the Kunsthistorisches Museum, Vienna (inv. no. KK_3654).
A photograph of the sculpture in the Schestag catalogue of Anselm von Rothschild's collection show it on a wood and enamel tiered base, now lost, but probably a nineteenth century piece made to display the object.
Bibliography
Charles Hercules Read, 'The Waddesdon Bequest: Catalogue of the Works of Art bequeathed to the British Museum by Baron Ferdinand Rothschild, M.P., 1898', London, 1902, no. 262, pl. LV
O.M. Dalton, 'The Waddesdon Bequest', 2nd edn (rev), British Museum, London, 1927, no.262
John Pope-Hennessy et. al., 'The Jack and Belle Linsky Collection in the Metropolitan Museum of Art', The Metropolitan Museum of Art, New York, 1984, p.175
Ian Wardropper, 'European Sculpture, 1400-1900, in the Metropolitan Museum of Art', The Metropolitan Museum of Art, New York, 2011, p.134
C. Theuerkauff, 'Baroque Ivories from the collection of Anselm Salomon von Rothschild in Vienna', in Apollo, v. 157, February 2003, pp.6-8.

References
Read 1902: Read, Charles Hercules, The Waddesdon Bequest. Catalogue of the Works of Art Bequeathed to the British Museum by Baron Ferdinand Rothschild, M.P., 1898, London, BMP, 1902
Dalton 1927: Dalton, Ormonde Maddock, The Waddesdon Bequest : jewels, plate, and other works of art bequeathed by Baron Ferdinand Rothschild., London, BMP, 1927