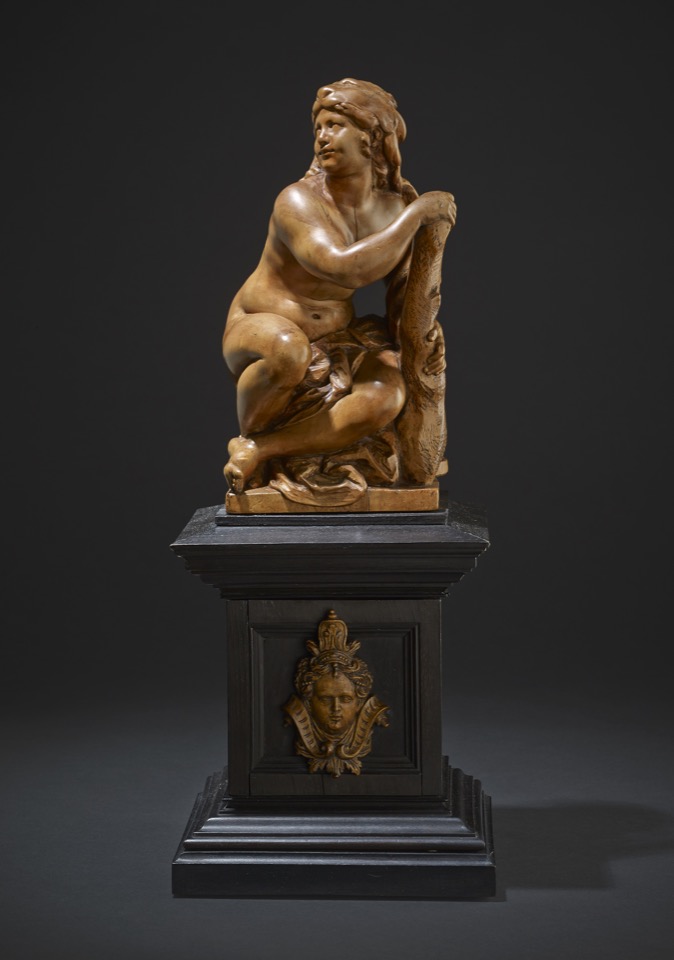 Omphale, Queen of Lydia, is presented as a powerfully sensual woman. The classical hero Hercules fell in love with her. He was so infatuated that they exchanged clothes and he spun wool, traditionally a woman's task. Here Omphale wears her lover's lion skin and holds his club. The Flemish sculptor Artus Quellinus the Elder was a close associate of the painter, Rubens. This figure recalls Rubens' fleshy female nudes.
Curator's Description
Statuette; boxwood; Omphale seated, nearly naked, in crouching position, wearing lion's skin of Hercules and holding his club; leans on short column to her left and looks over right shoulder.
This object was collected and bequeathed to the British Museum by Ferdinand Anselm Rothschild.
How big is it?
14.3 cm wide, 35.9 cm high, 13 cm deep, and it weighs 1.7 kg
Detailed Curatorial Notes
Provenance: None is recorded.
Commentary: Theuerkauff 1986 compares this statuette to an ivory figure of Omphale and Cupid in the Bode Museum, Berlin (inv. no. 727), attributed to the circle of Artus Quellinus the Elder. Both this and the British Museum figure are closely related to Rubens, who worked with Artus Quellinus the Elder's brother. Theuerkauff discusses whether the British Museum sculpture and the Berlin ivory were by Bossuit, but concludes that they were more likely to be by Artus Quellinus the Elder. Another ivory figure of Omphale, the same model as the British Museum boxwood version, was sold at Sotheby's 8 July 1998, lot 265 and attributed to Artus Quellinus the Elder.
For a Chelsea porcelain figure based on a bronze by Artus Quellinus the Elder, see British Museum reg. no. 1938,0314.96.CR
Bibliography
Charles Hercules Read, 'The Waddesdon Bequest: Catalogue of the Works of Art bequeathed to the British Museum by Baron Ferdinand Rothschild, M.P., 1898', London, 1902, no. 263, fig. 40
O.M. Dalton, 'The Waddesdon Bequest', 2nd edn (rev), British Museum, London, 1927, no.263
H. Tait, 'The Waddesdon Bequest', BM London 1981, pp.11-12
Christian Theuerkauff, 'Die Bildwerke in Elfenbein des 16-19 Jahrhunderts', Berlin, 1986, p.253, fig.68c
Sotheby's London, 'European Sculpture and Works of Art', July 8, 1998, p. 120 (auction catalogue).

References
Read 1902: Read, Charles Hercules, The Waddesdon Bequest. Catalogue of the Works of Art Bequeathed to the British Museum by Baron Ferdinand Rothschild, M.P., 1898, London, BMP, 1902
Dalton 1927: Dalton, Ormonde Maddock, The Waddesdon Bequest : jewels, plate, and other works of art bequeathed by Baron Ferdinand Rothschild., London, BMP, 1927