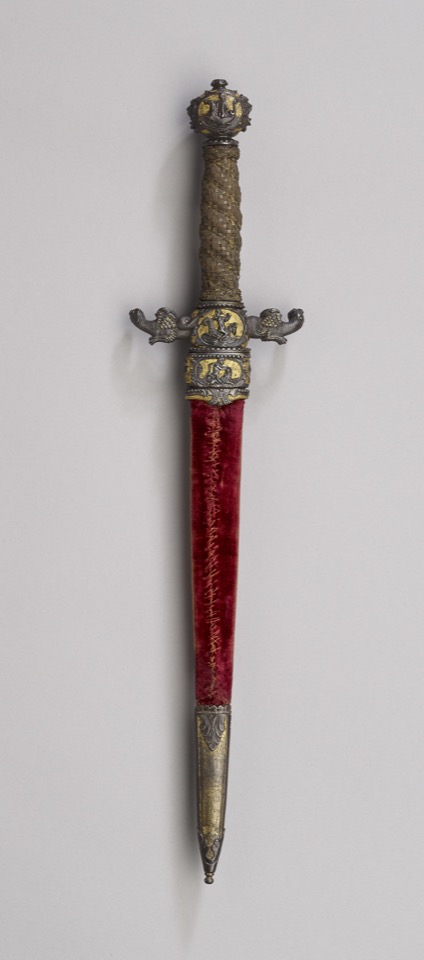 Curator's Description
Dagger and sheath; plain blade; grip of plaited copper wire; pommel, guard and mounts to sheath of chased and gilded iron, the gilding often on a matt background. The pommel decorated on each side with female figures on marine monsters and masks, the guard with a scene of Europa and the bull on one side and a female figure on a monster on the other, each quillon in form of a dragon and inlaid with gold to form a pattern of small dots. On mouth of sheath is Samson rending the lion, the bracket in the form of a lion's head. The chape with dolphin and mask on one side only. Sheath covered in modern red velvet.
This object was collected by Anselm von Rothschild and bequeathed to the British Museum by Ferdinand Anselm Rothschild.
How big is it?
8.7 cm wide, 40 cm high, 2.7 cm deep, and it weighs 338g
Detailed Curatorial Notes
Provenance: Baron Anselm von Rothschild, Vienna, between 1866 and 1872 (cat no. 523), by inheritance to his son Baron Ferdinand Rothschild (d. 1898).
Commentary: Comments made by Tobias Capwell on 9th October 2012: The decorative elements of the dagger and scabbard could be 17th century (or possibly later) but it is a 19th century construction. The iconography is taken from biblical and mythological sources which suggests that these elements were not originally from the same piece (although probably the same workshop), but have been used to create a plausible object. The blade is 19th century. The use of copper for the grip is unusual and suggests either that it is 19th century or that it could be taken from a small sword.
Bibliography
Charles Hercules Read, 'The Waddesdon Bequest: Catalogue of the Works of Art bequeathed to the British Museum by Baron Ferdinand Rothschild, M.P., 1898', London, 1902, no. 13
O.M. Dalton, 'The Waddesdon Bequest', 2nd edn (rev), British Museum, London, 1927, no.13.

References
Read 1902: Read, Charles Hercules, The Waddesdon Bequest. Catalogue of the Works of Art Bequeathed to the British Museum by Baron Ferdinand Rothschild, M.P., 1898, London, BMP, 1902
Dalton 1927: Dalton, Ormonde Maddock, The Waddesdon Bequest : jewels, plate, and other works of art bequeathed by Baron Ferdinand Rothschild., London, BMP, 1927