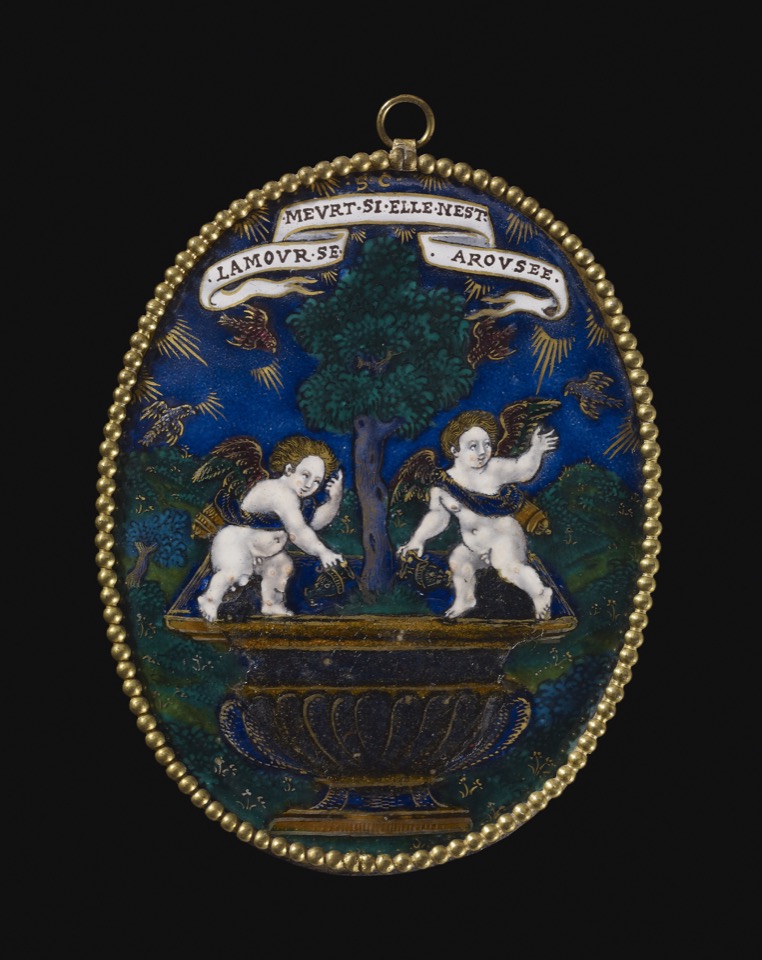 11a shows Meleager and Atlanta with the head of the Calydonian boar, and has a modern frame, probably made for Frédéric Spitzer. 1lb shows Dido appealing to Diana. 11c shows a tree watered by cupids inscribed in French 'love will die if it isn't watered'. Both 11b and 11c are signed 'S. C.' for the female enameller Susanne Court, and come from the collections of the Dukes of Marlborough.
Curator's Description
Painted Limoges enamel mirror back; copper, oval; set in a rim of gilt metal, beaded; two amorini on either side of a tree in a classical urn; inscribed; signed; painted in semi-opaque enamels, translucent enamels over coloured foils and white-grey grisaille with stippled highlights to the flesh in pink; gilding; counter enamel is translucent and colourless.
This object was previously owned by Marlborough, and collected and bequeathed to the British Museum by Ferdinand Anselm Rothschild.
How big is it?
7.5 cm wide, 10.3 cm high, 0.5 cm deep, and it weighs 36g
Detailed Curatorial Notes
Provenance: Formerly in the collection of John Spencer Churchill, 7th Duke of Marlborough (1822-1883), at Blenheim Palace and sold in the sale of enamels from Blenheim at Christie's London on the 14th June 1883 (lot 22). It is unknown when it entered the collection of Baron Ferdinand Rothschild.
Bibliography
'Catalogue of the choice collection of Limoges enamels, from Blenheim palace...', Christie's, London, 14 June 1883, lot no. 22
Charles Hercules Read, 'The Waddesdon Bequest: Catalogue of the Works of Art bequeathed to the British Museum by Baron Ferdinand Rothschild, M.P., 1898', London, 1902, no. 47
O.M. Dalton, 'The Waddesdon Bequest', 2nd edn (rev), British Museum, London, 1927, no.47.

References
Read 1902: Read, Charles Hercules, The Waddesdon Bequest. Catalogue of the Works of Art Bequeathed to the British Museum by Baron Ferdinand Rothschild, M.P., 1898, London, BMP, 1902
Dalton 1927: Dalton, Ormonde Maddock, The Waddesdon Bequest : jewels, plate, and other works of art bequeathed by Baron Ferdinand Rothschild., London, BMP, 1927
Scrase handlist: Scrase handlist