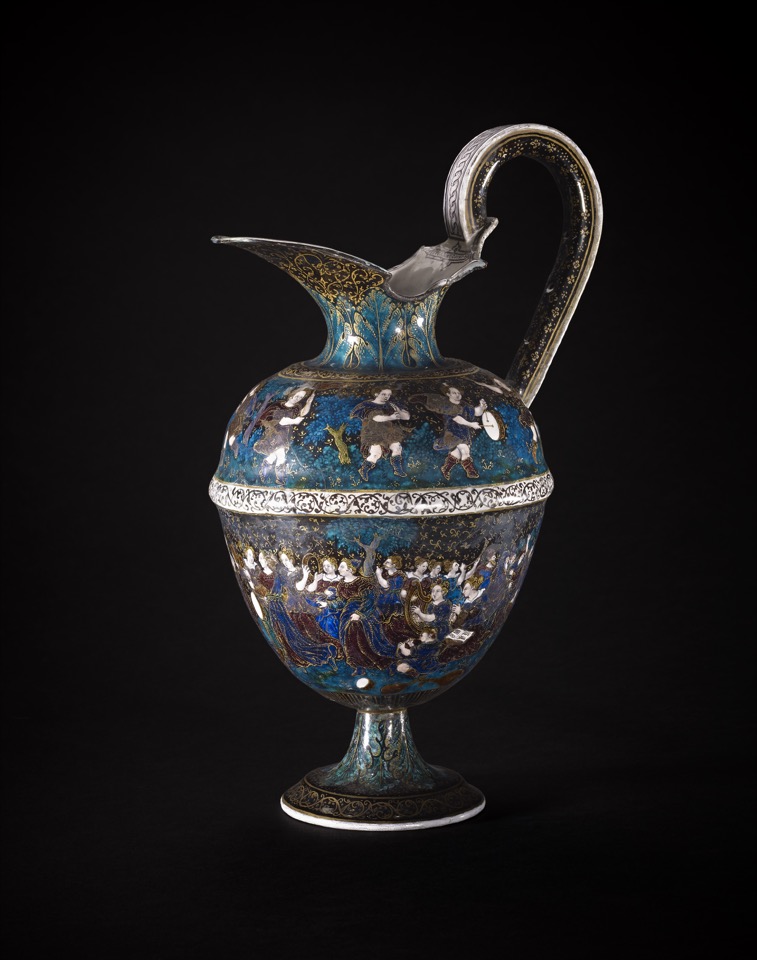 The ewer has two zones of decoration. The lower zone shows the biblical story of Moses. Here he is rejoicing with the Israelites, following their safe passage through the Red Sea while the Egyptian Pharaoh drowns. Above, children play musical instruments. The ewer is signed inside the spout and under the foot by the female enameller Susanne Court.
Curator's Description
Painted Limoges enamel ewer; copper; oviform shape, made in two pieces with band round middle and a flared lip; handle signed; top of body: a Bacchic procession with children blowing horns, beating a drum and riding a goat; bottom of body: Destruction of Pharaoh in the Red Sea, rejoicing of the Israelites; Moses in centre with Pharaoh and host engulfed in the Red Sea; to right, group of musicians; inside foot: signed; painted in semi-opaque enamels on a white preparation, translucent enamels over coloured foils and flesh tones of light pink on a white grisaille with details produced by enlevage, all on a black ground; gilding; inscribed.
This object was previously owned by Samuel Addington, collected by Anselm von Rothschild and bequeathed to the British Museum by Ferdinand Anselm Rothschild.
How big is it?
7.9 cm wide, 26.3 cm high, 7.9 cm deep, and it weighs 509g
Detailed Curatorial Notes
Provenance: Baron Anselm von Rothschild, Vienna, between 1866 and 1872 (cat no. 476), by inheritance to his son Baron Ferdinand Rothschild (d. 1898). In 1862 owned by Samuel Addington who exhibited it that year a the South Kensington Museum.
Commentary: Verdier's handlist of the British Museum enamels compares this ewer to lot no. 130 in the Fountaine sale, 1884, which had a similar musical scene, whereabouts now unknown. The scenes of the destruction of Pharoah in the Red Sea are loosely based on three engravings by Bernard Salomon for Exodus XIII, XIIII and XV. Compare also lot 63 in Blenheim Palace Enamels Sale 14 June 1883 which is signed inside the lip.
Bibliography
'Catalogue of the Special Exhibition of Works of Art of the Mediaeval, Renaissance, and More Recent Periods, on loan at the South Kensington Museum', London, June 1862, no. 1859: Charles Hercules Read, 'The Waddesdon Bequest: Catalogue of the Works of Art bequeathed to the British Museum by Baron Ferdinand Rothschild, M.P., 1898', London, 1902, no. 52, pl. XIII
O.M. Dalton, 'The Waddesdon Bequest', 2nd edn (rev), British Museum, London, 1927, no.52.

References
Read 1902: Read, Charles Hercules, The Waddesdon Bequest. Catalogue of the Works of Art Bequeathed to the British Museum by Baron Ferdinand Rothschild, M.P., 1898, London, BMP, 1902
Dalton 1927: Dalton, Ormonde Maddock, The Waddesdon Bequest : jewels, plate, and other works of art bequeathed by Baron Ferdinand Rothschild., London, BMP, 1927
Scrase handlist: Scrase handlist