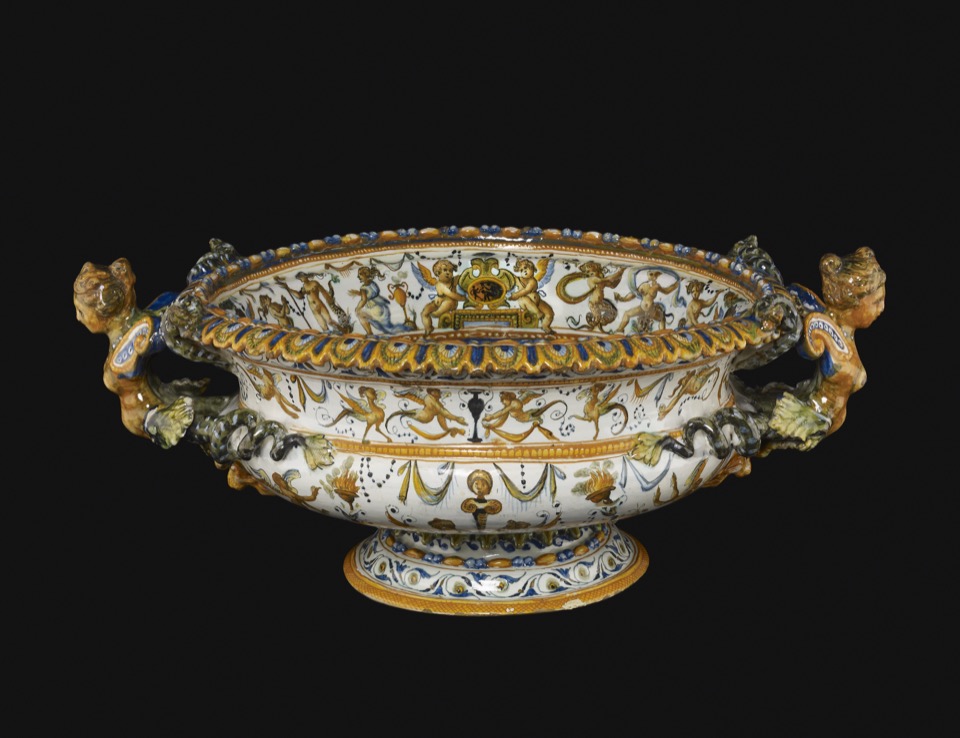 The inside shows Moses striking water from the rock, from the biblical Book of Exodus.
Curator's Description
Bowl (wine cooler) with scalloped rim. Round the foot two bands of relief ornament of beads and leaves. Two handles in the form of sphinxes. Earthenware covered entirely with a presumed tin-glaze. Painted in the bowl: a scene of Moses with the spring where he struck the rock, behind him people with vessels for water. Above a frieze of winged putti, merpeople and other figures, also medallions with cameo scenes each held by winged putti.
This object was previously owned by Andrew Fountaine, and collected and bequeathed to the British Museum by Ferdinand Anselm Rothschild.
How big is it?
64.5 cm wide, 26 cm high, 49.5 cm deep, and it weighs 8.8 kg
Detailed Curatorial Notes
Provenance: Previously in the collection of Andrew Fountaine (by 1835), sold at Christie's London 16th June 1884, lot 390 (£399 to Wareham). It is unknown when it entered the collection of Baron Ferdinand Rothschild.
Bibliography
Fountaine Inventory 1835, 'Cisterns, no.4'
'Fountaine Family Book v', no. 70
'Catalogue of the Celebrated Fountaine Collection...Removed from Narford Hall, Norfolk', Christie's, London, June 16 1884, lot 390
Charles Hercules Read, 'The Waddesdon Bequest: Catalogue of the Works of Art bequeathed to the British Museum by Baron Ferdinand Rothschild, M.P., 1898', London, 1902, no.60
O.M. Dalton, 'The Waddesdon Bequest', 2nd edn (rev), British Museum, London, 1927, no.60
Dora Thornton and Timothy Wilson with contributions by Michael Hughes and Jeremy Warren, 'Italian Renaissance ceramics : a catalogue of the British Museum collection', British Museum, London, 2009, no.244, fig.244.

References
Read 1902: Read, Charles Hercules, The Waddesdon Bequest. Catalogue of the Works of Art Bequeathed to the British Museum by Baron Ferdinand Rothschild, M.P., 1898, London, BMP, 1902
Dalton 1927: Dalton, Ormonde Maddock, The Waddesdon Bequest : jewels, plate, and other works of art bequeathed by Baron Ferdinand Rothschild., London, BMP, 1927
Thornton & Wilson 2009: Thornton, Dora; Wilson, Timothy, Italian Renaissance Ceramics: a catalogue of the British Museum collection, London, BMP, 2009