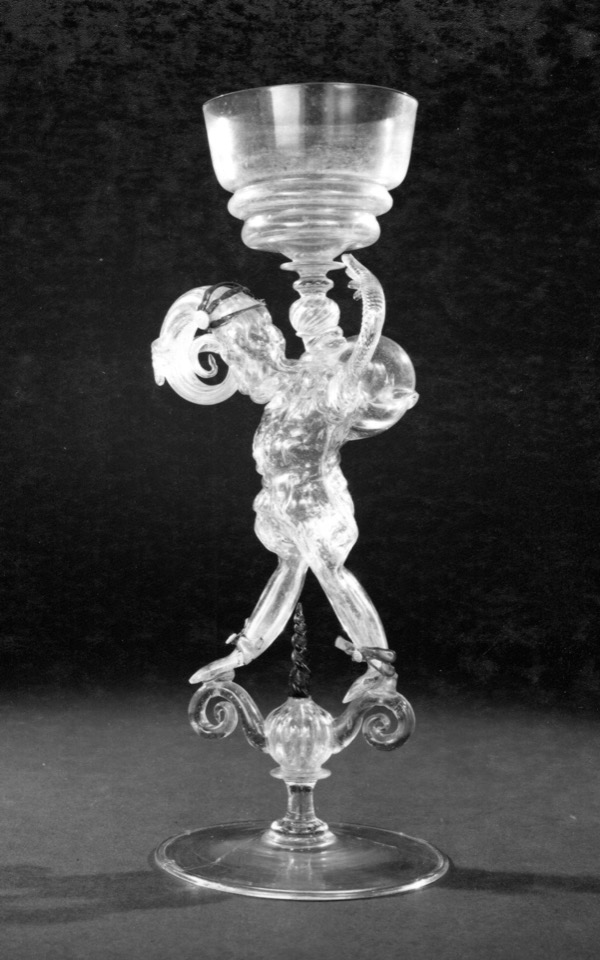 This piece is not on display for conservation reasons.
Curator's Description
Drinking-glass; very thin and light; stem in form of hunchback dressed in trunk hose, figure blown into a mould and hollow, but not communicating internally with the bowl; stands upon two scrolls; details in blue, white and green glass, with gilding.
This object was collected and bequeathed to the British Museum by Ferdinand Anselm Rothschild.
How big is it?
12 cm wide, 30.5 cm high, 11 cm deep
Where is it?
This object is not on display in Room 2A.
Detailed Curatorial Notes
Provenance: None is recorded.
Commentary from Tait 1981: 'A sixteenth-century "cristallo" drinking-glass, with a most unusual stem ingeniously blown in the form of a hunchback, exemplifies the talented creativity of the Venetian glassmakers of the Late Renaissance and, at the same time, highlights an inherent weakness of some of their glass - the tendency to 'crizzle' or 'weep'. This harmful phenomenon, which manifests itself in sticky beads of moisture on the surface of the glass and a network of minute hair cracks spreading throughout the thickeness of the glass, can only be arrested - not cured - by keeping the glass in a stable atmosphere where the relative humidity is not allowed to fluctuate'. Consequently this glass has to be stored in carefully monitored environmental conditions and is therefore not on display with the rest of the Waddesdon Bequest.
Bibliography
Charles Hercules Read, 'The Waddesdon Bequest: Catalogue of the Works of Art bequeathed to the British Museum by Baron Ferdinand Rothschild, M.P., 1898', London, 1902, no. 58
O.M. Dalton, 'The Waddesdon Bequest', 2nd edn (rev), British Museum, London, 1927, no.58
Hugh Tait, 'The Golden Age of Venetian Glass', BM London 1979, no.78
H. Tait, 'The Waddesdon Bequest', BM London 1981, pp.35-36, fig. 19.

References
Read 1902: Read, Charles Hercules, The Waddesdon Bequest. Catalogue of the Works of Art Bequeathed to the British Museum by Baron Ferdinand Rothschild, M.P., 1898, London, BMP, 1902
Dalton 1927: Dalton, Ormonde Maddock, The Waddesdon Bequest : jewels, plate, and other works of art bequeathed by Baron Ferdinand Rothschild., London, BMP, 1927
Tait 1979: Tait, Hugh, The Golden Age of Venetian Glass, London, British Museum, BMP, 1979