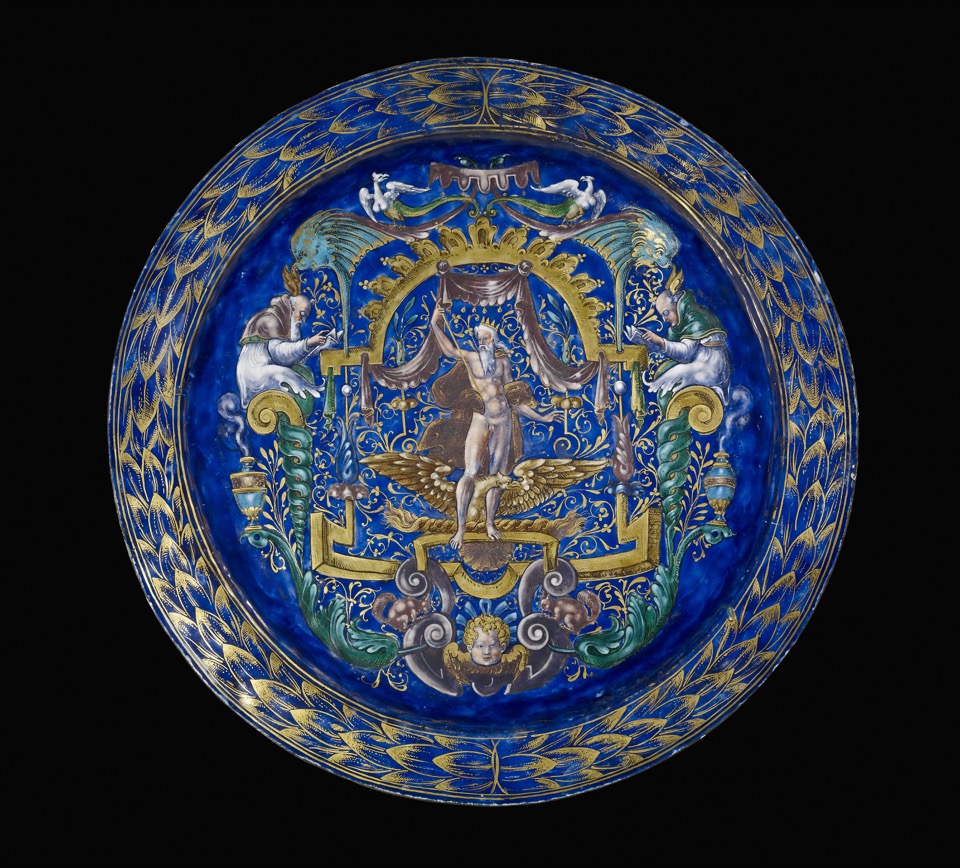 Jupiter and his eagle at the centre. On either side are caricatures of monks with asses' ears. The front of the dish is damaged.
Curator's Description
Painted Limoges enamel dish; copper, circular; obverse: Moses striking the rock; women, children and men (Aaron?); in the sky, Hebrew inscription; trees and a city; inscribed; signed; reverse: Jupiter, crowned and bearded, astride his eagle; bespectacled members of religious orders with asses' ears, reading; Painted in semi-opaque enamels on a white preparation, translucent enamels over coloured foils and semi-opaque enamel and grisaille with flesh tones over a blue-white preparation, all on a blue ground and gilded.
This object was previously owned by Samuel Addington, Pierre Soltykoff and Louis Fidel Debruge-Dumenil, collected by Anselm von Rothschild and bequeathed to the British Museum by Ferdinand Anselm Rothschild.
How big is it?
45 cm wide, 45 cm high, 4.5 cm deep, and it weighs 2 kg
Detailed Curatorial Notes
Provenance: Appears in the sale of the collection of Louis Fidel Debruge-Duménil, Paris 1849, then in the sale of the collection of Prince Peter Soltykoff, Paris 1861, where it is purchased by 'Ayers' for F5960. Exhibited the following year in 1862 by Samuel Addington in the 'Special Exhibition of Works of Art of the Mediaeval, Renaissance and More Recent Periods on loan at the South Kensington Museum', June 1862. Acquired by Baron Anselm von Rothschild, Vienna, between 1866 and 1872 (cat no. 475), by inheritance to his son Baron Ferdinand Rothschild (d. 1898).
Commentary: A drawing in the André archive, Paris, (no.209) shows the reverse of this dish, suggesting that it was conserved by Alfred André (1839-1919) at some point, probably when it belonged to Baron Ferdinand Rothschild.
Bibliography
'Catalogue des Objets d'Art qui Composant la Collection Debruge-Duménil', Paris, 1849, lot. no. 752
'Catalogue des Objets d'Art et de Haute Curoisite...du Prince Soltykoff', Paris, 1861, lot no. 480
J. C Robinson (ed.), 'Catalogue of the Special Exhibition of Works of Art of the Mediaeval, Renaissance, and More Recent Periods, on loan at the South Kensington Museum', London, June 1862, no. 1850
Charles Hercules Read, 'The Waddesdon Bequest: Catalogue of the Works of Art bequeathed to the British Museum by Baron Ferdinand Rothschild, M.P., 1898', London, 1902, no. 30
O.M. Dalton, 'The Waddesdon Bequest', 2nd edn (rev), British Museum, London, 1927, no.30
Dora Thornton, 'A Rothschild Renaissance: Treasures from the Waddesdon Bequest', British Museum, London, 2015, pp.124-125.

References
Read 1902: Read, Charles Hercules, The Waddesdon Bequest. Catalogue of the Works of Art Bequeathed to the British Museum by Baron Ferdinand Rothschild, M.P., 1898, London, BMP, 1902
Dalton 1927: Dalton, Ormonde Maddock, The Waddesdon Bequest : jewels, plate, and other works of art bequeathed by Baron Ferdinand Rothschild., London, BMP, 1927
Scrase handlist: Scrase handlist