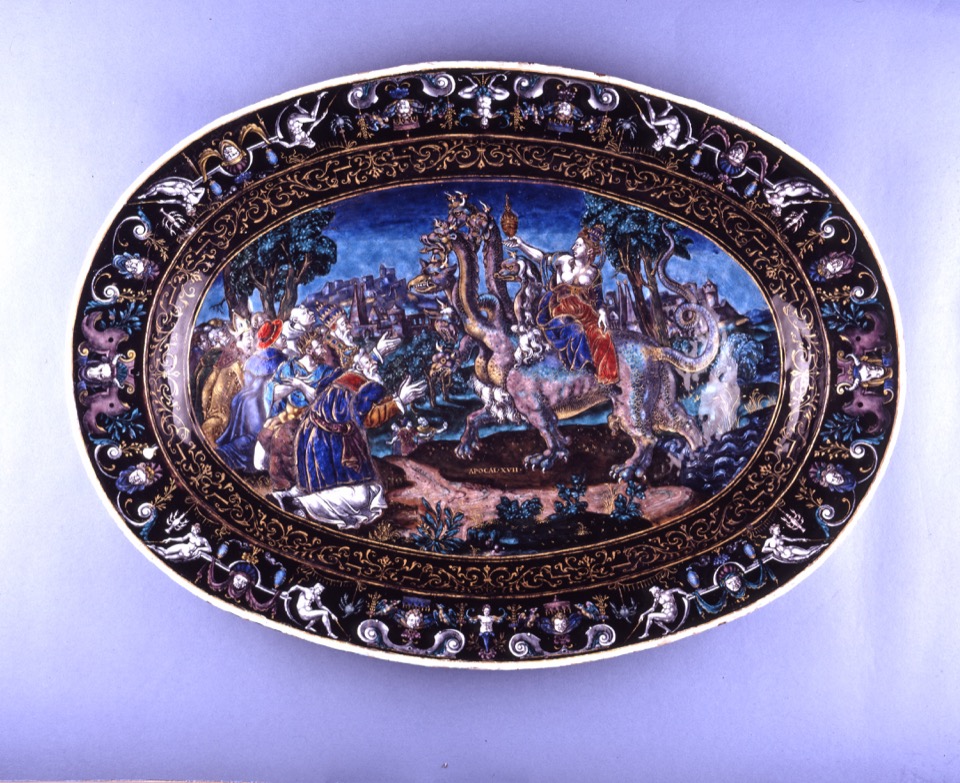 A vision of the future, from the Book of Revelation in the Bible. The evil prostitute of Babylon sits drunkenly on a horned beast with seven heads. She offers a cup towards kneeling men, who represent the rulers of the world, including a king, a pope and a cardinal. The blue tunic of the man in the foreground is a clever repair by the Parisian restorer Alfred André.
Curator's Description
Painted Limoges enamel dish; copper, oval; obverse: The woman of the Apocalypse seated on an animal with seven heads stepping out of the water on to dry land; group kneeling in adoration, including a pope, two kings, a bishop, monk and cardinal; inscribed; reverse: inscribed; painted in semi-opaque enamels on a white preparation, translucent enamels over coloured foils and grisaille with pink-grey flesh tones; details produced by enlevage; highlighted with gilding, all on black ground.
This object was previously owned by Edmund Lechmere, and collected and bequeathed to the British Museum by Ferdinand Anselm Rothschild.
How big is it?
39.5 cm wide, 54.5 cm high, 4.5 cm deep, and it weighs 2.1 kg
Detailed Curatorial Notes
Provenance: Sir Edmund Lechmere collection, exhibited by him at the SKM loan exhibition 1862 no.1852, subsequently entered the collection of Baron Ferdinand Rothschild.
Commentary: There are three other recorded versions of this dish in addition to the British Museum example. A similar basin in the Staatliche Kunstsammlungen Dresden signed MC on the reverse (inv. no. III 8) with provenance information dating back to 1733, a version in the National Gallery of Art in Washington (inv. no. 1942.9.291) which was once in the collection of Hollingworth Magniac and exhibited alongside the British Museum example in the 1862 SKM exhibition, and a further version was auctioned at Christie's London on the 8th December 2011 in sale 8009 (lot 90) and is now in the collection of the Museum of the Reformation in Geneva. At some point after the British Museum example entered the collection of Baron Ferdinand Rothschild it was repaired by the restorer Alfred André (1839-1919) who added a patch repair to one of the figures at the front where the enamel had degraded. The drawing for this repair survives in the archives of the Maison André in Paris.
Bibliography
J. C Robinson (ed.), 'Catalogue of the Special Exhibition of Works of Art of the Mediaeval, Renaissance, and More Recent Periods, on loan at the South Kensington Museum', London, June 1862, no. 1852
Charles Hercules Read, 'The Waddesdon Bequest: Catalogue of the Works of Art bequeathed to the British Museum by Baron Ferdinand Rothschild, M.P., 1898', London, 1902, no. 31, pl. IX
O.M. Dalton, 'The Waddesdon Bequest', 2nd edn (rev), British Museum, London, 1927, no.31
Ulrike Weinhold, 'The collection of Limoges painted enamels in the Green Vault', in 'New research on Limoges painted enamels, Internationales Kolloquium, Braunschweig, 18-20 April 2002', Braunschweig, 2004, p.40
Dirk Syndram, Jutta Kappel & Ulrike Weinhold, 'The Baroque Treasury of the Grünes Gewölbe, Deutscher Kunstverlag, Munich, 2006, p.36
Ulrike Weinhold, 'Maleremail Aus Limoges Im Grünen Gewölbe', Staatliche Kunstsammlungen, Dresden, 2008, p.131
Camille Grand-Dewyse, 'Émaux de Limoges au temps des guerres de Religion', Presses Universitaires de Rennes, 2011, pp.402-408
Dora Thornton, 'A Rothschild Renaissance: Treasures from the Waddesdon Bequest', British Museum, London, 2015, pp.120-125.

References
Read 1902: Read, Charles Hercules, The Waddesdon Bequest. Catalogue of the Works of Art Bequeathed to the British Museum by Baron Ferdinand Rothschild, M.P., 1898, London, BMP, 1902
Dalton 1927: Dalton, Ormonde Maddock, The Waddesdon Bequest : jewels, plate, and other works of art bequeathed by Baron Ferdinand Rothschild., London, BMP, 1927
Scrase handlist: Scrase handlist