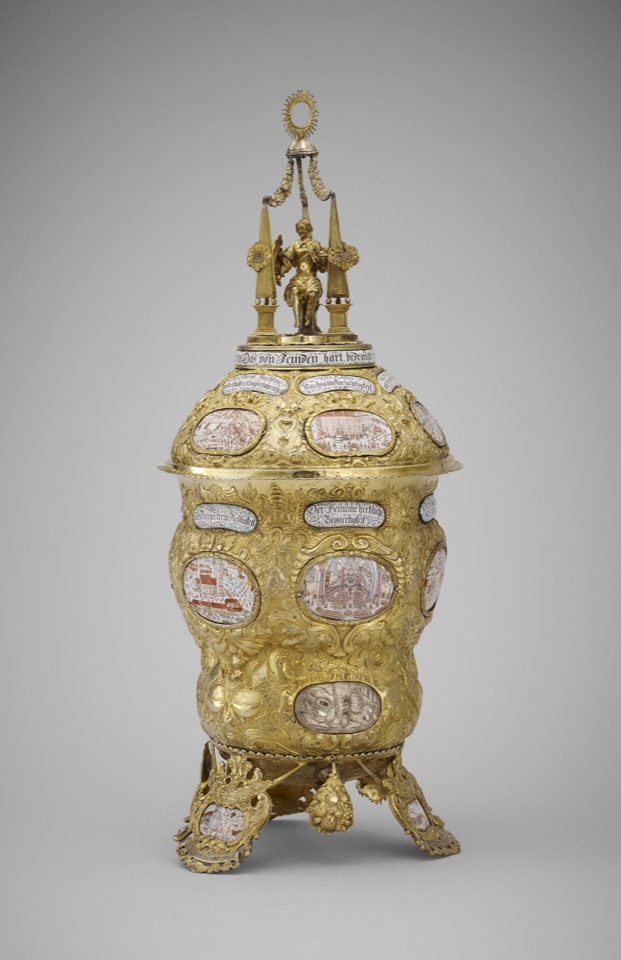 Made to commemorate the Siege of Freiberg, Saxony in 1643.
Curator's Description
Vase and cover; silver-gilt; embossed and chased; set with plates of painted enamel; domed cover surmounted by three obelisks with seated female figure in middle holding two crossed hammers and shield of arms painted in enamel, a gateway with towers, on the front of the shield, or a lion rampant (Frieberg?); label on each obelisk; on sides of cover are six oval enamelled plates, painted in colours in miniature, with various incidents in the siege of Freiberg, over each is an explanatory sentiment on a separate plate; inside cover is convex medallion of white porcelain; body embossed with grotesque masks and military trophies; around upper part are six oval medallions enamelled with incidents of the siege and with labels like those on the cover; below, three plain silver plates with cannon etc; inscribed; three feet in form of frames with enamels emblematic of the divine protection afforded to the besieged; bunches of fruit between the feet; inscribed.
This object was collected and bequeathed to the British Museum by Ferdinand Anselm Rothschild.
How big is it?
20.2 cm wide, 49.9 cm high, 1.9 cm deep, and it weighs 2.7 kg
Detailed Curatorial Notes
Provenance: None is recorded.
Commentary: Text from Tait 1981:- 'Perhaps the most eccentric piece of baroque silver in the Bequest is the huge cup and cover of silver gilt made to commemorate the Siege of Freiberg, in Saxony, in 1643 and the prowess of the Colonel of the Guard, Wolf Friedrich Muffels von Ermreuth. The cup is set with numerous small plaques of painted enamel, each depicting, on a white ground, a colourful scene from the events of the Siege; above each of these miniature paintings is an enamelled plaque with an inscription explaining the event being portrayed. This historic piece of plate, with its curious pictorial record executed in enamel, corresponds almost exactly to the working drawing and full description which survive in the library of the Society of Antiquaries of Freiberg. It was executed by a local goldsmith, Samuel Klemm, who became master in 1644, and although he was a good craftsman and a competent enameller, there is a naivety and a provincialism about his handling of baroque forms and motifs, which, when compared with the works of the court goldsmiths, looks clumsy and gauche. Even Samuel Klemm's greatest surviving work, the ceremonial Miner's Outfit made for the Elector Johann Georg II between 1675 and 1677, lacks the quality of excellence achieved by the Dresden goldsmiths of the day. It was made for the Elector to wear during the processions and ceremonies of the Miners' Festival, which was intended to demonstrate the importance of mining to the prosperity of Saxony, and consequently, only semi-precious stones mined in Saxony were used to enrich the surface of the silver. Like the Siege of Freiberg cup and cover in the Bequest, the handles of the miner's axe and dagger, the scabbard of the sword and the lid of the purse are set with small enamel plaques painted with minute figural scenes and, again, enamelled inscriptions on adjacent enamel panels provide the explanatory information. Samuel Klemm was sixty-six when he finished the Miner's Outfit in 1677 and he died the following year; today, this magnificent achievement can be seen in the Grünes Gewölbe in Dresden [inv. no. VIII 320].'
Bibliography
'Kunstgewerbeblatt für das Gold, Silber und Feinmetall', Jahrgang v., Heft 2, 1898, p.50
Charles Hercules Read, 'The Waddesdon Bequest: Catalogue of the Works of Art bequeathed to the British Museum by Baron Ferdinand Rothschild, M.P., 1898', London, 1902, no. 126, fig. 19
O.M. Dalton, 'The Waddesdon Bequest', 2nd edn (rev), British Museum, London, 1927, no.126
H. Tait, 'The Waddesdon Bequest', BM London 1981, p. 86, fig. 62.

References
Read 1902: Read, Charles Hercules, The Waddesdon Bequest. Catalogue of the Works of Art Bequeathed to the British Museum by Baron Ferdinand Rothschild, M.P., 1898, London, BMP, 1902
Dalton 1927: Dalton, Ormonde Maddock, The Waddesdon Bequest : jewels, plate, and other works of art bequeathed by Baron Ferdinand Rothschild., London, BMP, 1927