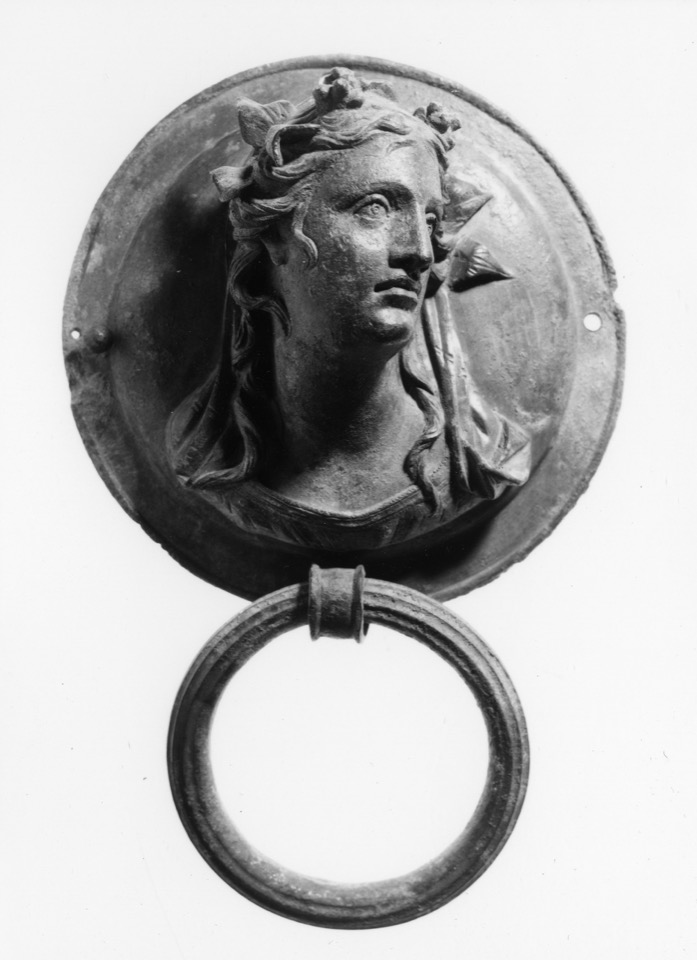 The beautifully modelled heads decorate handles, perhaps from a funerary chest. These are the only classical objects in the Bequest, acquired by Baron Ferdinand in the last year of his life. They are said to have been found in a tomb near Samsun, in modern Turkey.
Curator's Description
Bronze circular medallion; head of Ariadne in high relief, cast and chased with pendant ribbed ring below for use as handle; head turned to right with scarf over back of head, garland of ivy leaves and buds over forehead, hair in wavy tresses down the neck.
This object was collected and bequeathed to the British Museum by Ferdinand Anselm Rothschild.
How big is it?
14.1 cm wide, 22.2 cm high, 7 cm deep, and it weighs 1 kg
Detailed Curatorial Notes
Provenance: None is recorded.
Commentary: The medallions were formerly described as litter handles, however the heads have now been re-attributed since the original British Museum catalogue and it is thought more likely that the handles are for something other than a litter, as the handles do not sit in a position which would make this practical. The deities depicted and the findspot near a cemetery suggest that the handles more likely belonged to a piece of funerary furniture such as a chest.
Bibliography
Charles Hercules Read, 'The Waddesdon Bequest: Catalogue of the Works of Art bequeathed to the British Museum by Baron Ferdinand Rothschild, M.P., 1898', London, 1902, no. 1, pl. I
O.M. Dalton, 'The Waddesdon Bequest', 2nd edn (rev), British Museum, London, 1927, no.1
H. Tait, 'The Waddesdon Bequest', British Museum, London, 1981, p. 13 and figs. 3-4
L. Summerer, 'Vier Hellenistische Bronzen Aus Amisos', in Archäologischer Anzeiger, 1998, pp.401-14.

References
Read 1902: Read, Charles Hercules, The Waddesdon Bequest. Catalogue of the Works of Art Bequeathed to the British Museum by Baron Ferdinand Rothschild, M.P., 1898, London, BMP, 1902
Dalton 1927: Dalton, Ormonde Maddock, The Waddesdon Bequest : jewels, plate, and other works of art bequeathed by Baron Ferdinand Rothschild., London, BMP, 1927