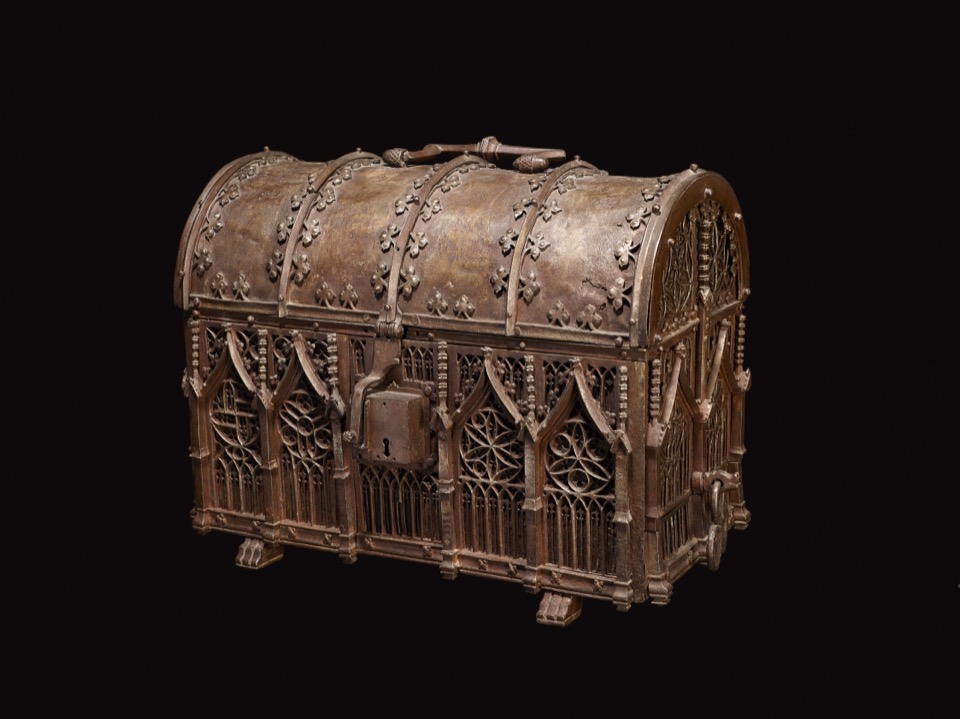 This ornate strongbox is decorated in relief with gothic arches and architectural tracery. Chests of this sort conveyed the sense of a treasury in collectors' interiors in the 19th century. This coffer had a prominent place in the New Smoking Room at Waddesdon Manor, where it was placed on a special stand.
Curator's Description
Iron or steel coffer; rounded top; sides ornamented with gothic arches and tracery in relief; on back and front are arcades of five arches with tracery of different designs, chiselled in the metal; top divided by ribs into four panels, with borders of trefoils in relief; angular handle on top and two trefoil handles at ends; double lock, outer one fixed to the middle panel of the front, which falls down and discloses the inner lock.
This object was collected and bequeathed to the British Museum by Ferdinand Anselm Rothschild.
How big is it?
43 cm wide, 35.5 cm high, 23 cm deep, and it weighs 16.5 kg
Detailed Curatorial Notes
Commentary: This object appears in a prominent position in the photographs of the Smoking Room at Waddesdon Manor as recorded in Ferdinand Rothschild's 'Red Book' of 1897. It seems to have stood on a custom-made stand against a wall.
Bibliography
Charles Hercules Read, 'The Waddesdon Bequest: Catalogue of the Works of Art bequeathed to the British Museum by Baron Ferdinand Rothschild, M.P., 1898', London, 1902, no. 18
O.M. Dalton, 'The Waddesdon Bequest', 2nd edn (rev), British Museum, London, 1927, no.18.

References
Read 1902: Read, Charles Hercules, The Waddesdon Bequest. Catalogue of the Works of Art Bequeathed to the British Museum by Baron Ferdinand Rothschild, M.P., 1898, London, BMP, 1902
Dalton 1927: Dalton, Ormonde Maddock, The Waddesdon Bequest : jewels, plate, and other works of art bequeathed by Baron Ferdinand Rothschild., London, BMP, 1927