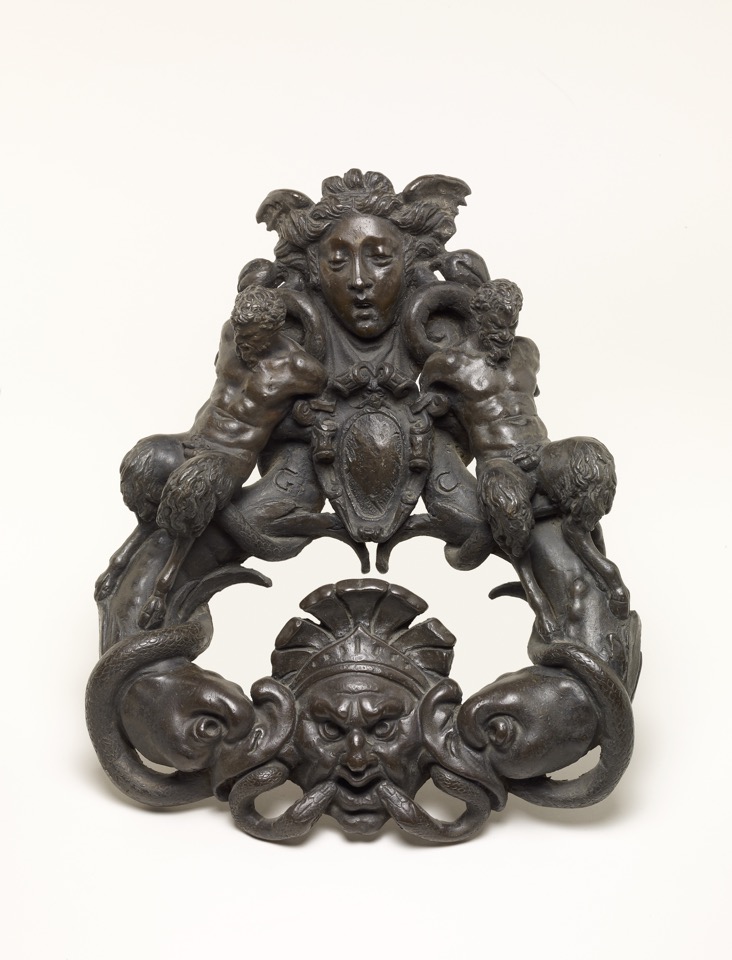 One (10b) shows Neptune with two seahorses and a shield of arms. The other (10a) is one of two designed for the massive doors of the Palazzo Martinengo Dobblo in Brescia. It is made up of two bound satyrs on dolphins, supporting a shield with the initials 'G. C.'.
Curator's Description
Bronze door-knocker formed of two dolphins with snakes twined around them; on the dolphins sit two satyrs, whose scroll arms support a blank shield; above shield a mask of Medusa; below shield a grotesque mask; inscribed.
This object was collected and bequeathed to the British Museum by Ferdinand Anselm Rothschild.
How big is it?
28.5 cm wide, 25.5 cm high, 25 cm deep, and it weighs 10.7 kg
Detailed Curatorial Notes
Provenance: None is recorded.
Commentary from Tait 1981:-
'The beautiful bronze door-knocker [is] from the Palazzo Martinengo-dobblo, in Brescia, near Milan. Although the coat-of-arms in the centre has been partially obliterated, it is possible to be certain about the origin of this bronze from one valve of the doors of the Palazzo by J.C. Robinson, who had been appointed 'art referee' to the newly created South Kensington Museum, now the Victoria and Albert Museum. In the 1876 "Catalogue of Bronzes at the South Kensington Museum" (see inv. no. above), Fortnum records that he had seen the companion knocker still hanging on the door of the Palazzo in Brescia in 1861, adding that it was one of the few knockers still remaining in the place for which it had been designed; it is not known when it entered Baron Ferdinand's collection.'
The companion to this knocker is in the V&A (inv. no. 588-1853).
Bibliography
Charles Hercules Read, 'The Waddesdon Bequest: Catalogue of the Works of Art bequeathed to the British Museum by Baron Ferdinand Rothschild, M.P., 1898', London, 1902, no. 4, pl.II
O.M. Dalton, 'The Waddesdon Bequest', 2nd edn (rev), British Museum, London, 1927, no.4, pl.II
H. Tait, 'The Waddesdon Bequest', BM London 1981, pp.60 - 61 and fig. 40. For previous discussion of this piece, in which it was attributed to Andrea del Bresciano, see: C. Avery, 'Andrea di Bartolomeo di Alessandri detto il Bresciano "lavator di gettar cose di Bronzo": candelabri, satiri e battenti', in 'L'Industria Artistica del Bronzo del Rinascimento a Venezia e nell'Italia settentrionale. Atti del Convegno Internazionale di Studi Venezia, Fondazione Giorgio Cini, 23 e 24 ottobre 2007', p. 250, fig. 38. For recent discussion of this piece attributed to an unknown Venetian workshop, see: V. Avery, 'Vulcan's Forge in Venus's City. The Story of Bronze in Venice 1350-1650', Oxford 2011, p. 141 and p. 344, Fig. 10.54.

References
Read 1902: Read, Charles Hercules, The Waddesdon Bequest. Catalogue of the Works of Art Bequeathed to the British Museum by Baron Ferdinand Rothschild, M.P., 1898, London, BMP, 1902
Dalton 1927: Dalton, Ormonde Maddock, The Waddesdon Bequest : jewels, plate, and other works of art bequeathed by Baron Ferdinand Rothschild., London, BMP, 1927