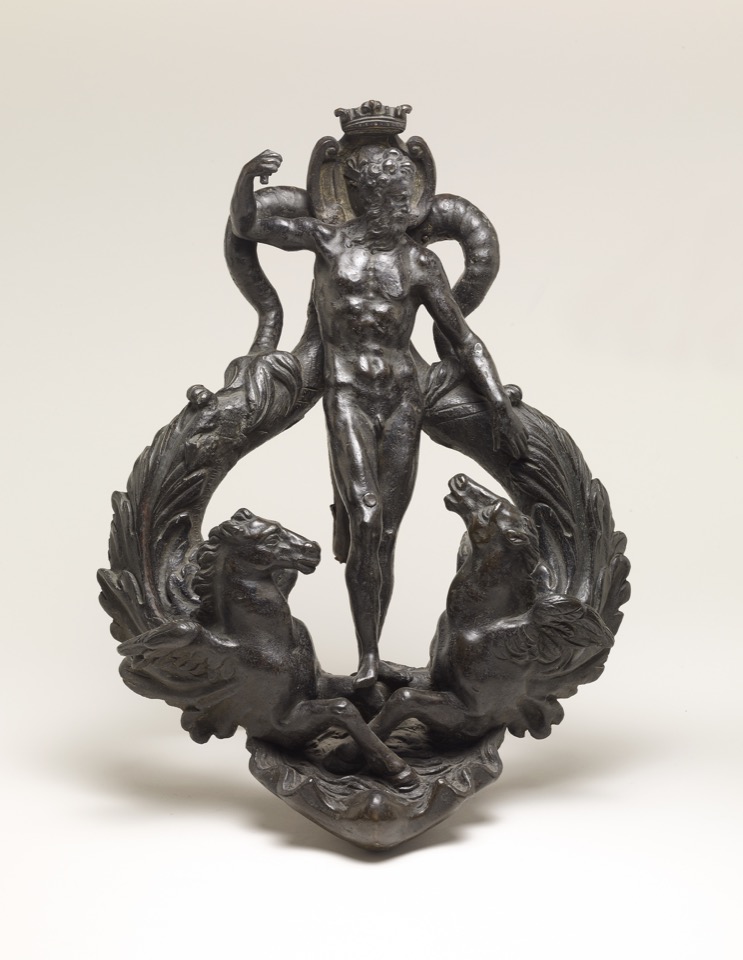 One (10b) shows Neptune with two seahorses and a shield of arms. The other (10a) is one of two designed for the massive doors of the Palazzo Martinengo Dobblo in Brescia. It is made up of two bound satyrs on dolphins, supporting a shield with the initials 'G. C.'.
Curator's Description
Bronze door-knocker in the form of a naked figure of Neptune standing on a shell between two sea-horses with dolphin-like tails covered in acanthus leaves and curving upwards to meet the head of the god; their tails support a crowned shield with the three fleurs-de-lis of France differenced by a bend.
This object was collected by Anselm von Rothschild and bequeathed to the British Museum by Ferdinand Anselm Rothschild.
How big is it?
30 cm wide, 38 cm high, 23.5 cm deep, and it weighs 11.3 kg
Detailed Curatorial Notes
Provenance: Baron Anselm von Rothschild, Vienna, by 1866 (cat no. 173), by inheritance to his son Baron Ferdinand Rothschild (d. 1898).
Commentary: There are many versions (although none feature a shield) but the closest comparisons are:-Harvard Art Museum (Fogg Museum), inv. no. 1953.41 attributed to Alessandro Vittoria, formerly in the collection of Nathaniel de Rothschild, and National Trust Collections online, inv. no. 514968 (at Anglesey Abbey, Cambridgeshire) after Alessandro Vittoria.
Bibliography
Charles Hercules Read, 'The Waddesdon Bequest: Catalogue of the Works of Art bequeathed to the British Museum by Baron Ferdinand Rothschild, M.P., 1898', London, 1902, no. 3
O.M. Dalton, 'The Waddesdon Bequest', 2nd edn (rev), British Museum, London, 1927, no.3.

References
Read 1902: Read, Charles Hercules, The Waddesdon Bequest. Catalogue of the Works of Art Bequeathed to the British Museum by Baron Ferdinand Rothschild, M.P., 1898, London, BMP, 1902
Dalton 1927: Dalton, Ormonde Maddock, The Waddesdon Bequest : jewels, plate, and other works of art bequeathed by Baron Ferdinand Rothschild., London, BMP, 1927