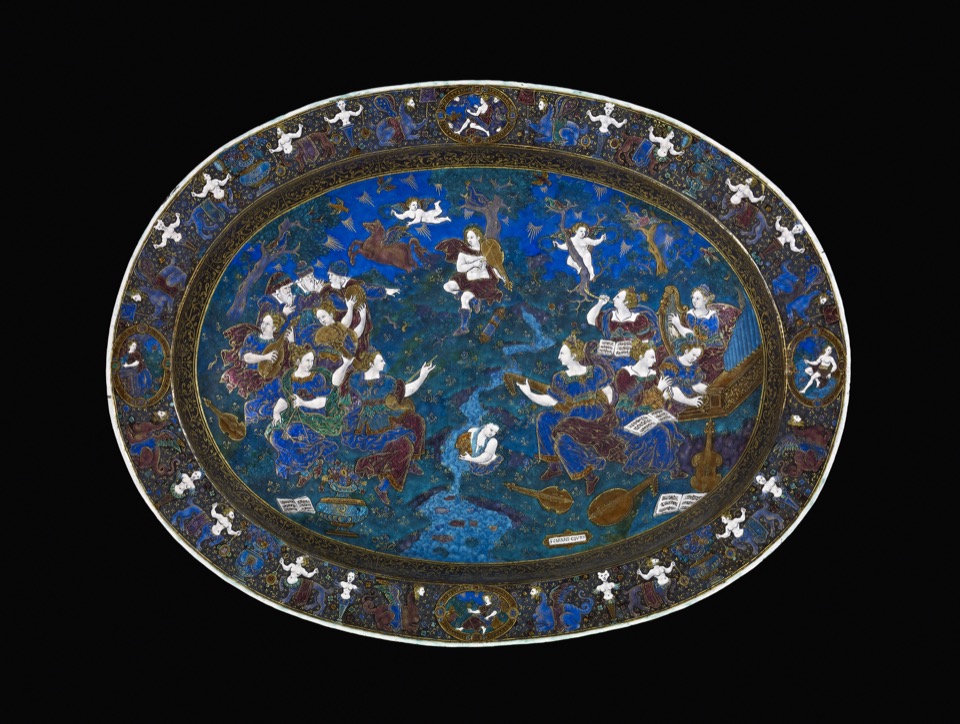 The design copies a print by Giorgio Ghisi of Mantua, maker of the Ghisi Shield in the Waddesdon Bequest. The Muses play musical instruments by a stream, accompanied by poets, cupids, Apollo and Pegasus. The pale flesh tints, rich turquoises and purples are typical of Susanne Court's work.
Curator's Description
Painted Limoges enamel dish, oval; copper; Apollo and Muses; Apollo seated beside stream, four Muses on left, five on right; three bearded old men in background; in field, two Cupids, Pegasus and river god; grass deep green with gilding, sky sapphire blue; gilt scroll border and flat edge containing medallions representing elements; between are vases, caryatid figures and centaurs; back: gilt ornament, in grisaille a cartouche composed of masks and caryatid figures; adapted from print by Etienne de Laune; inscribed.
This object was collected and bequeathed to the British Museum by Ferdinand Anselm Rothschild.
How big is it?
38.2 cm wide, 49.7 cm high, 6.7 cm deep, and it weighs 1.5 kg
Detailed Curatorial Notes
Provenance: None is recorded.
Commentary: Text from Tait 1981: 'A striking example [of Limoges enamelwork] dating from the end of the sixteenth century is the magnificent large oval dish of Apollo on Mount Helicon, accompanied by the winged horse Pegasus and surrounded by the nine Muses. In the foreground of the composition is the prominent signature, SVANNE COVRT; however, this very competent Limoges enameller was not in the least responsible for the design, which is copied from an engraving by Giorgio Ghisi of Mantua, who in turn had based it on a drawing by Luca Penni, who had been inspired by Raphael's great fresco, 'Parnassus' (or Marcantonio Raimondi's engraved version of it), in the 'Stanza della Segnatura' in the Vatican Palace. The engraver, Giorgio Ghisi, was a gifted artist, whose brilliant skills in an allied field, the art of damascening, can be studied on the famous shield of 1554, which is preserved in the [Waddesdon] Bequest (WB.5). Subsequently, Ghisi's engraving of Apollo and the Muses was re-engraved in France by Gaspar ab Avibus (published 1563) and by Étienne Delaune; furthermore, several other enamellers at Limoges, including Jean de Court, the most distinguished member of the Court family, produced their own slightly varied adaptations.'
Four other dishes signed by Suzanne de Court have identical or near identical borders to this dish: one in the Lehman Collection in the Metropolitan Museum of the Conversion of St. Paul (inv. no. 1975.1.1233), one in the Louvre with the Meeting of David and Abigail (inv. no. MR 2410), and another also in the Louvre with the Wise and Foolish Virgins (inv. no. MR 2408), (another version of which is in the Musée de la Renaissance in Ecoen (inv. no. CI 21 966)), and one in the Walters Art Gallery of the Destruction of Pharaoh (inv. no. 44.308). See British Museum reg. no. V,8.118 for the Ghisi engraving on which the scene on WB.48 is based.
Bibliography
Charles Hercules Read, 'The Waddesdon Bequest: Catalogue of the Works of Art bequeathed to the British Museum by Baron Ferdinand Rothschild, M.P., 1898', London, 1902, no. 48, pl. XII
O.M. Dalton, 'The Waddesdon Bequest', 2nd edn (rev), British Museum, London, 1927, no.48
Philippe Verdier, 'Catalogue of the Painted Enamels of the Renaissance', The Walters Art Gallery, Baltimore, 1967, p.338
H. Tait, 'The Waddesdon Bequest', BM London 1981, p. 49, pl.IXB.

References
Read 1902: Read, Charles Hercules, The Waddesdon Bequest. Catalogue of the Works of Art Bequeathed to the British Museum by Baron Ferdinand Rothschild, M.P., 1898, London, BMP, 1902
Dalton 1927: Dalton, Ormonde Maddock, The Waddesdon Bequest : jewels, plate, and other works of art bequeathed by Baron Ferdinand Rothschild., London, BMP, 1927