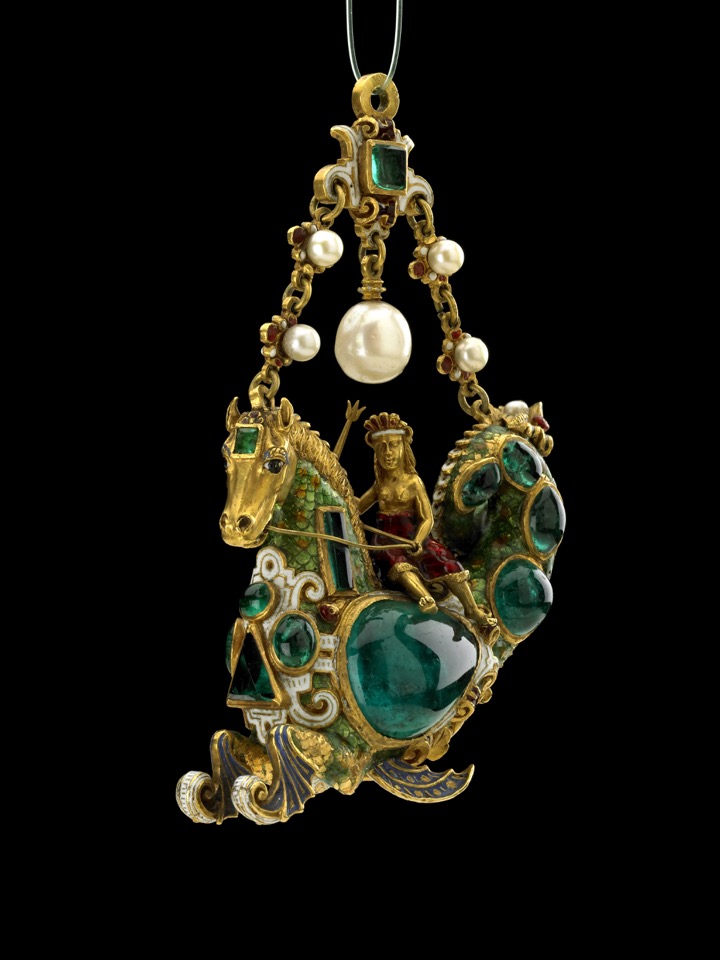 This jewel is set with 13 superb Columbian emeralds and a separately cast Native American rider. It appears to be a clever fake, made before 1847.
Curator's Description
Pendant jewel; gold; set with cabochon emeralds; form of hippocamp ridden by small female figure wearing feather diadem and holding trident; body of animal chased with cartouches, enamelled, and set with graduated emeralds; scroll feet; suspends from double chain with four pearls; cartouche set with emerald and pearl pendant suspended from it.
This object was previously owned by Louis Fidel Debruge-Dumenil and Bonnefons de Lavialle, and collected and bequeathed to the British Museum by Ferdinand Anselm Rothschild.
How big is it?
6.4 cm wide, 8.7 cm high, 2.4 cm deep, and it weighs 127.4g
Detailed Curatorial Notes
[See below for previous Tait catalogue entry on this object from 1986. This object is now thought to be a 19th-century fake.]
Text from Tait 1986:-
Origin: Spanish, late 16th century.
Provenance: Debruge Dumenil Collection, Paris (before 1847); sold in 1850 by Bonnefons de Lavialle, Paris (January, February and March 1850) and purchased by Lord Londesborough; the Londesborough Collection.
Commentary: It is clear from Labarte's account of the famous collection formed by Debruge Dumenil in Paris that many of the pieces were brought together before the late 1830s, and it is tempting to surmise that this remarkable jewel had been brought to Paris following Napoleon's victorious occupation of Spain (1808-12).
The jewel's present attribution to a Spanish workshop has not always been favoured, for in both editions of Joan Evans's book it is described as "Probably German, c. 1575". In Read 1902 a most positive attribution to a sixteenth-century German origin had been given, whilst at the same time acknowledging - but dismissing - Plon's 1883 publication of the jewel as "Spanish"; in Dalton 1927 it was cautiously described as "German or Spanish, 16th century". Erwin Palm in 1951 illustrated it and inferred that the jewel must be Spanish; Priscilla Muller published it as a Spanish jewel in 1972 stating that the rider should be regarded as an American Indian, principally on the basis of its bare-breasted, long-haired appearance and especially its use of a feathered head-dress. The bare legs and feet combined with the American Indian features of the face do, indeed, suggest that the goldsmith was quite deliberately creating a direct reference to the New World.
The Spanish goldsmiths and jewellers were eagerly absorbing these new influences that arose from Spanish maritime activities, and the Llibres de Passanties of Barcelona (folio 316) has a design for a hippocamp by Pere Juan Bastons dated 1593 that has many of the features of this jewel, especially the head and scaly body. However, it has no rider, no large emeralds and no 'harness' of strap-work design. Perhaps the more interesting comparison is to be found in the famous pictorial 'Inventario' of Our Lady of Guadalupe, dated c.1777 (Archivo del Real Monasterio, folio 45 verso; see Muller 1972, p. 85, fig. 129). This page, which shows a triton pendant executed in brown ink and watercolour, is important because it records the use of scroll 'feet' (in front) as well as the setting of large gem-stones on this type of jewel.
The lavish use of obtrusively grand emeralds on this pendant jewel may have been due in part to the widely held beliefs in the powerful amuletic properties of the emerald, ranging from a protection against demons and fever to a guardian of chastity. Erwin Palm has pointed out that although Anselm de Boot, physician to the Emperor Rudolph II, wrote sceptically about this latter property (in his 'Gemmarum et lapidarum historia', Hanau, 1609), the emerald was undoubtedly the gemstone most preferred in the jewels assembled in the Treasure of Santo Domingo and, in his opinion, "it is undoubtedly due to a symbolic manifestation of chastity", for the jewels in the Treasure were originally dedicated to the Virgin. If, indeed, this magical attribute of the emerald to detect and distinguish between lawful and illicit love was generally accepted, then the gift of a jewel set with large emeralds would have been a most appropriate present from a lover or a husband to the lady of his choice. Certainly, the emeralds on the Waddesdon jewel are of varying quality, but expert opinion has recently confirmed that some are very possibly of Colombian origin - a further indication that this jewel's origin in a Spanish workshop is the most likely.
In Read 1902 it was pointed out that in Labarte 1864 this jewel was described as "a licorne marin, from its having a horn in the forehead, now replaced by a square emerald". This statement may be correct, though it appears more probable that Labarte was merely classifying it with another jewel in the Debruge Dumenil Collection (no. 1002) which he had catalogued in 1847 and had rightly described as a "licorne marin"; the latter jewel also entered Lord Londesborough's Collection (see Fairholt 1857, pl. v, fig. 4 in colour) and has four horse's legs and hooves and a horse's tail - in addition to a unicorn's horn and two riders representing FRANCE and VICTORY. Nevertheless, there is one reason for taking seriously Labarte's statement that this Waddesdon jewel originally had a unicorn's horn; it is the evidence of a page in Arnold Lulls' Album of drawings of jewellery, c.1610 (see 'Princely Magnificence' 1980, no. G. 44, and Hackenbroch 1979, fig. 800). On p. 5 of the Album (a loose sheet) there are drawings of four jewels, including two of the Order of the Garter; the fourth is a splendid pendant sea-unicorn, strongly reminiscent of the Waddesdon hippocampus. Unfortunately, the purpose of the Album and its connection with Arnold Lulls, supplier of jewellery to James I and his queen, Anne of Denmark, is still unclear. Consequently, the sea-unicorn drawing (p. 5) offers no clues about the origin of the jewel, but it is useful confirmation of the English interest at the beginning of the seventeenth century in large-scale pendant jewels of this imaginative kind. Most exceptionally, a very similar jewel - a sea-dragon without a horn - can be found in an English portrait, on the sleeve of Lady Philippa Speke's beautiful dress. The portrait, which is dated 1592, has been the subject of recent research (see Hugh Tait, The "Tablett": an important class of Renaissance jewellery at the court of Henry VIII (reigned 1509-47), 'Jewellery Studies', 11, 1985-6, (forthcoming).
Bibliography
J. Labarte, 'Description des Objets d'Art qui composent la collection Debruge Dumenil', Paris, 1847, no. 1028 (where the measurements are incorrectly given)
'Index to the Objects of Science, Art, and Antiquity exhibited or collected at 144, Piccadilly' (supplied for the use of Lord Londesborough's Visitors on Wednesday Evening, 8 May 1850), p. 17
F.W. Fairholt, 'Miscellanea Graphica, Representations of ancient, medieval and renaissance remains in the possession of Lord Londesborough', London, 1857, pl. 1, fig. 1
J. Labarte, 'Histoire des Arts Industriels', Paris, 1864, pl. lxix, fig. 4
E. Plon, 'Benvenuto Cellini', Paris 1883, pl. XXIII, fig. 6
'The Treatises of Benvenuto Cellini', trans, and ed. C. R. Ashbee, London, 1898, illus. facing p. 25
Charles Hercules Read, 'The Waddesdon Bequest: Catalogue of the Works of Art bequeathed to the British Museum by Baron Ferdinand Rothschild, M.P., 1898', London, 1902, no. 156, pl. XXXVII
O.M. Dalton, 'The Waddesdon Bequest', 2nd edn (rev), British Museum, London, 1927, no. 156, pl. xv
Joan Evans, 'A History of Jewellery, 110-1870', London, 1953 (rev. edn 1970), pl. 80 (a) and (b) and a brief mention in the text (p. 111) where there is an incorrect reference to pl. 82 a)
E.W. Palm, Renaissance Secular Jewellery in the Cathedral at Ciudad Truillo. 'The Burlington Magazine', XCIII, 1951, p. 318, fig. 23
Priscilla E. Muller, 'Jewels in Spain, 1500 – 1800', The Hispanic Society of America, New York, 1972, p. 36, fig. 38
Yvonne Hackenbroch, 'Renaissance Jewellery', Sotheby Parke Bernet Publications, London, New York and Munich, 1979, fig. 858 A and B, col. pl. XXXXI (no mention in the text)
Hugh Tait, 'The Waddesdon Bequest: The Legacy of Baron Ferdinand Rothschild to the British Museum', London, 1981, p. 53, col. pl. XB
Hugh Tait, 'Catalogue of the Waddesdon Bequest in the British Museum. 1., The Jewels', British Museum, London, 1986, no. 22, pls. XXII, XXIII, figs. 127-129
Dora Thornton, 'A Rothschild Renaissance: Treasures from the Waddesdon Bequest', British Museum, London, 2015, pp.232-233.

A similar fish pendant is in the Museo de Artes Decorativas, Madrid (inv. no. 1567). This is also illustrated as fig.52 in Priscilla Muller, 'Jewels in Spain', HIspanic Society of America, New York, 2012, with discussion of the rider's headgear.

References
Read 1902: Read, Charles Hercules, The Waddesdon Bequest. Catalogue of the Works of Art Bequeathed to the British Museum by Baron Ferdinand Rothschild, M.P., 1898, London, BMP, 1902
Dalton 1927: Dalton, Ormonde Maddock, The Waddesdon Bequest : jewels, plate, and other works of art bequeathed by Baron Ferdinand Rothschild., London, BMP, 1927
Tait 1986: Tait, Hugh, Catalogue of the Waddesdon Bequest in the British Museum; I The Jewels, London, BMP, 1986