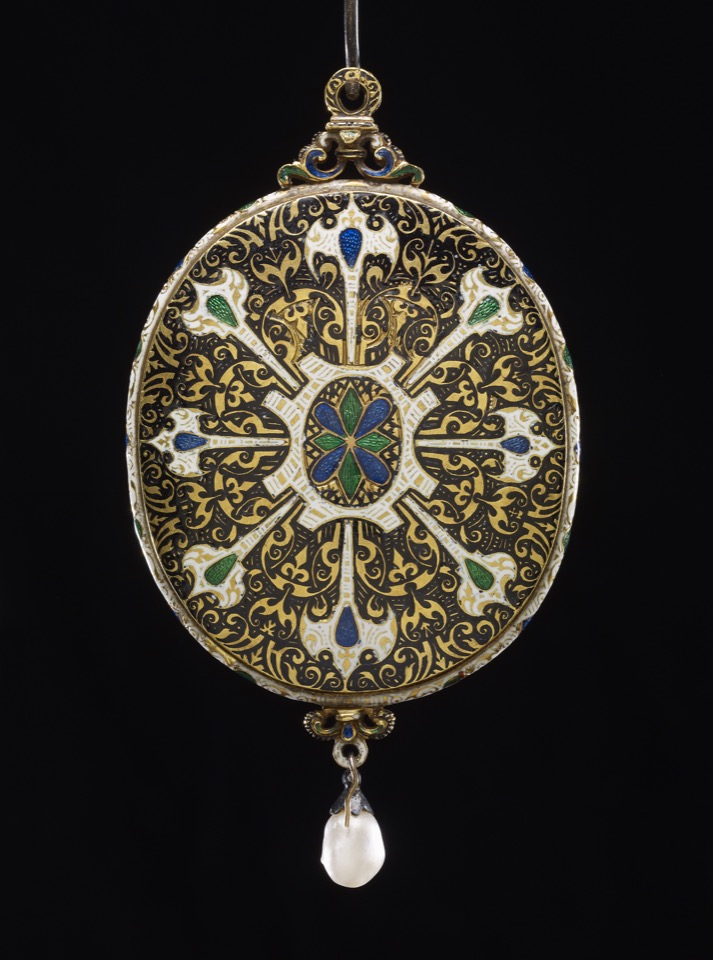 The enamelling is of very high quality. It is close to designs by Corvinianus Saur, the Danish court goldsmith to King Christian IV of Denmark. The miniature has been replaced by a modern mirror.
Curator's Description
Oval locket; gold; both faces similar; gold scrolls on black enamel ground; shield-shaped panel in centre with rosette in green and blue, from which radiate eight bars in white with gold; edge of white enamel and gold with alternate blue and green spots; pendant pearl with diamonds (an ear-ring?); locket contains a mirror. Openwork.
This object was collected and bequeathed to the British Museum by Ferdinand Anselm Rothschild.
How big is it?
5.9 cm wide, 15 cm high, 1.2 cm deep, and it weighs 89g
Detailed Curatorial Notes
Text from Tait 1986:-
Origin: English, early 17th century.
Commentary: The quality of this piece is very high and it is interesting to note that every detail is calculated to obtain the greatest effect: thus, the alternating blue petals of the central rosette are matched by green-enamelled sceptre-heads on the corresponding 'spokes' - and vice versa. The intricate designs, so skilfully chased and enamelled, are most reminiscent of the designs of Corvinianus Saur, a South German goldsmith who became court goldsmith to King Christian IV of Denmark (reigned 1588-1648). Many of Saur's designs for engraved ornament were published between 1591 and 1597, and at that time the relations between Denmark and England were particularly close. Christian IV's sister, Anne, had married James I and so had become Queen of England. In 1606 the Danish King paid a state visit to the English court and princely gifts were formally exchanged.
In Read 1902 this miniature case was catalogued as "English, about 1600", and there would seem to be no reason to alter this attribution except to suggest that a slightly later date within the first two decades of the seventeenth century would seem more probable. The fashion for intricate patterns in gold against a black-enamelled background is to be seen in a most developed style on the crown, orb and sceptre of Queen Kristina of Sweden (1573-1625), with which she was buried in the Cathedral of Strangnas in 1626. They were removed from the coffin in 1830 and since 1980 have been exhibited in the Livrustkammaren at the Royal Palace in Stockholm and were lent to the Victoria and Albert Museum in 1980 for a special exhibition (see Kersti Holmquist in 'Princely Magnificence, Court Jewels of the Renaissance, 1500-1630', ed. A. Somers Cocks, exh. cat., Victoria and Albert Museum (Debrett's Peerage Ltd), London, 1980, no. 126 d, e and f).
A closely related miniature case has been preserved in the Imperial Collections in Vienna since the early seventeenth century, for it is described in the Emperor Matthias Inventory of 1619 (no. 2193) as "In a completely golden portrait box decorated with 5 rubies and 4 diamonds of French work, finely enamelled, is a portrait or miniature of the King of England. Outside the box a pagan emperor, carved in agate, the laurel wreaths and his garb brown in colour, in a black velvet case". Anna Somers Cocks dated it to "about 1575-90" (Princely Magnificence 1980, no. 22, with col. illus. of exterior and interior). This dating seems too early for stylistic reasons, especially when the densely enamelled, geometrical and scrolling multicoloured patterns of the two interior faces are considered. Moreover, there was no King of England at that time. The Emperor Matthias Inventory of 1619 makes it clear that this miniature case contained the King's portrait; it must, therefore, date from after 1603 when James VI of Scotland became James I of England upon the death of Queen Elizabeth I.
Furthermore, the quality of the translucent enamelling and the style of the ornament on the interior of this Vienna miniature case are characteristic of the taste of the Jacobean court in London. It is a most valuable document of the excellent standards being set at the English court c.1610, and the radiating patterns so symmetrically arranged on the centre in a quadrupartite fashion are a more elaborate version of the Waddesdon miniature case, which must also be dated c. 1610-20. For another of Corvinianus Saur's engraved designs with a radiating pattern unified at the centre with an angular form of cartouche, see the eight-pointed star (British Museum Print Room, 1923, 6-12, 3).
Bibliography
Charles Hercules Read, 'The Waddesdon Bequest: Catalogue of the Works of Art bequeathed to the British Museum by Baron Ferdinand Rothschild, M.P., 1898', London, 1902, no. 170, p. XLII
Joan Evans, 'English Jewellery from the Fifth Century AD to 1800', London, 1921, p. 108, pl. xx, 6
O.M. Dalton, 'The Waddesdon Bequest', 2nd edn (rev), British Museum, London, 1927, no. 170
Joan Evans, 'A History of Jewellery, 110-1870', London, 1953 (rev. edn 1970), pl. 105a (not pl. 105b as stated in the text on p. 127)
Hugh Tait, 'The Waddesdon Bequest: The Legacy of Baron Ferdinand Rothschild to the British Museum', London, 1981, pp. 55-6, col. pl. XIA
Hugh Tait, 'Catalogue of the Waddesdon Bequest in the British Museum. 1., The Jewels', British Museum, London, 1986, no. 34, pl. XXIV, figs. 167-168.

References
Read 1902: Read, Charles Hercules, The Waddesdon Bequest. Catalogue of the Works of Art Bequeathed to the British Museum by Baron Ferdinand Rothschild, M.P., 1898, London, BMP, 1902
Dalton 1927: Dalton, Ormonde Maddock, The Waddesdon Bequest : jewels, plate, and other works of art bequeathed by Baron Ferdinand Rothschild., London, BMP, 1927
Tait 1986: Tait, Hugh, Catalogue of the Waddesdon Bequest in the British Museum; I The Jewels, London, BMP, 1986