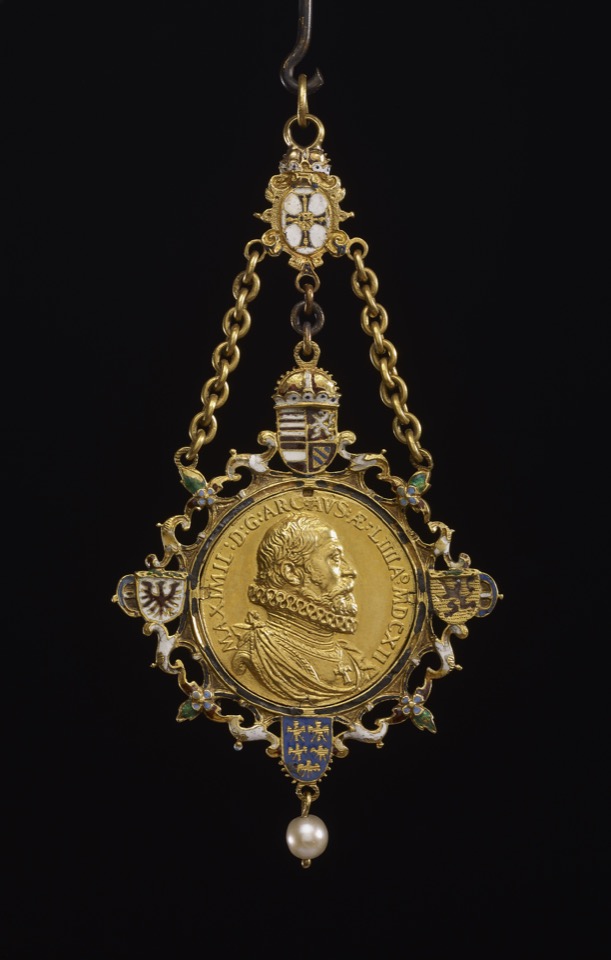 In the centre is a gold medal of Maximilian III (1557–1618) Archduke of Austria.
Curator's Description
Pendant oval medallion of Maximilian, Archduke of Austria; obverse: bust to right, in armour and cross of Teutonic Order; reverse: stockaded camp with five tents; openwork border of enamelled scrolls, interrupted with four shields of arms: crowned shield, quarterly Hungary, Bohemia, Austria, Burgundy; eagle; lion rampant; five eagles displayed; suspended from three modern chains; oval shield below crown at top, one side with arms of Austria, other with cross of Teutonic Order; inscribed.
This object was collected and bequeathed to the British Museum by Ferdinand Anselm Rothschild.
How big is it?
5.1 cm wide, 10 cm high, 0.4 cm deep, and it weighs 33.5g
Detailed Curatorial Notes
Text from Tait 1986:-
Origin: German; probably Vienna, c. 1612.
Description: Pendant oval medallion of Maximilian, Archduke of Austria. Obverse: portrait bust, to right, bareheaded, with beard and moustache, wearing a high ruff, armour, a mantle and the cross of the Teutonic Order; there is an inscription around the edge. Reverse: a stockaded military camp with five large tents and many soldiers with an inscription above. The medal is secured at four points to the gold frame of cast and chased openwork scrolls, fleurs-de-lis and flowers, enamelled in translucent red and green, opaque light blue and mid-blue, white and black; the design of the frame accommodates four enamelled shields of arms: Above: crowned shield quarterly, 1. Hungary. 2. Bohemia. 3. Austria. 4. Burgundy; Dexter: argent, an eagle displayed gules (Tyrol); Sinister: barry, a lion rampant gules (Steiermark); Beneath: azure, five eagles displayed or (Lower Austria). There are three suspension chains, at the top of which is an oval shield under a crown: on one side are the arms of Austria; on the other, the cross of the Teutonic Order on a white field. The shield is contained within a 'cartouche'.
Provenance: None is recorded.
Commentary: The medal is by Alessandro Abondio (c. 1570- after 1645), who worked at the Imperial court in Prague under Rudolph II and in Vienna under his successor, the Emperor Matthias.
The subject of the so-called 'gnadenpfennige' is most recently discussed in a well-illustrated book by Börner 1981. The German term so often used to describe them has been 'kleinode' for which there is no exact equivalent in English but which may best be defined as 'jewelled works of art'. Although these portrait medallions mounted in gold enamelled frames to be worn as pendant jewels are a particular German contribution to the story of Renaissance jewellery in Europe, there is no discussion of this important category either in Joan Evans, 'A History of Jewellery, 110-1870', London, 1970 (rev. edn) or in Yvonne Hackenbroch, 'Renaissance Jewellery', Sotheby Parke Bernet Publications, London, New York and Munich, 1979, despite the survival in the Hapsburg Imperial Collections in Vienna of one of the most famous early examples, c. 1500 - the gold medal of Isabella d'Este by Giancristoforo Romano (d. 1512) within a broad gold frame set with diamonds cut to form the individual letters of the name 'i s a b e 1' and interspersed with gold enamelled flowers in relief; the outer edge of the frame is encircled with entwined branches of enamelled gold, terminating at the top in a suspension loop of gold. (For an illustration and brief description see 'Meisterwerke, 280 Tqfeln', Kunsthistoriches Museum, Vienna, 1955, pl. 270; for a colour illustration and more detailed discussion see 'Splendours of the Gonzaga', eds D. Chambers and J. Martineau, Victoria and Albert Museum, 1981, no. 109, pl. 49, where it is suggested that it is the same object that is listed in the 1542 inventory of the Grotta and adjacent rooms, completed three years after Isabella's death.) This inventory description (see A. Luzio, Isabella d'Este, 'Archivo Storico Lombardo', X, 1908, p. 414) shows that a gold version framed in diamonds and enamelled was in a cupboard with the famous cameo of Caesar and Livia; although work on the medal was finished by September 1498, there is no record of the making of this gold version in its enamelled and jewelled pendant setting. Significantly, this pendant uses black letter, rather than roman lettering, for the diamond letters of 'i s a b el'.
Lore Börner's book illustrates seventeenth-century portraits of both men and women wearing these 'gnadenpfennige' and lists about 200 of these German portrait medallions, gold or silver-gilt, all of which have survived in their fanciful settings as pendant jewels.
The fashion for 'medaillenkleinode' or 'gnadenpfennige' seems to have been an extension of the early sixteenth-century practice for men to wear a simple unadorned version of a portrait medal of the prince suspended from a gold chain hung about the neck. Lucus Cranach the Elder, in his 1533 portrait of Gregor Brück, the Saxon court Chancellor, meticulously depicts him wearing two gold chains and an attached gold portrait medal of the Elector Johann Friedrich of Saxony (see Werner Schade, 'Die Malerfamilie Cranach', Dresden, 1974, pl. 133; also Börner 1981, pp. 15-16). This latter practice seems to have continued into the second half of the sixteenth century; indeed, a portrait, dated 1574, of Johann I of the Palatinate shows the simple unmounted 1563 medal of Frederick III of the Palatinate attached to the massive gold chain of seven loops hung round his neck (see the Bayerische Staatsgemalde Sammlungen, inv. no. 6924). This unmounted medal has recently been described as a 'gnadenpfennig' in A Somers Cocks and C. Truman, 'The Thyssen-Bornemisza Collection', London, 1984, (p. 139). The wearing of these unmounted portrait medals was paralleled in Germany by the ostentatious wearing of a contemporary coin, also unmounted but having a suspension loop to link it to the gold chain. Lore Börner illustrates the portrait, dated 1621, of a young lady aged nineteen years, who was a member of the Hamburg family of Remsted (Börner 1981, pl. I); in addition to wearing three heavy gold chains of different lengths each with a large unmounted gold coin, she wears on a short gold chain a fully developed 'gnadenpfennig' - a portrait medal of the Duke Friedrich III of Holstein-Gottorp, set as a piece of Renaissance jewellery in a typical scroll-type frame. Unmounted coins worn on gold chains continued to be fashionable in Germany as late as the 1640s, when, for example, Margareta Bronsen of Lübeck had her portrait painted in 1641 by Michael Conrad Hirt; it has been preserved in St Anna's Church, Lübeck (see a detail photograph in Somers Cocks 1984, p. 126).
Among the earliest and most beautifully enamelled 'gnadenpfennige' are those pieces preserved in the Grünes Gewölbe, Dresden, where, for example, the goldsmith, Gabriel Gipfel, was responsible for transforming Tobias Wolffs 1589 medal of the Electress Sophia into a colourful pendant jewel suspended on three short chains from a little 'cartouche' of enamelled openwork scrolls (see Börner 1981, no. 121, col. pl. 58; Joachim Menzhausen, 'Das Grüne Gewölbe', Leipzig, 1968, p. 92, pl. 70).
Whilst it is generally accepted that this 'gnadenpfennig'-type of pendant jewel is peculiar to the German-speaking world, it should not be overlooked that one of the earliest manifestations of this new fashion to have survived north of the Alps is English: both the Phoenix Jewel and the so-called Armada Jewel can be regarded as English versions of the 'gnadenpfennig'. The famous Phoenix Jewel of Queen Elizabeth I, which entered the British Museum in 1753, is a unique portrait jewel and can be dated to the decade 1570-80 (see Hugh Tait (ed. And contrib.), 'The Art of the Jeweller, A Catalogue of the Hull Grundy Gift to the British Museum: Jewellery, Engraved Gems and Goldsmiths' Work', London, 1976, no. 294, col. pl. 26; also Tait in 'Princely Magnificence, Court Jewels of the Renaissance, 1500-1630', ed. A. Somers Cocks, exh. cat., Victoria and Albert Museum (Debrett's Peerage Ltd), London, 1980, no. 35). Although no German 'gnadenpfennig' is recorded with the background cut away, leaving the head and shoulders as a kind of open silhouette, the frame of Tudor roses (enamelled red and white) among the green-enamelled leaves and entwined stems is emblematic, just as some of the frames of the Germanic examples are heraldic; furthermore, the two pendant loops are an integral part of the design of this wreath of roses.
The bust of Queen Elizabeth I in the Phoenix Jewel was not enriched with enamel and, significantly, the German 'gnadenpfennige' do not seem to follow any consistent pattern. Many have no enamel decoration added to the medal, others have a little used most sparingly, while a few have the background covered in enamel, like the Queen Elizabeth Armada Jewel (in the Victoria and Albert Museum). Traditionally said to have been given to Sir Thomas Heneage by Queen Elizabeth on the defeat of the Spanish Armada in 1588, the front of this pendant jewel has a gold profile portrait of the Queen in relief against a blue-enamelled ground and the encircling motto 'ELIZABETHA. D.G. ANG. FRA. ET. HIB. REGINA.' Indeed, this medallic-type portrait closely resembles the undated medal in the British Museum, which, because of its use of the Garter motto, is often referred to as the 'Garter badge' and is said to have been first used in 1582 on the occasion of the investiture of the King of Denmark as a Knight of the Order of the Garter. The Armada Jewel has additional and more personal references to the Queen (on the reverse), but the ruby-set and enamelled frame, seen from the front, is as impressive as the finest of the German 'gnadenpfennige'.
The frames of the surviving German examples vary greatly, both in ornamental design and in technical construction. In many cases the frames incorporate three suspension loops for three chains terminating above in a 'cartouche' of some decorative or heraldic form. Almost as many, however, are designed with only one suspension loop and, like the Phoenix Jewel of Queen Elizabeth I, would probably have been hung on a large chain around the neck. It is interesting to compare the two documented 'gnadenpfennige' of Maximilian I of Bavaria in their gold enamelled frames (preserved in the Staatliche Munzsammlung, Munich, and published in the exhibition catalogue, 'Wittelsbach und Bayern' ed. Hubert Glaser, Munich, 1980, vol. II/2, pp. 170-1, no. 247, col. pl. 5). Neither has been made with more than one pendant loop, and in each case it is an integral part of the elaborate design of the central pendentive element.
The absence of the triple-chain arrangement would also do away with the need for a suspension 'cartouche' at the top of the chains. One of the two 'gnadenpfennige' of Maximilian I of Bavaria was the work of the sculptor Alessandro Abondio (who had moved to Munich in 1618-19), and the Augsburg goldsmith Christian Ulrich Eberl (d. 1634), who was paid in one year, 1619, the sum of 108 florins 50 kronen for twenty 'gnadenpfennige' for Duke Maximilian I (see M. Frankenburger, 'Die Alt-Münchner Goldschmiede und ihre Kunst', Munich, 1912, and J. P. Beierlein, 'Die Medaillen und Münzen des Gesammthauses Wittelsbach', Munich, 1897. These presentation medals were proudly worn by the recipients, and it seems that many loyal followers at court would have been thus favoured, but the richer the setting of the 'gnadenpfennig' the greater the honour conferred. When cataloguing the 1612 'gnadenpfennig' of Maximilian in (Read 1902) it was noted that "several examples of this jewel exist". One of them was then in the Pierpont Morgan Collection, New York, having been acquired from the Spitzer Collection, Paris. Another example was at that time in Sir George Salting's Collection and is now in the Victoria and Albert Museum (inv. no. M.547-1910); it was catalogued in 'Princely Magnificence' 1980 (no. 81) but the differences recorded in the description of the medal (p. 76) are misleading because the Salting and the Waddesdon medals are identical castings and, in fact, there is no variation in the wording or lettering of the inscription. There is one significant distinction, however - the use of enamelling to decorate the surface of the medal of the Salting example; although much is now lost, it is clear that the armour, for example, was originally enamelled.
This medal of the Archduke Maximilian III has been discussed in G. Habich, 'Die Deutschen Schaumünzen des XVI
Jahrhunderts', vol. II, pt ii, Munich, 1934, no. 3590. The artist, Alessandro Abondio, who was described in 1606 as 'Skulptor and Bildgraber' to the Emperor Rudolph II, continued to serve the Imperial House over a long period. This medal is dated 1612, the year of Rudolph II's death, and would probably have been based on wax portrait studies done by Abondio ad vivum. The sitter, Archduke Maximilian III (1557-1618), was not successful in his attempts to be elected King of Poland in 1587 but he was later made Regent of the Tyrol and Governor of Anterior Austria. He was a Knight of the Teutonic Order, later became Grandmaster (1590-1618), and thus necessarily remained unmarried.
One earlier medal of the Archduke Maximilian III was made by Antonio Abondio (see Habich 1934, vol. II, pt ii, no. 3429); it is dated 1586, and at least two gold examples mounted as jewellery ('gnadenpfennige') have survived in Vienna and Berlin (see Börner 1981, p. 156, no. 89 a and b, col. pl. 46). The Berlin example illustrates the simpler form of enamelled frame in the form of a garland wreath with three suspension loops for the chains, at the top of which is a 'cartouche' of identical form and decoration as on the Salting and Waddesdon examples. The Vienna example, published by Karl Domanig, 'Die Deutsche Medaille in kunst - und kulturhistorischer Hinsicht', Vienna, 1907, no. 525, would seem to have been set into an armorial frame of exactly the same design as that used on the Salting and Waddesdon examples.
The incorporation of four armorial shields into the design of the encircling frame is rare. In Börner 1981 only two other examples are illustrated: one is an oval gold enamelled 'gnadenpfennig' of another member of the House of Austria, the Cardinal Archduke Andrew (1558-1600), which has a similar arrangement of four oval shields of arms within a scroll and fleur-de-lis openwork frame (see Börner 1981, no. 94, pl. 48); unfortunately, the bottom part of this specimen (in the Kunstgewerbemuseum, West Berlin) appears to have lost its fourth shield during a modern alteration. Lore Börner's second example of a frame incorporating four shields occurs on an oval gold enamelled double portrait medal of 1604 depicting Johann, Duke of Saxony, and Dorothea Marie von Anhalt-Zerbst; Börner illustrates no. 148 (col. pl. 72), a well-preserved example, and lists three further specimens including the Melvin Gutman Collection piece sold at Parke-Bernet, New York, in 1969 (lot 64), which is now in the Thyssen-Bornemisza Collection. However, none has a frame that repeats the highly distinctive features that occur on the cast frames of the Waddesdon and Salting Archduke Maximilian III 'gnadenpfennige', namely, the four-petalled flowers superimposed on each fleur-de-lis and the curious 'demi-cartouche' (on the extreme left and the extreme right) beyond the edge of the two shields on either side. There are no grounds, therefore, to suppose that these
settings incorporating four shields of arms have a common origin in one workshop; the features that they do have in common are part of the repertoire of ornamental design which was widely circulated among court goldsmiths.
Perhaps it is worth noting in passing that although frames incorporating coats of arms are not common, there is one 'gnadenpfennig' with as many as ten shields of arms surrounding the oval portrait medal of 1611 depicting the Elector Johann George I and Magdalena Sibylla of Saxony. This beautifully designed piece with its pendant pearls and its three suspension chains united by an armorial 'cartouche' with the Electoral Bonnet is the work of the goldsmith Abraham Schwedler of Dresden (see Erna van Watzdorf, Der Dresdner Goldschmied Abraham Schwedler und sein Kreis in 'Zeitschrift für Kunstwissenschaft', 16, 1962, pp. 81 ff., pl. 5). The example in the Munzkabinett in Dresden is illustrated in Börner 1981, no. 129, pl. 63.
In Read 1902 it was noted that the three chains were 'modern' but as they do not differ significantly from many others used on the German 'gnadenpfennige' illustrated in Lore Börner's book, it seems open to question whether this statement should now be accepted, especially as Read, who may have been given this information in a private communication, has left no record of his reasons.
Bibliography
Charles Hercules Read, 'The Waddesdon Bequest: Catalogue of the Works of Art bequeathed to the British Museum by Baron Ferdinand Rothschild, M.P., 1898', London, 1902, no. 180, pl. XLI
O.M. Dalton, 'The Waddesdon Bequest', 2nd edn (rev), British Museum, London, 1927, no. 180
Lore, Börner, 'Deutsche Medaillenkleindode des 16. und 17. Jahrhunderts', Leipzig, 1981, p. 156, no. 90
Hugh Tait, 'Catalogue of the Waddesdon Bequest in the British Museum. 1., The Jewels', British Museum, London, 1986, no. 36, pl. XXVI, fig. 173
Dora Thornton, 'A Rothschild Renaissance: Treasures from the Waddesdon Bequest', British Museum, London, 2015, p.28.

Text from Barrie Cook, Shakespeare, money and medals, April 2012:

The word 'medal' occurs only once in Shakespeare's plays, in The Winter's Tale. Queen Hermione hangs, like a medal, around the neck of the King of Bohemia, to her husband's jealousy. Medals were courtly gifts, worn to show loyalty and favour. Shakespeare would have known them from his many visits to King James's court.

2. Gold medal of Maximilian III, Archduke of Austria

Probably Vienna, 1612

Medals could be decorated and turned into jewels, like this example. Archduke Maximilian was the brother of the contemporary king of Bohemia.

Waddesdon Bequest, Baron Ferdinand de Rothschild

References
Read 1902: Read, Charles Hercules, The Waddesdon Bequest. Catalogue of the Works of Art Bequeathed to the British Museum by Baron Ferdinand Rothschild, M.P., 1898, London, BMP, 1902
Tait 1986: Tait, Hugh, Catalogue of the Waddesdon Bequest in the British Museum; I The Jewels, London, BMP, 1986