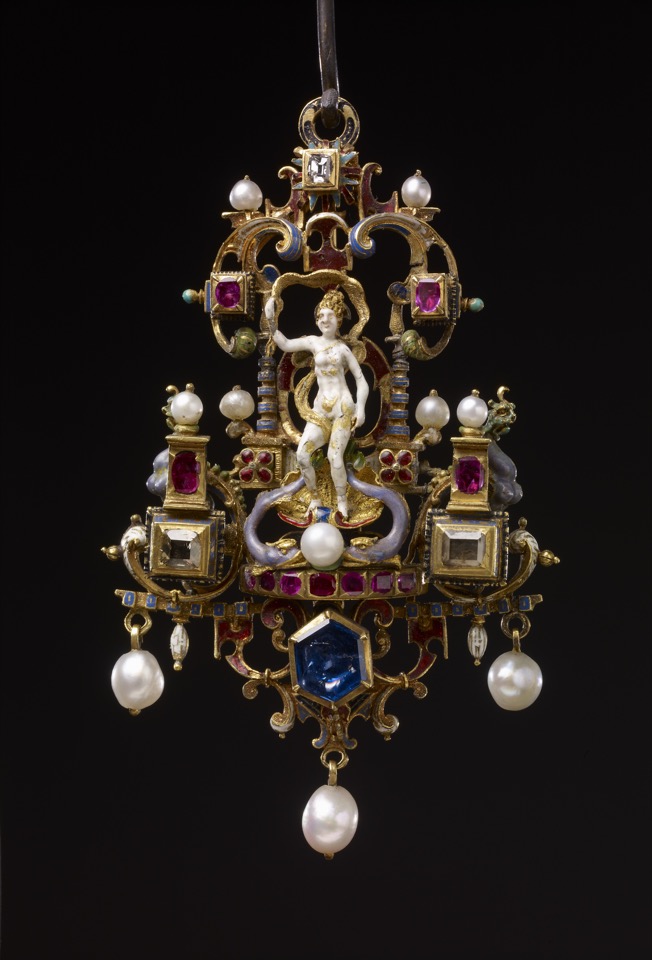 Curator's Description
Pendant jewel; gold; set with sapphire; centre: Venus standing on shell between two dolphins; on each side is short square column set with diamond and ruby and surmounted by a pearl; above and below delicate open-work scrolls with diamonds, rubies and three pendant pearls; back entirely of openwork scrolls, enamelled blue and ruby, in the style of Daniel Mignot or Le Blon.
This object was collected and bequeathed to the British Museum by Ferdinand Anselm Rothschild.
How big is it?
5 cm wide, 8.1 cm high, 1.8 cm deep, and it weighs 44.2g
Detailed Curatorial Notes
See below for previous Tait catalogue entry from 1986. This object is now thought to be 19th century.
Origin: Uncertain; perhaps Netherlandish or German, previously attributed to the late 16th century but perhaps of more recent origin.
Provenance: None is recorded.
From description: The 'architectural' form of this gold enamelled pendant is less pronounced than in the preceding three pendants (cat. nos 12-14) [WB.149, WB.147 and WB.151] and, instead, a light openwork quality has been introduced into the design.
Commentary: The attribution given in Read 1902 was "German, sixteenth century", and this was repeated in Dalton 1927. However, a pendant jewel of a different subject but of a strikingly similar design was illustrated and captioned as "Netherlands, 1580-1590" (Yvonne Hackenbroch, 'Renaissance Jewellery', Sotheby Parke Bernet Publications, London, New York and Munich, 1979, col. pl. XXIII, fig. 710 A-B), but no description or measurements were given. There has been no opportunity to study this 'Netherlands' pendant representing Christ and the Woman of Samaria at the Well, because it is in a private collection. However, the basic design and construction of the two jewels seem to be the same in all the essential features: the same openwork design of scrolls, etc., including the same exceptional pair of 'rusticated' columns on either side, and the same lambrequin strips. Although there are minor differences in the details - and, of course, the gem-settings are not identical - there can be no doubt that these two pendants are constructed in the same way from the same design.
The openwork design of the two pendants is reminiscent of the engraved designs of Daniel Mignot, in particular those produced between 1593 and 1596 in Augsburg. It is significant that the 'rusticated' column is a motif that Daniel Mignot used in some of these designs; for example, the 1593 signed engraving of a design for an openwork background framework for a pendant of this kind has two such columns on either side near the centre (see Read 1902, fig. 42; also illus. in Hackenbroch 1979, fig. 486). Similarly, that particular 1593 engraved design, like others by Mignot, incorporates the c-shaped scroll terminating at the top in a strange mask or sphinx-like bust. However, the goldsmith has produced an overall effect similar to that found in Hans Collaert's set of designs printed in Antwerp in 1581, especially in no. 5 (with its two dolphins) and no. 9 (with its female figure standing on a pearl); the spinx-like bust is also a favourite motif (see Horst Appuhn, 'Renaissance-Anhänger'. Schmuckmuseum, Pforzheim, 1970, pl. 20, for illus. of the complete set of ten plates.)
Consequently, a German or Netherlandish origin would still seem to be the more likely, although until its relation to the almost identical Christ and the Woman of Samaria pendant can be determined, its place of origin must remain unresolved. The slavish repetition of the essential features, partially disguised by the use of a different figure composition and selection of gemstones, is a disturbing phenomenon which often indicates a modern origin. Furthermore, the photographs of the Woman of Samaria jewel reveal a bucket, chain and winding apparatus above the Well that seem incompatible with a late sixteenth-century date; of course, they may be modern additions to replace the lost original elements. The age of the two pendants must therefore remain in doubt until a detailed scientific study of both jewels can be carried out in the same place and with adequate research laboratory facilities at hand. When the privately owned pendant was sold recently in New York (Sotheby, 21 May 1985, lot 128), it was catalogued as representing "Jacob and Rebecca, late 16th century, probably German ... H. 3¼ in (8.2 cm)".
Bibliography
Charles Hercules Read, 'The Waddesdon Bequest: Catalogue of the Works of Art bequeathed to the British Museum by Baron Ferdinand Rothschild, M.P., 1898', London, 1902, no. 150, pl. xxxv
O.M. Dalton, 'The Waddesdon Bequest', 2nd edn (rev), British Museum, London, 1927, no. 150
Hugh Tait, 'Catalogue of the Waddesdon Bequest in the British Museum. 1., The Jewels', British Museum, London, 1986, no. 15, pl.X, figs. 105-106.

References
Read 1902: Read, Charles Hercules, The Waddesdon Bequest. Catalogue of the Works of Art Bequeathed to the British Museum by Baron Ferdinand Rothschild, M.P., 1898, London, BMP, 1902
Dalton 1927: Dalton, Ormonde Maddock, The Waddesdon Bequest : jewels, plate, and other works of art bequeathed by Baron Ferdinand Rothschild., London, BMP, 1927
Tait 1986: Tait, Hugh, Catalogue of the Waddesdon Bequest in the British Museum; I The Jewels, London, BMP, 1986