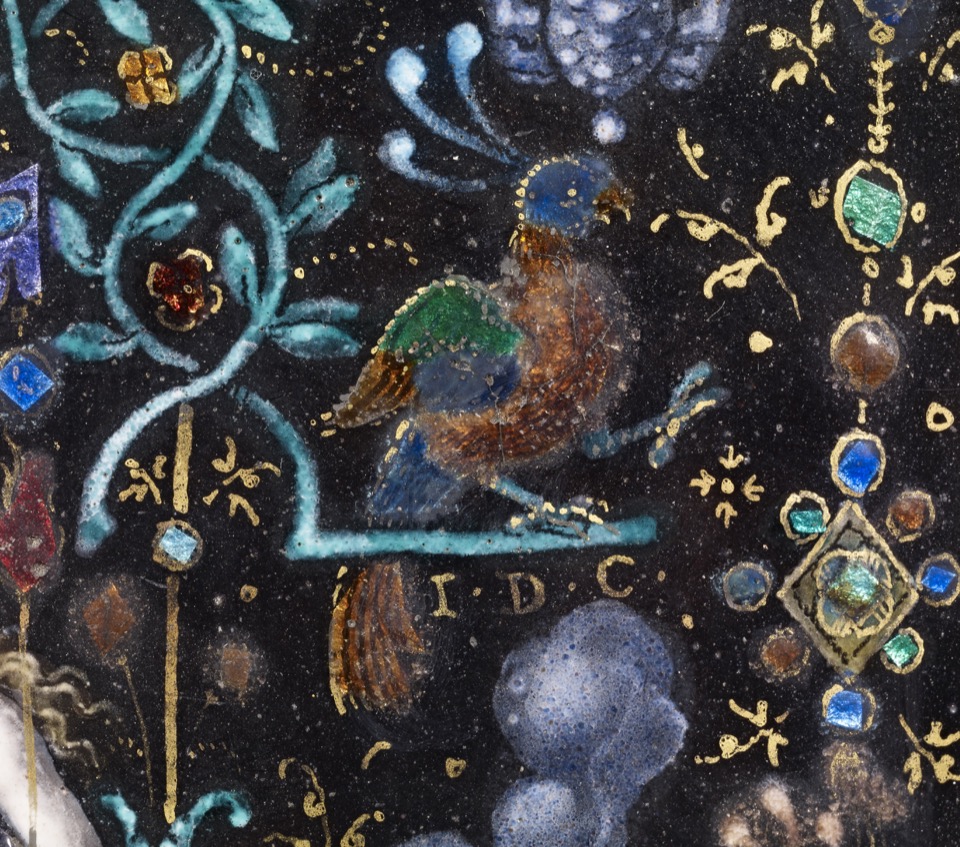 After a print by Étienne Delaune.
Curator's Description
Painted Limoges enamel plaque; copper, rectangular; set in a modern wooden frame; The figure of Venus, bearing a torch, with Cupid; painted in grisaille, semi-opaque enamels on a white preparation and translucent enamels over coloured foils; grisaille painted with flesh tones, all on a black ground, gilding; counter enamel, slightly opaque colourless flux; inscribed.
This object was previously owned by Louis Fould and Louis Fidel Debruge-Dumenil, collected by Anselm von Rothschild and bequeathed to the British Museum by Ferdinand Anselm Rothschild.
How big is it?
13.3 cm wide, 16.3 cm high, 6.8 cm deep, and it weighs 207g
Detailed Curatorial Notes
Provenance: Baron Anselm von Rothschild, Vienna, by 1866 (cat no. 14), by inheritance to his son Baron Ferdinand Rothschild (d. 1898). Formerly in the collection of Debruge-Dumenil (no. 751), Baillon, and Fould (no. 1039) - see Verdier 1967 in bibliography.
Commentary: The scene is after Etienne Delaune (see British Museum print Gg.4D 67). An oval plaque signed IC with the same subject also after Etienne Delaune is in the Walters Art Museum (inv. no. 44.352), see Verdier 1967 in bibliography. There is a further oval plaque of the same subject. also signed IC, in the Louvre (inv. no. OA 962). WB.37 was put together with its companion piece showing Minerva (WB.38) when it was in the Fould collection.
For maker signing IDC see S.Higgott,Catalogue of Glass and Limoges Enamels, Wallace Collection, London 2011, cat.82 for a plaque signed on rim with Virgin and Child seated in clouds. Higgott gives a list of pieces marked IDC, including a watchcase at Waddesdon Manor and two plaques in the Metropolitan Museum. His style is distinctive but he is closely associated with the maker signing IC. Large dishes signed IDC include Moses with the Brzen Serpent in the Hermitage and The Sacrifice of Iphigenia in Philadelphia.
See also a plaque monogrammed IDC after Goltzius of Charity offered by Bernard Descheemaeker in February 2015.
Bibliography
'Notice des Émaux', Louvre, Paris, 1853 p.277, note 1)
G. Wildenstein (ed.), 'Gazette des Beaux-Arts', Paris, June 1860, p.288
'Catalogue des Objets d'Art qui Composant la Collection Debruge-Duménil', Paris, 1849, lot. no. 751
A. Chabouillet, 'Description des antiquités et objets d'art composant le cabinet de M. Louis Fould', Paris, 1861, no. 1039
Charles Hercules Read, 'The Waddesdon Bequest: Catalogue of the Works of Art bequeathed to the British Museum by Baron Ferdinand Rothschild, M.P., 1898', London, 1902, no. 37
O.M. Dalton, 'The Waddesdon Bequest', 2nd edn (rev), British Museum, London, 1927, no.37
Philippe Verdier, 'Painted Enamels of the Renaissance', Walters Art Gallery, Baltimore 1967, p.332.

References
Read 1902: Read, Charles Hercules, The Waddesdon Bequest. Catalogue of the Works of Art Bequeathed to the British Museum by Baron Ferdinand Rothschild, M.P., 1898, London, BMP, 1902
Dalton 1927: Dalton, Ormonde Maddock, The Waddesdon Bequest : jewels, plate, and other works of art bequeathed by Baron Ferdinand Rothschild., London, BMP, 1927
Scrase handlist: Scrase handlist