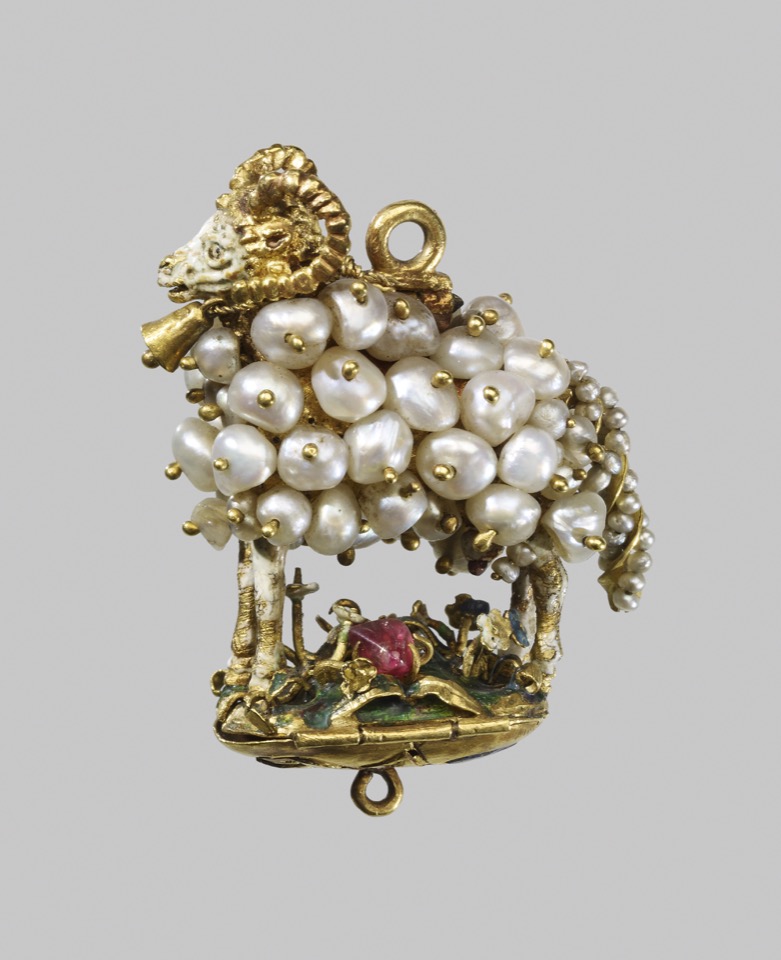 Curator's Description
Pendant jewel; gold; standing ram, face and legs in white enamel; body covered in pearls, each held by wire passing through the gold; tail is twisted band covered with seed pearls; small bell fixed to neck; base enamelled with scrolls; upper part with flowers in full relief, rough ruby among them; whole pendant opens into two sections, hinges on edges of base; loop at bottom for pendant pearl.
This object was collected and bequeathed to the British Museum by Ferdinand Anselm Rothschild.
How big is it?
3.9 cm wide, 4.7 cm high, 0.5 cm deep, and it weighs 25g
Detailed Curatorial Notes
Text from Tait 1986:-
Origin: Perhaps South Italian or Spanish Colonial, late 16th or early 17th century.
Provenance: None is recorded.
Commentary: Amuletic jewellery has remained particularly popular in the Mediterranean lands until this century and, of course, seed-pearls are a common type of embellishment for jewellery from Southern Italy and the Eastern Mediterranean. However, there is no conclusive proof, and the attribution "German, late sixteenth century" published in Read 1902 and repeated in Dalton 1927 cannot be disproved, although there is little evidence to suggest that the techniques employed by this goldsmith were part of the Germanic tradition. The method of attaching the pearls and, more significantly, the flowers on the base is essentially a simple, almost primitive, solution, and although this pendant exhibits none of the characteristics of court jewellery, it nevertheless has the qualities of an early seventeenth-century provincial product.
It is valuable to contrast the pendant with that very pretentious large 'South German' ram pendant jewel from the Arturo Lopez-Willshaw Collection (sold at Sotheby's, London, on 13 October 1970, lot 12); not only was the 'jewel' of exceptional size and weight but both the body and the horns were set with diamonds, and it had one pendant loop under its belly from which a single pendant seed-pearl was suspended. The Lopez-Willshaw ram jewel appears to be a close variant of the enamelled gold Agnus Dei pendant jewel now in the Victoria and Albert Museum (M. 456-1936; Shirley Bury, 'Jewellery Gallery Summary Catalogue', Victoria and Albert Museum, London, 1982, case 26, no. 3, p. 153 with illus. on p. 154). This jewel came in 1936 with a number of other items of jewellery from a Hungarian noble family and was the gift of the Countess Teleki; catalogued as "Hungarian, late sixteenth century", it has three gemstones (a diamond and two garnets) set in the front side of the Lamb's body and a loop under its belly from which hangs a single pendant pearl. Apart from the absence of horns, the two animals, and particularly the treatment of the fleece, are remarkably similar; of course, a rather different impression is conveyed by the Victoria and Albert Museum jewel because attached to it are a jewelled cross on a staff and a gold chalice into which flows a stream of gold blood from the breast of the Lamb. Significantly, a second example of this jewel was recorded in the Melvin Gutman Collection (see the full description in Parker Lesley, 'Renaissance Jewels and Jewelled Objects from the Melvin Gutman Collection', Baltimore Museum of Art, Baltimore, 1968, p. 62, no. 15), and it is clear that in all major respects the two versions are identical. The Melvin Gutman example had no known history beyond the previous owner, Millicent Rogers.
The wholly unconvincing characteristics of the Lopez-Willshaw ram jewel serve only to reinforce the impression that the Waddesdon amuletic pendant, with its unsophisticated construction, is a rare survival from that vanished mass of lesser jewellery, so popular in the Mediterranean lands. In such a context the pendant may have been intended as a votive jewel for a shrine rather than an amuletic jewel for wearing by the owner; however, such interpretations can rarely be documented. Certainly, the subject of a ram - not to be confused with the Lamb of God carrying a flag - is a most unexpected theme, as yet undocumented in European Renaissance jewellery designs and recorded in only one other example, the Lopez-Willshaw ram pendant.
The Cathedral Treasure of Santo Domingo (today called Ciudad Trujillo) contains one jewel that may be closely related, although it is a gold enamelled bird pendant. It was illustrated and briefly described in E.W. Palm, Renaissance Secular Jewellery in the Cathedral at Ciudad Truillo. 'The Burlington Magazine', XCIII, 1951, p. 319, fig. 16, where it is stated to represent "a dove with outstretched wings, 3.7 by 5 cm"). The entire front surface of the jewel - the tail, the body and the wings - is covered in small pearls, leaving only the head and neck free to be enamelled. It is not known if this Santo Domingo votive jewel was made in Spain or in a Spanish-American workshop, but its similarities to the Waddesdon ram pendant may help to establish the origin of this unusual 'reliquary'-type jewel.
Bibliography
Charles Hercules Read, 'The Waddesdon Bequest: Catalogue of the Works of Art bequeathed to the British Museum by Baron Ferdinand Rothschild, M.P., 1898', London, 1902, no. 166
O.M. Dalton, 'The Waddesdon Bequest', 2nd edn (rev), British Museum, London, 1927, no. 166
Hugh Tait, 'Catalogue of the Waddesdon Bequest in the British Museum. 1., The Jewels', British Museum, London, 1986, no. 25, pls. XX, XXI, figs. 136-138.

References
Read 1902: Read, Charles Hercules, The Waddesdon Bequest. Catalogue of the Works of Art Bequeathed to the British Museum by Baron Ferdinand Rothschild, M.P., 1898, London, BMP, 1902
Dalton 1927: Dalton, Ormonde Maddock, The Waddesdon Bequest : jewels, plate, and other works of art bequeathed by Baron Ferdinand Rothschild., London, BMP, 1927
Tait 1986: Tait, Hugh, Catalogue of the Waddesdon Bequest in the British Museum; I The Jewels, London, BMP, 1986