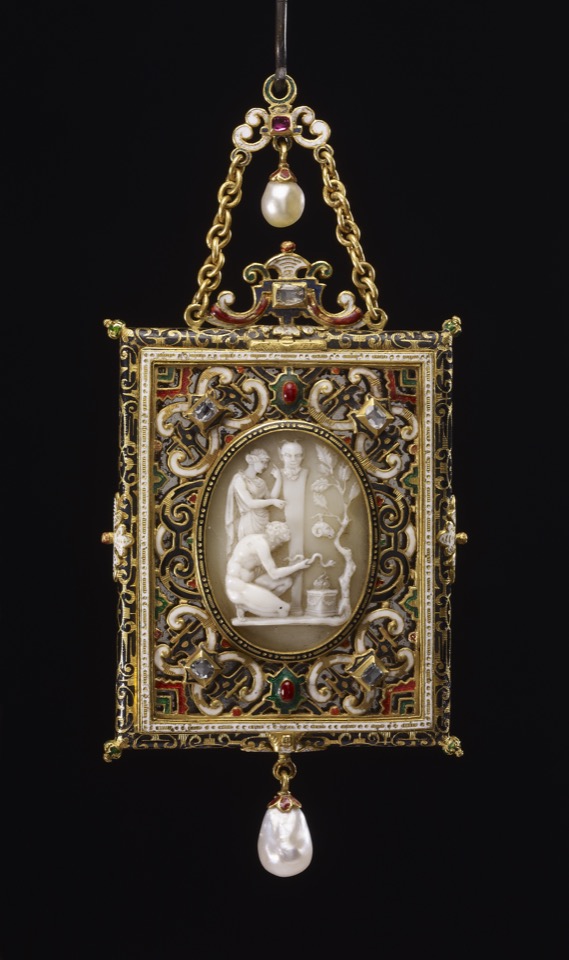 A plaster mould for the cover survives from the André workshop in Paris, proving that the jewel was made there to appeal to collectors. The cameo on the front is older and shows a sacrifice to the pagan god Pan. Inside is a modern metal mirror.
Curator's Description
Oblong pendant frame; gold; contains metal mirror; gold border with black enamel scrolls; cover is open strapwork, enamelled and set with oval cameo of sacrifice to Pan; four diamonds in corners, two on scroll on top; back formed of plate of enamel on foil with Apollo pursuing Daphne, whole surrounded by wreath; border engraved with scrolls filled with black enamel; double suspension chain with pendant pearl, second pearl hangs from bottom. Openwork.
This object was collected and bequeathed to the British Museum by Ferdinand Anselm Rothschild.
How big is it?
6 cm wide, 12.8 cm high, 1.3 cm deep, and it weighs 125g
Detailed Curatorial Notes
Provenance: None is recorded.
Commentary: The 1911 and 1927 catalogues of the Waddesdon Bequest both refer to a portrait miniature 'of James I of England, much faded and in the style of Hilliard', within the oval frame inside the lid. This is now lost. The enamel plaque of Apollo pursuing Daphne is French, 17th century, and the onyx cameo of Pan is 18th century, but the frame and composition of the object is a 19th century concoction and was put together to appeal to collectors by the restorer / faker Alfred Andre in his Parisian workshop, where a plaster mould for the cover survives.
Bibliography
Charles Hercules Read, 'The Waddesdon Bequest: Catalogue of the Works of Art bequeathed to the British Museum by Baron Ferdinand Rothschild, M.P., 1898', London, 1902, no.169
O.M. Dalton, 'Catalogue of the engraved gems of the post-classical periods in the Department of British and Mediaeval Antiquities and Ethnography in the British Museum', British Museum, London, 1915, no.199 & fig.
O.M. Dalton, 'The Waddesdon Bequest', 2nd edn (rev), British Museum, London, 1927, no.169.

References
Read 1902: Read, Charles Hercules, The Waddesdon Bequest. Catalogue of the Works of Art Bequeathed to the British Museum by Baron Ferdinand Rothschild, M.P., 1898, London, BMP, 1902
Dalton 1915: Dalton, Ormonde Maddock, Catalogue of the Engraved Gems of the Post-Classical Periods in the Department of British and Mediaeval Antiquities and Ethnography in the British Museum., London, BMP, 1915
Dalton 1927: Dalton, Ormonde Maddock, The Waddesdon Bequest : jewels, plate, and other works of art bequeathed by Baron Ferdinand Rothschild., London, BMP, 1927