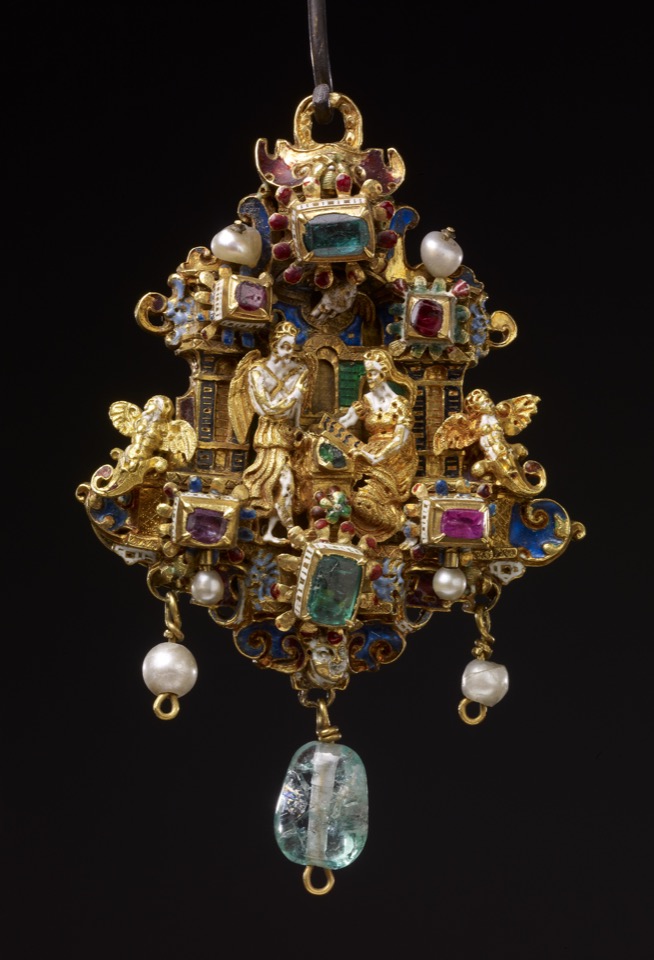 Curator's Description
Pendant jewel; gold; centre: Annunciation, figures in full relief between two pilasters, at bases of which are two cherubs as terminal figures; emerald and two rubies above; similar arrangement below, in enamelled settings; background chased with scrolls and coated with opaque and translucent enamels; pendant beryl and two pearls; back plate engraved with floral scrolls, etc.; chalice at bottom, all filled with coloured enamels. Openwork.
This object was previously owned by Horace Walpole, collected by Anselm von Rothschild and bequeathed to the British Museum by Ferdinand Anselm Rothschild.
How big is it?
5.5 cm wide, 8.4 cm high, 1.6 cm deep, and it weighs 44.2g
Detailed Curatorial Notes
Text from Tait 1986:-
Origin: Probably Netherlandish (Antwerp), or German, third quarter of 16th century.
Provenance: According to Read (1902), "from Horace Walpole's collection at Strawberry Hill". This statement was repeated in Dalton 1927 and in Evans 1970 (p. 27, pil 88a). However, no printed reference to its existence in Horace Walpole's Collection has yet been found, nor is it listed in the Strawberry Hill sale catalogue of 1842.
The jewel was, however, in the Collection of Baron Anselm von Rothschild, Vienna (before 1866).
Commentary: When this jewel was in Baron Anselm von Rothschild's Collection, it was attributed to Benvenuto Cellini, and in 1970 Dame Joan Evans was also describing it as "perhaps Italian, late sixteenth century" (p. 27, pl. 88a). She made it clear why she did not share the opinion expressed in Read 1902 and Dalton 1927 that its origin was German (p. 115): "the great majority of these pendants are of German make, but exceptionally they may have been imitated in other countries. Sometimes the background is completely solid, as in an Annunciation pendant in the Waddesdon Bequest, which hardly looks German."
In Southern Germany, of course, Italian influence was strong, and certainly Netherlandish, and even German, influence was an important factor at the Medici court in Florence towards the end of the sixteenth century. Consequently, attributions are very difficult, especially when so few documentary examples of this 'architectural' type of jewel have survived. However, there is no compelling reason to date this jewel as late as Dame Joan Evans has suggested, and the nearer to the middle decades of the sixteenth century it can be dated, the more convincingly it seems to fit into the evolution of this kind of jewel in Germany and the Netherlands. The use of high and full relief is indicative of an earlier date and contrasts with those more usual pendants where the figures are quite separately modelled in the round and set - as on a stage - on a flat platform against a more open background (see WB.147 – WB.151). This Annunciation jewel is still conceived as a very high relief, and many of its minor details (the scrollwork, full-face masks, the fruit and flowers), as well as the overall effect of ceaseless surface encrustation, correspond with the famous (but far more splendid) 'A' monogram jewels of Augustus and Anna of Saxony, who were married in 1546. They were to succeed as rulers in 1553 when the Elector Maurice died; their court in Dresden attracted some of the finest goldsmiths, but their jewels cannot be precisely dated, though the two 'A' monogram jewels are likely to belong to the early years (see Joachim Menzhausen, 'Grünes Gewölbe', Dresden, 1967, p. 66; also Joan Evans, 'A History of Jewellery, 110-1870', London, 1953 (rev. edn 1970), pl. 67). Significantly, the single 'A' monogram jewel in the Grünes Gewölbe, Dresden, also has a gold plate on the reverse, similarly enamelled en basse-taille with an elegant symmetrical 'grotesques' design with a baldacchino in the centre, satyrs, stags, trophies, flowers, etc. This gold plate is identically raised with steeply rounded edges leaving only a narrow strip of the reverse of the jewel visible wherever it projects.
In Read 1902 a sixteenth-century German origin was proposed and in Dalton 1927 this view was repeated; at present there seems little reason to argue for a change to the Italian attribution, especially if the Musée du Louvre's well-known Daniel in the Lion's Den pendant continues to be attributed to a Netherlandish workshop in Antwerp or an Augsburg goldsmith, probably soon after Marten van Heemskerck's engraving of this scene had been published by Hieronymous Cock in Antwerp in 1556 (see Yvonne Hackenbroch, 'Renaissance Jewellery', Sotheby Parke Bernet Publications, London, New York and Munich, 1979, p. 157, figs 414 a-b, 419, 421, col. pl. XIII). It has the same very high relief combined with a mass of rich surface detail, including scrollwork and masks of a similar character; like the Waddesdon Annunciation pendant, the reverse is covered by a gold plate, enamelled in a very similar elegant manner. Both examples can be related to the Antwerp 'grotesques' designs published by Hieronymus Cock in the middle decades of the sixteenth century and, consequently, do not have to be associated with Daniel Mignot's work in Augsburg in the 1590s, as Dame Joan Evans has claimed. The influence of Antwerp on the major German centres of goldsmiths' work, especially Nuremberg and Augsburg, is now well-recognised but it still remains extremely difficult to distinguish with any degree of certainty their separate creations from among the handful of surviving pendant jewels. The role of Erasmus Hornick as an exponent of Antwerp Mannerism in the Southern German cities of Augsburg and Nuremberg in the third quarter of the sixteenth century is discussed in cat. no. 12 (p. 107) [WB.149], but it must not be forgotten that Antwerp was still a very rich and flourishing centre, with goldsmiths copying the designs of local artists like Hans Collaert the Elder (c. 1530 - before 1581) who were busy supplying new ideas for these 'architectural' pendant jewels (see H.-J. Heuser, Drei unbekainnte Risse Hans Collaerts des Aelteren, 'Jahrbüch der Hamburger Kunstsammlungen', vol. 6, 1961, pp. 29-54).
A set of his designs, many of which have bold 'architectural' qualities, especially arched niches in the centre of the jewels, were published by Johann Liefrinck of Antwerp, who died in 1573 (see Horst Appuhn, 'Renaissance-Anhänger'. Schmuckmuseum, Pforzheim, 1970, pp. 22-5, illustrations of twenty designs). Other designs of an even more pronounced 'architectural' form bear Collaert's initials, HC, together with the initials of the unidentified monogrammist, EVG (see 'Princely Magnificence' 1980, no. G. 29a, p. 126; also Hackenbroch 1979, fig. 628 A-B). It is not known when this set of plates (at least six have been traced to this set) were first published - perhaps before 1570. One of them is a design for an 'architectural' pendant with the seated female figure of Fortitude in a niche; on either side, below the 'platform', a winged cherub emerging from a volute acts as a kind of caryatid. These two little figures are not very different from the two cherubs on either side of the Waddesdon Annunciation pendant and may, because of the comparative rarity of this particular form of cherub, provide a further link between this jewel and the Antwerp workshops of the 1560s. Furthermore, it seems likely that when Philip Galle, the Antwerp publisher, arranged to print in 1581 a posthumous set of ten plates of Hans Collaert's designs (see Appuhn 1970, pp. 26-7 for illus. of the ten designs), those designs would have been selected from among Collaert's latest creations. In fact, all of them show a marked development towards gem-set 'architectural' forms, in which the architecture itself is less obtrusive and has become subordinated to the decorative gem-encrusted pattern. Whereas in the earlier sets of designs, the pendants would often be in the recognisable form of a vaulted Roman building, the 1581 posthumous set contains no explicit buildings as such. Consequently, it would seem highly probable that almost as many of the surviving 'architectural' pendants of the period c. 1560 - 75 could be of Netherlandish (probably Antwerp) as of South German (perhaps Augsburg) origin in the same period.
Bibliography
Franz Schestag, 'katalog der Kuntsammlung des Freiherrn Anselm von Rothschild in Wein' Vienna, 1866, p. 47, no. 336
Charles Hercules Read, 'The Waddesdon Bequest: Catalogue of the Works of Art bequeathed to the British Museum by Baron Ferdinand Rothschild, M.P., 1898', London, 1902, no. 153, fig. 22
O.M. Dalton, 'The Waddesdon Bequest', 2nd edn (rev), British Museum, London, 1927, no. 153
Joan Evans, 'A History of Jewellery, 110-1870', London, 1953 (rev. edn 1970), p. 27, p. 115, pl. 88a
Hugh Tait, 'Catalogue of the Waddesdon Bequest in the British Museum. 1., The Jewels', British Museum, London, 1986, no. 11, pls. VIII, IXB, XI, figs. 93-95
Dora Thornton, 'A Rothschild Renaissance: Treasures from the Waddesdon Bequest', British Museum, London, 2015, pp.212-219.

References
Read 1902: Read, Charles Hercules, The Waddesdon Bequest. Catalogue of the Works of Art Bequeathed to the British Museum by Baron Ferdinand Rothschild, M.P., 1898, London, BMP, 1902
Dalton 1927: Dalton, Ormonde Maddock, The Waddesdon Bequest : jewels, plate, and other works of art bequeathed by Baron Ferdinand Rothschild., London, BMP, 1927
Tait 1986: Tait, Hugh, Catalogue of the Waddesdon Bequest in the British Museum; I The Jewels, London, BMP, 1986