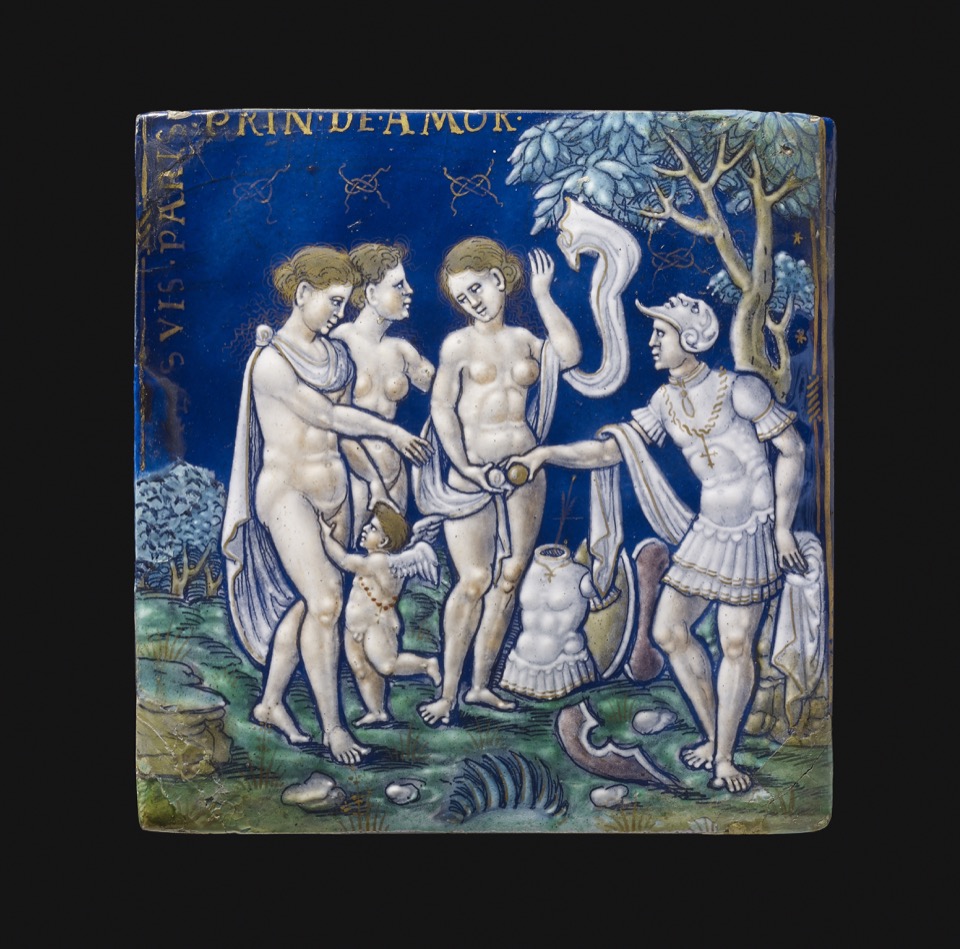 Two pairs of enamelled panels to decorate wcaskets. The first two, on a black ground, show a boating party and the Abduction of Helen. The second pair, on a blue ground, show the Triumph of Caesar and the Judgement of Paris. Sets of panels would be mounted in metal to make jewellery caskets.
Curator's Description
Painted Limoges enamel plaque; copper, square; set in a modern wood frame; The Judgement of Paris; Paris offering the golden apple to Venus who has a Cupid at her side; next to her, Juno; beside her, Minerva; inscribed; painted in grisaille and semi-opaque coloured washes on a white preparation, with flesh tones produced by enlevage all on a blue ground; gilding; counter enamel liver colour.
This object was collected by Anselm von Rothschild and bequeathed to the British Museum by Ferdinand Anselm Rothschild.
How big is it?
7.4 cm wide, 7.7 cm high, 0.5 cm deep, and it weighs 26g
Detailed Curatorial Notes
Provenance: Baron Anselm von Rothschild, Vienna, between 1866 and 1872 (cat no. 489), by inheritance to his son Baron Ferdinand Rothschild (d. 1898).
Commentary: The panel is likely to have been part of a casket. The composition is after an engraving by Marcantonio after a composition by Luca Penni after a design by Raphael (see BM H,2.25). A plaque similar in style, possibly part of the same casket, is in the Louvre (inv. no. OA 4019), see Baratte 2000 in bibliography.
Bibliography
Charles Hercules Read, 'The Waddesdon Bequest: Catalogue of the Works of Art bequeathed to the British Museum by Baron Ferdinand Rothschild, M.P., 1898', London, 1902, no. 29
O.M. Dalton, 'The Waddesdon Bequest', 2nd edn (rev), British Museum, London, 1927, no.29
Sophie Baratte, 'Les Émaux Peints de Limoges', Musée du Louvre, Réunion des Musées Nationaux, Paris, 2000, p.135.

References
Read 1902: Read, Charles Hercules, The Waddesdon Bequest. Catalogue of the Works of Art Bequeathed to the British Museum by Baron Ferdinand Rothschild, M.P., 1898, London, BMP, 1902
Dalton 1927: Dalton, Ormonde Maddock, The Waddesdon Bequest : jewels, plate, and other works of art bequeathed by Baron Ferdinand Rothschild., London, BMP, 1927
Scrase handlist: Scrase handlist