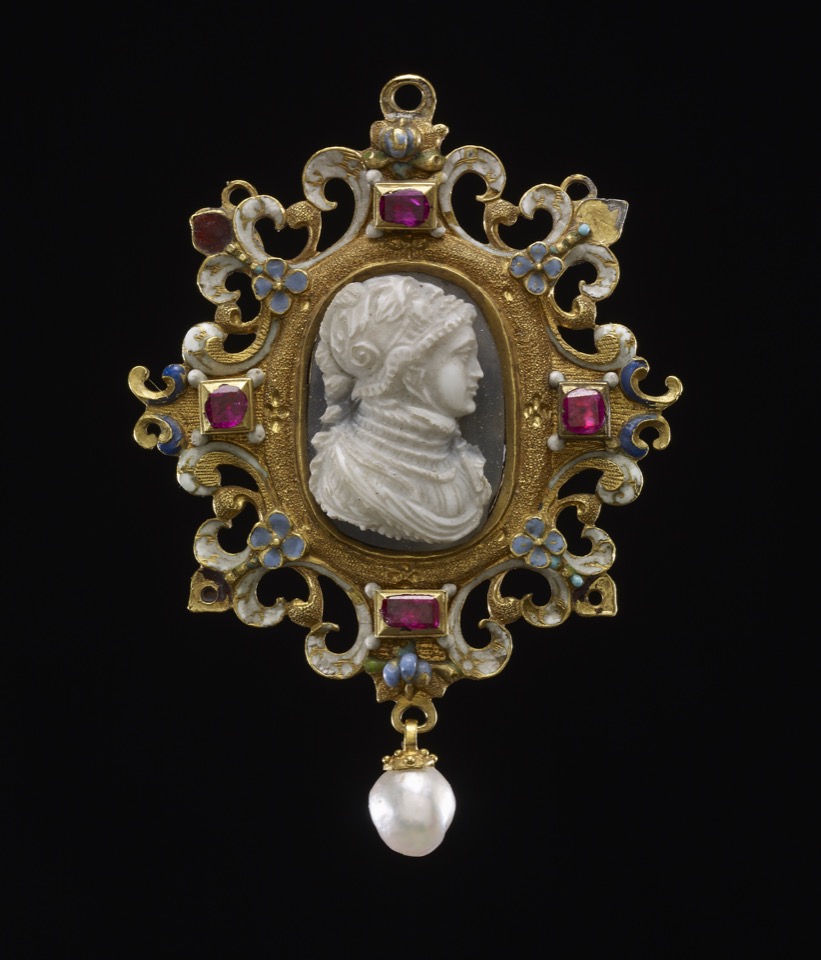 Curator's Description
Pendant formed of cameo bust; set in open-work gold frame; enamelled and set with four rubies; onyx cameo of two layers with bust to right of helmeted head, helmet formed of mask of Pan; mount of cruciform design with fleurs-de-lis between arms, each with quatrefoil at base; modern pendant pearl.
This object was collected by Anselm von Rothschild and bequeathed to the British Museum by Ferdinand Anselm Rothschild.
How big is it?
3.5 cm wide, 4.9 cm high, 0.6 cm deep, and it weighs 13g
Detailed Curatorial Notes
Text from Tait 1986:-
Origin: Uncertain; carved in the 16th century, perhaps in a workshop north of the Alps; setting of later date, apparently modified; pendant pearl added in the late 19th century.
Provenance: Baron Anselm von Rothschild, Vienna, before 1866.
Commentary: The attribution of the cameo to Italy in the early sixteenth century, as published in Read 1902, was partially abandoned in Dalton 1915, where it was grouped with a number of other sixteenth-century cameos depicting the bust of a lady in contemporary dress, two of which entered the British Museum's collections in 1753. It would seem that Dalton remained unconvinced by the arguments for attributing the cameo to Italy because in 1927 in the revised edition of the 'Catalogue' he omits any reference to a country of origin but reiterates the sixteenth-century provenance. In none of these publications is the bust identified as a head of Minerva, and yet in its essential compositional elements it corresponds with the incomparably finer and more powerful larger jasper and chalcedony commesso cameo of Minerva by Ottavio Miseroni, which has been preserved in the Imperial Collections in Vienna and had been recorded in the Shatzkammer inventory of 1750 (see F. Eichler and E. Kris, 'Die Kameen im Kunsthistorischen Museum', Vienna, 1927, no. 307, pl. 43). In Dalton 1915 attention was drawn to the existence of numerous cameos representing ladies in dresses with high collars and puffed sleeves, even citing, as an example, "the bust once described as "Mary Queen of Scots" in the Cabinet des Medailles" (for an illustration of three such examples see Joan Evans, 'A History of Jewellery, 110-1870', London, 1970 (rev. edn), pl. 92). This cameo, however, does not have puffed sleeves or any of the other details (such as buttons) of contemporary female attire but a simple curving fold of drapery that is looped up across the shoulder in the Classical manner, obscuring part of the armour beneath.
On the reverse the use of four lugs to hold the cameo in place seems to be a surprisingly crude and clumsy method which contrasts sharply with the reverse of the mounted Renaissance cameos in the Imperial Collections in Vienna. The latter, being well-documented, provide valuable evidence of the care and beautiful quality of finish bestowed on the reverse of the gold enamelled settings. The design of this particular setting is puzzling, partly because of the unusually prominent fleur-de-lis motif and partly because at the extremities (on left and right) are two c scrolls of two different sizes placed back to back, thereby creating an asymmetrical, almost disjointed outline that is not in keeping with Renaissance design. Neither its style nor its workmanship seems older than the nineteenth century, and a second example, hitherto unrecognised as such, is in America; it frames a two-sided cameo (see Parker Lesley, 'Renaissance Jewels and Jewelled Objects from the Melvin Gutman Collection', Baltimore Museum of Art, Baltimore, 1968, pp. 119-21; Donald F. Rowe, 'The Art of Jewelry, 1450-1650', exh. cat., Martin D'Arcy Gallery of Art, Loyola University of Chicago, 1975, no. 34). Even the two tiny suspension loops (on either side near the top) are identical.
Bibliography
Franz Schestag, 'katalog der Kuntsammlung des Freiherrn Anselm von Rothschild in Wein' Vienna, 1866, no. 345
Charles Hercules Read, 'The Waddesdon Bequest: Catalogue of the Works of Art bequeathed to the British Museum by Baron Ferdinand Rothschild, M.P., 1898', London, 1902, no. 187
O.M. Dalton, 'Catalogue of the Engraved Gems of the Post-Classical Periods in the British Museum', London, 1915, no. 485a (illus. p. 65)
O.M. Dalton, 'The Waddesdon Bequest', 2nd edn (rev), British Museum, London, 1927, no. 187
Hugh Tait, 'Catalogue of the Waddesdon Bequest in the British Museum. 1., The Jewels', British Museum, London, 1986, no. 44, pl. VIIB, fig. 192.

References
Read 1902: Read, Charles Hercules, The Waddesdon Bequest. Catalogue of the Works of Art Bequeathed to the British Museum by Baron Ferdinand Rothschild, M.P., 1898, London, BMP, 1902
Dalton 1915: Dalton, Ormonde Maddock, Catalogue of the Engraved Gems of the Post-Classical Periods in the Department of British and Mediaeval Antiquities and Ethnography in the British Museum., London, BMP, 1915
Dalton 1927: Dalton, Ormonde Maddock, The Waddesdon Bequest : jewels, plate, and other works of art bequeathed by Baron Ferdinand Rothschild., London, BMP, 1927
Tait 1986: Tait, Hugh, Catalogue of the Waddesdon Bequest in the British Museum; I The Jewels, London, BMP, 1986